Station to Station
TV personalities such as Carson Daly still want their voices heard on L.A. radio.
Monday, May 16, 2011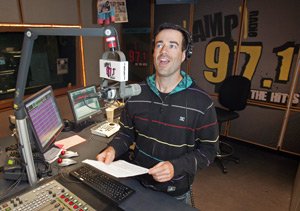 On a recent weekday morning, Carson Daly jumped around the radio booth with such energy that you'd never know he'd been up since 4 a.m. His day was only beginning: After his four-hour daily radio show, he spends many afternoons filming segments for NBC's late-night show "Last Call With Carson Daly" and hosting episodes of the network's new singing competition, "The Voice."
Why does he stay on radio when he's made it on TV, where the paychecks are bigger?
"I consider myself a radio DJ first and everything else after," Daly said.
Actually, that is the right attitude for such an entertainer's career, some experts say. A daily show on old-school analog radio still provides a base of fan support, a consistency, for entertainment personalities such as Daly, said Jeff Pollack, chief executive of Pollack Media Group in Pacific Palisades.
"They're reaching this audience every day," he said. "The big radio stations, if they reach several million people a week, that's a huge bonus."
Daly agreed that his daily morning show on top 40 station KAMP-FM (97.1) gives him a stronger presence in the entertainment world.
"'Last Call' is on in the middle of the night. Out of sight, out of mind, my brand can go unnoticed," he said. "Radio helps me with the late-night show. It helps me with 'The Voice.'"
In fact, radio even helped him land the hosting gig on "Voice." When NBC approached Daly about the show, one exec mentioned that he listened to him on KAMP, Daly said.
He's not the only personality packing in a full day of TV work and who's still on the radio locally. Perhaps the best known is Ryan Seacrest, who DJs the morning show at top 40 competitor KIIS-FM (102.7). He hosts "E News" for cable channel E and Fox's "American Idol," and produces a slew of shows through his Ryan Seacrest Productions.
In addition, Drew Pinsky – better known as Dr. Drew – hosts nationally syndicated advice show "Loveline" weeknights on KAMP sister station KROQ-FM (106.7) while still practicing medicine, and producing and starring in a suite of reality TV shows such as "Celebrity Rehab With Dr. Drew."
Pollack estimates that salaries for local radio stars can be as much as $2 million a year. Hosts with syndicated radio shows could make much more.
Seacrest makes more than $35 million annually from his various TV hosting and producing gigs, according to the Hollywood Reporter. His radio payday isn't bad: His contract with KIIS owner Clear Channel was estimated at $20 million a year.
When someone's involved in as many projects as Seacrest or Daly, radio brings the added value of cross-promotion, Pollack said.
"If you're a passionate fan of somebody, you're going to follow them on any platform they're on," he said.
Radio roots
Radio helped propel Daly to small-screen fame. He grew up in the radio booth with his mother, Pattie Daly Caruso, who worked for a now-defunct Santa Monica station, and his first radio job was as an intern for comedian Jimmy Kimmel at a station in Palm Springs. After jumping around to gigs in San Diego, San Francisco, Phoenix and San Jose, he joined the lineup at KROQ in 1996.
"When I got to KROQ, there was a contract that was more money than I thought I would ever make," he said. "I thought if I could stay there for 30 years, it would be great."
But less than a year after joining the station, his TV opportunity came knocking. MTV hired him to host a summer show part time. At the end of the summer, he left KROQ to work full time for the cable music channel in New York.
The next year, Daly's career took off when he became the host of MTV's "Total Request Live," an after-school show where he interviewed musicians and counted down the most popular music videos of the day.
Daly said his radio experience made it easy for him to transition to TV.
"Radio was great training to become a good communicator," he said.
Seacrest and Pinsky followed similar trajectories. Before Seacrest landed the TV gigs that launched him to "American Idol" fame, he started his radio career in high school as an intern at an pop contemporary radio station in Atlanta. He later moved to Los Angeles and landed a show on rock station KYSR-FM (98.7).
Pinsky started in radio while he was a medical student, first appearing on KROQ's "Ask a Surgeon" before assuming co-hosting duties on "Loveline." His medical background and "Loveline" experience helped him land roles as a TV medical expert and later host of his own shows.
Neither Seacrest nor Pinsky could be reached for comment for this article.
Adam Carolla, another longtime radio talk show host who spent time on TV, said both mediums boil down to the same basic abilities.
"They're not wildly different from each other," said Carolla, who now hosts independent podcast "The Adam Carolla Show." "You get used to having a mike in your hand and having some ears on you."
TV networks often look for hosts with radio backgrounds because their skills translate well to television and they bring loyal radio followers with them, said Maureen Browne, a freelance casting director and TV hosting coach for Initiative Talent Group.
"A radio person is going to come equipped with skills automatically," she said. "They have the ability to captivate their audience. They can think on their feet quickly."
Radio return
Radio stations also benefit from hiring hosts who've made names for themselves on TV.
Daly returned to radio full time in 2010 as the morning host for CBS Radio's top 40 station KAMP, known as Amp Radio. His past radio experience and music knowledge made him a good fit for the station, said Kevin Weatherly, senior vice president of programming for CBS Radio in Los Angeles who oversees KROQ, KAMP and adult hits station KCBS-FM (93.1), known as Jack FM.
"When we launched Amp, part of the vision was to have a lineup of these personalities who are real people," said Weatherly, who knew Daly from his KROQ days. "With Carson, he's a guy who's very passionate about pop culture and music. He's a great DJ but is also authentic."
Since launching, KAMP consistently has been a top L.A. station in the monthly Arbitron radio rankings. It was tied for ninth with a 3.3 percent market share in March, the most recent month available from Arbitron.
Media consultant Pollack said Daly's high-profile TV career has helped Amp's ratings.
"Hiring a well-known guy like Carson is exactly what Amp needed to raise the profile of its morning show," he said.
But for Daly, the return to radio was more about the music than anything else.
"It's important that you don't forget where you come from," he said. "I'm proud to be in the radio community."
For reprint and licensing requests for this article, CLICK HERE.