Keep It in The Family?
Special Report: Wealthiest Angelenos | Ultrawealthy parents face tough decisions about whether to give their children the keys to the family business.
Monday, May 16, 2011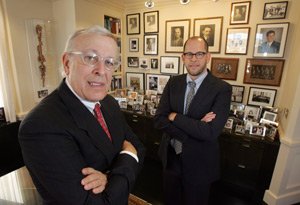 Even when his children were young, Marc Nathanson couldn't help but share with them his enthusiasm for the television industry.
The cable TV pioneer would talk shop around the dinner table and had his kids reading trade magazines such as CableWorld. He even got J.J. Jackson, one of MTV's first on-air personalities, to DJ his son Adam's bar mitzvah.
But for all the encouragement he gave his children to go into the media industry, Nathanson refused to let them join his company, Falcon Communications. He wanted them to find their own success.
"It was tough to digest at the time, but I think it really helped me focus on building my own name," said Adam, 40. "I didn't have that fallback plan."
The elder Nathanson wasn't totally hands-off: He used connections to help his sons secure their first industry jobs. Adam became an executive with MTV, while the younger son, David, joined Fox.
"After that initial job, they built their own successful careers," said Nathanson, who ranks No. 40 on the Business Journal's annual Wealthiest Angelenos list with an estimated net worth of $950 million.
Nathanson's relationship with his children shows just how complicated it can be for L.A.'s wealthiest to help their offspring achieve a similar measure of success.
Should they be given a helping hand? Made part of the family business? Perhaps only welcomed after time out on their own?
Whatever the strategy, the motivation for the ultrasuccessful is often the same: how to ensure their children will make something of their lives. A recent survey by U.S. Trust, a wealth management subsidiary of Bank of America Corp., found that the success of their children was one of the most important measures of self-worth for ultrawealthy individuals, well ahead even of their own success.
For some, like local business leaders Edward Roski Jr. and Robert Maguire Jr., that has been achieved by becoming business partners with their kids. Others, like Alfred Mann, have felt at times that their wealth has damaged their kids' motivation to work hard and achieve independent success.
Some are so eager to pass along their business savvy that they push a little too hard. As Lynda Resnick, the billionaire matriarch of the Pom Wonderful empire, put it, "We talked about this so much when they were growing up … I think we burned them out."
For those that do bring children into the family business, the challenges can be immense, even for those who seem to have the Midas touch in the business world. For instance, media mogul Sumner Redstone has publicly feuded with his daughter, Shari, over the future of their family-owned theater chain, National Amusements Inc.
For reprint and licensing requests for this article, CLICK HERE.
Prev Next