Wealthiest Angelenos: Stewart & Lynda Resnick - #25
Special Report: Wealthiest Angelenos 2011
Monday, May 16, 2011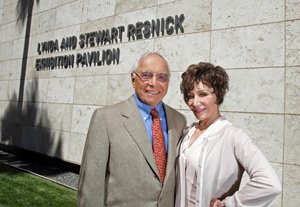 The skinny on the fat wallets of L.A.'s 50 wealthiest.
Stewart & Lynda Resnick
NET WORTH: $1.88 billion +5%
LAST YEAR: $1.79 billion
AGE: 74 (Stewart) RESIDENCE: Beverly Hills
SOURCE OF WEALTH: Agriculture, retail
THE MONEY: Power couple's agricultural and retail empire posted modest growth as consumers returned to spending. Paramount Farms is major purveyor of pistachios and almonds, which are in growing global demand, putting farm's revenue at close to $1 billion.
BUZZ: High-profile year for Resnicks, who run multiple businesses through Roll Global holding company. Longtime art patrons entered upper echelons of L.A.'s philanthropic world with $54 million glass and travertine marble exhibition pavilion at LACMA. Lavish September opening party for pavilion named in their honor raised $5 million and brought out business and entertainment heavyweights Eli Broad, Tom Hanks and Christina Aguilera. More recently, pomegranate juice maker Pom Wonderful made headlines for paying $1 million to sponsor Morgan Spurlock product-placement documentary "Pom Wonderful Presents: The Greatest Movie Ever Sold." Pom also caught up in contentious legal dispute with Federal Trade Commission over allegations of exaggerated health claims, with Lynda calling FTC official a "zealot." Went on buying spree, acquiring 9,500 acres of Persian lime orchards in Mexico, Australian flower delivery service Petal Networks and Paso Robles winery Justin Vineyards & Winery. Couple's holdings include some 120,000 acres of fresh citrus, almond and pistachio trees in Central Valley. Politically connected Resnicks donated more than $200,000 to Democratic congressional and state election campaigns.
For reprint and licensing requests for this article, CLICK HERE.