Wealthiest Angelenos: Steven Udvar-Hazy - #18
Special Report: Wealthiest Angelenos 2011
Monday, May 16, 2011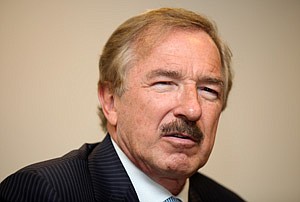 The skinny on the fat wallets of L.A.'s 50 wealthiest.
Steven Udvar-Hazy
NET WORTH: $2.4 billion +30%
LAST YEAR: $1.85 billion
AGE: 65 RESIDENCE: Beverly Hills
SOURCE OF WEALTH: Aircraft leasing
THE MONEY: Godfather of jet leasing launched new company in April. Successful IPO of Air Lease Corp. raised $802 million with Udvar-Hazy's stake at $128 million. Has big portfolio from decades at International Lease Finance Corp. that was presumed to have appreciated.
BUZZ: Spent much of 2010 raising $3.3 billion to finance new company, which got off ground with 46 aircraft. Strategy is to focus on fuel-efficient jets to beat out former company ILFC. Born in Hungary, Udvar-Hazy started ILFC in 1973 while student at UCLA. Sold out to insurance giant AIG in 1990 for $1.3 billion in stock and stayed on to run company until leaving last year. After financial crisis and government takeover, AIG's share price cratered, but Udvar-Hazy later said he sold out before crash. Recently pronounced he would like to buy company back. Lifelong aviation geek, Udvar-Hazy has collection of 2,000 model planes. Donated $65 million to fund Smithsonian National Air & Space Museum Steven Udvar-Hazy Center in Chantilly, Va.
For reprint and licensing requests for this article, CLICK HERE.