Wealthiest Angelenos: Michael Milken - #31
Special Report: Wealthiest Angelenos 2011
Monday, May 16, 2011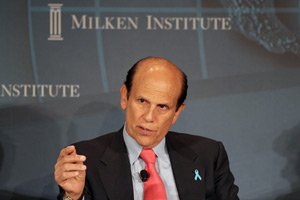 The skinny on the fat wallets of L.A.'s 50 wealthiest.
Michael Milken
NET WORTH: $1.4 billion +7%
LAST YEAR: $1.31 billion
AGE: 64 RESIDENCE: Los Angeles
SOURCE OF WEALTH: Investments
THE MONEY: Former Wall Street financier went on selling spree and took some profits, shedding $134 million in shares of educational product maker LeapFrog Enterprises, held with brother Lowell. Also active with sibling through closely held education firm Knowledge Universe, which sold affiliated online education software company KC Distance Learning for $63 million in stock.
BUZZ: Made headlines signing Warren Buffett's Giving Pledge alongside billionaires Mark Zuckerberg and Carl Icahn. Committed publicly to give away majority of fortune. Philanthropic heavyweight told Wall Street Journal the pledge is "call to others who might be in their 30s or 40s to use some of their creativity to get involved in philanthropy earlier in life." Prostate cancer survivor continued to stress health care issues, authoring opinion piece for Wall Street Journal calling for increased investment in medical research. Reportedly renting 12,785-square-foot oceanfront home on Malibu's famed Carbon Beach, playground of longtime friend and fellow billionaire Larry Ellison. Began career at Drexel Burnham Lambert in 1969, engineering issuance of high-yield bonds, better known as "junk bonds" – slang he hates – for noninvestment grade companies. Indicted for securities fraud in 1989; pled guilty to six felony counts, served 22 months in prison and paid $200 million in fines.
For reprint and licensing requests for this article, CLICK HERE.