Wealthiest Angelenos: Haim Saban - #7
Special Report: Wealthiest Angelenos 2011
Monday, May 16, 2011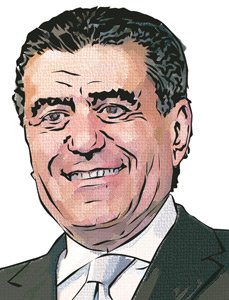 The skinny on the fat wallets of L.A.'s 50 wealthiest.
Haim Saban
NET WORTH: $3.7 billion +17%
LAST YEAR: $3.15 billion
AGE: 66 RESIDENCE: Beverly Hills
SOURCE OF WEALTH: TV production, broadcasting
THE MONEY: Strong recovery in advertising swelled the value of Univision Communications, which Saban and partners bought in 2007. Saban put up $500 million to form Saban Brands, which purchases companies with well-known consumer brands.
BUZZ: Showing no signs of slowing down as he approaches 70. After Univision Chief Executive Joe Uva resigned in March, became interim CEO. Industry rumors are Saban preparing company to go public in 2012. Univision buried hatchet with Televisa, programming supplier with which it has had contentious relationship. Received $1.3 billion in debt and equity from Mexican broadcaster in December deal. Born in Egypt and raised in Israel, Saban made first fortune by turning Japanese TV show "Mighty Morphin Power Rangers" into U.S. hit. Returned to roots this year: Saban Brands first deal was buying "Power Rangers" name from Disney for about $100 million. Later purchased Paul Frank Industries, owner of Julius the Monkey logo, for reported $50 million. Resigned from board of DirecTV in August, citing time demands. Major donor to pro-Israel Democrats, Saban suffered setback in November when Proposition 27, ballot measure designed to help his political friends in Congress by abolishing state's new redistricting commission, voted down. With John Anderson, donated $10 million to build walkway over Sunset Boulevard in front of Children's Hospital Los Angeles, longtime recipient of Saban largesse.
For reprint and licensing requests for this article, CLICK HERE.