Wealthiest Angelenos: Edward Roski Jr. - #19
Special Report: Wealthiest Angelenos 2011
Monday, May 16, 2011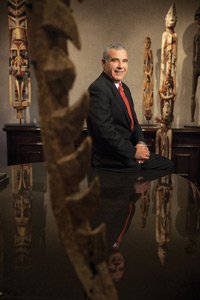 The skinny on the fat wallets of L.A.'s 50 wealthiest.
Edward Roski Jr.
NET WORTH: $2.21 billion +5%
LAST YEAR: $2.1 billion
AGE: 72 RESIDENCE: Los Angeles
SOURCE OF WEALTH: Real estate, development
THE MONEY: Chairman-chief executive of industrial developer Majestic Realty made modest gains on leases with desirable Class A tenants, despite flat year in industrial market. Minority owner of Lakers, Kings and Staples Center saw small gains in sports holdings.
BUZZ: Still driven man. Finds himself in middle of latest campaign to bring an NFL team to Los Angeles. Maintains $800 million City of Industry stadium proposal is best site for return of team, despite momentum behind rival plan by AEG in downtown Los Angeles. It's not his only stadium dream: in negotiations with University of Nevada, Las Vegas, to build 40,000-seat multisport campus stadium. Owns Silverton Casino in Las Vegas. Vietnam vet has two Purple Hearts and a taste for adventure travel; has climbed to base camp at Mount Everest and Mount Kilimanjaro, biked across Mongolia and taken submersible down to Titanic wreck. Reportedly bought ticket No. 128 to fly Virgin Galactic's spaceship whenever ready for takeoff. On board of LACMA and Natural History Museum. Big contributor to alma mater USC. Donated $100,000 last year to environmentalist effort to stop Proposition 23, ballot measure that would have delayed state law regulating greenhouse gas emissions.
For reprint and licensing requests for this article, CLICK HERE.