Wealthiest Angelenos: Do Won 'Don' & Jin Sook Chang - #17
Special Report: Wealthiest Angelenos 2011
Monday, May 16, 2011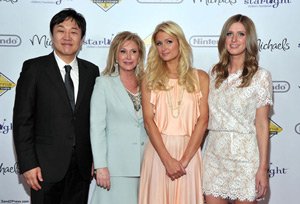 The skinny on the fat wallets of L.A.'s 50 wealthiest.
Do Won 'Don' & Jin Sook Chang
NET WORTH: $2.45 billion
LAST YEAR: Not on list
RESIDENCE: Beverly Hills
SOURCE OF WEALTH: Apparel retailing
THE MONEY: Fast-fashion powerhouses Do Won Chang and his wife, Jin Sook, saw annual sales at closely held Forever 21 top $2 billion last year. Cost-conscious shoppers bought up company's fashionable, inexpensive garb as they shied away from pricey clothes. Conservative estimate of company's value lands couple on Business Journal list for first time.
BUZZ: Recession and store closings by competitors prompted chief Do Won to lead Forever 21, mostly known for small mall stores, to unprecedented expansion. Chain moved into anchor buildings abandoned by retailers such as Mervyn's, Saks and Dillard's. Flashy store openings on New York's Fifth Avenue and Times Square pushed Korean immigrants into spotlight. Twenty-something daughters Linda and Esther intimately involved in company, oversee marketing and often accompanying father to store openings. Success driven by stocking store shelves with trendy clothes and accessories, but have been slapped with lawsuits over claims of copying apparel designs. Do Won runs Too Capital investment company on side. Family is born-again and takes mission trips together. Donated millions to local church. Print verse from Bible on bottom of Forever 21 bags. Starlight Children's Foundation honored Do Won for his contributions to group that assists sick children. Jin Sook rarely makes public appearance, but reportedly attends church with husband at 5 a.m. in downtown Los Angeles. Couple founded Forever 21 in 1984 after immigrating to Los Angeles. Took cheap-chic clothing maker from single 900-square-foot storefront to 35,000-employee operation with more than 450 stores in 14 countries. Live in $16 million Beverly Hills mansion.
For reprint and licensing requests for this article, CLICK HERE.