Wealthiest Angelenos: David Murdock - #9
Special Report: Wealthiest Angelenos 2011
Monday, May 16, 2011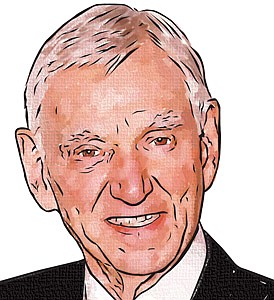 The skinny on the fat wallets of L.A.'s 50 wealthiest.
David Murdock
NET WORTH: $3 billion +3%
LAST YEAR: $2.9 billion
AGE: 88 RESIDENCE: Los Angeles
SOURCE OF WEALTH: Agriculture, real estate
THE MONEY: Major holdings include produce giant Dole Food Co. and privately held Castle & Cooke real estate company. Ten percent rise in Dole stock drove up net worth, even as land holdings remained flat.
BUZZ: Self-made billionaire seems more interested in what's on his plate these days than his P&L statements. Says he wants to live to 125 and plans to do so by eating right. Published book last year on healthy eating and weight control, promoting ingredients such as bananas and broccoli. Adopted lifestyle after attributing his wife's early death from cancer to a diet heavy on red meat. Opened wellness complex in Westlake Village late in 2006 that includes Four Seasons Hotel & Spa and California Health & Longevity Institute. Funded 350-acre research campus near Charlotte, N.C., featuring 311,000-square-foot health laboratory. Castle & Cooke's holdings include warehouses, office buildings, shopping centers and 98 percent of Lanai in Hawaii, the largest privately owned island in America. Murdock disappointed Westside's business elite this year after deciding to close Regency Club after three decades. Regency saw declining membership and was less popular among younger business execs. High school dropout and World War II vet got start in business after borrowing $1,800 to buy diner and selling it for small profit.
For reprint and licensing requests for this article, CLICK HERE.