Wealthiest Angelenos: Charles Munger - #36
Special Report: Wealthiest Angelenos 2011
Monday, May 16, 2011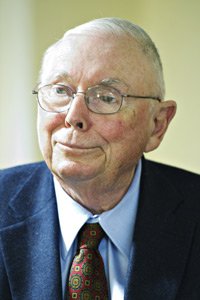 The skinny on the fat wallets of L.A.'s 50 wealthiest.
Charles Munger
NET WORTH: $1.1 billion -42%
LAST YEAR: $1.9 billion
AGE: 87 RESIDENCE: Los Angeles
SOURCE OF WEALTH: Investments
THE MONEY: Berkshire Hathaway vice chairman's net worth plummeted after transferring nearly half of Berkshire stock to family trust upon February 2010 death of wife, Nancy. "I don't need them where I'm going," he told Forbes. Still owns more than 6,000 shares, which gained 7 percent over past year. Also unloaded Costco and Daily Journal Corp. stock.
BUZZ: Made headlines in September for incendiary comments castigating critics of bailout, ripping gold investors and trashing charities. "I believe Costco does more for civilization than the Rockefeller Foundation," he told University of Michigan students. Still, maintained philanthropic side, giving $20 million to university's law school and $3 million to Huntington Library in San Marino. Like partner Warren Buffett, earned modest $100,000 Berkshire salary in 2010. Known Buffett since 1959 and has steered Berkshire toward investments such as See's Candies in 1972 and Chinese electric-car maker BYD Inc. in 2008. Cash-flush Berkshire recently announced $9 billion acquisition of chemical maker Lubrizol. Company also bought remaining stake in Wesco Financial, diversified insurance, steel and furniture rental company headed by Munger. University of Michigan and Harvard Law alum on boards of Costco, Wesco, Daily Journal and Blue Chip Stamps. Grew up in Omaha, Neb., and joined Army during World War II.
For reprint and licensing requests for this article, CLICK HERE.