Wealthiest Angelenos: Alec Gores - #23
Special Report: Wealthiest Angelenos 2011
Monday, May 16, 2011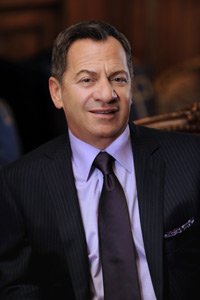 The skinny on the fat wallets of L.A.'s 50 wealthiest.
Alec Gores
NET WORTH: $1.91 billion +5%
LAST YEAR: $1.82 billion
AGE: 58 RESIDENCE: Beverly Hills
SOURCE OF WEALTH: Private equity
THE MONEY: Gores Group, his tech-oriented private equity firm, saw healthy returns as it cashed out of some investments, including selling electricity management firm Lineage Power Holdings to GE for $520 million. Most wealth tied up in firm's three funds, the rest in stocks, bonds and local homes.
BUZZ: Busy year for Gores, whose Westwood firm closed larger-than-expected $2 billion fund and made number of acquisitions, including fashion brand J. Mendel. Gores continues to make Hollywood inroads. Bought DVD distributor Alliance Entertainment – seen as potential studio platform – after failed bid with billionaire brother Tom to buy Miramax. Alliance deal was first joint acquisition for brothers. Duo also was outbid in attempt for Warner Music Group; Alec eyed "American Idol" parent CKX but did not buy. Opportunistic investor Gores told Business Journal he's looking at telecom industry and plans additional exits this year. Born in Israel, Gores moved to Flint, Mich., in 1968. Western Michigan University alum started selling computers from home. Founded buyout firm, originally called Gores Technology Group, in 1987.
For reprint and licensing requests for this article, CLICK HERE.