Posh Jeans Brand Squeezes Into Discount Chain
Lower-price Rock & Republic line seen as a good fit for Kohl's.
Monday, May 9, 2011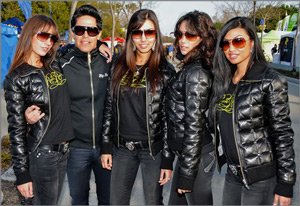 The formerly high-flying apparel brand Rock & Republic will be landing – on the shelf at discount retail chain Kohl's Inc.
Quite a comedown for the label once known for its high-price denim and charismatic party-boy leader, Michael Ball.
The upscale L.A.-based jeans manufacturer declared bankruptcy last year. Its brand name was sold to VF Corp., an apparel conglomerate in Greensboro, N.C., that also owns the Lee, Wrangler and North Face labels.
VF announced an agreement April 28 to manufacture Rock & Republic jeans exclusively for sale at Kohl's, a chain of midprice department stores based in Menomonee Falls, Wis. Eventually, Kohl's plans to put the R&R label on nonjeans apparel, footwear, children's clothes, jewelry and home decorations.
Meanwhile, Rock & Republic has shut down most of its operations in Los Angeles. Most of its inventory was sold to Costco and other discounters, the Rock & Republic stores have closed and the phone at company headquarters has been disconnected.
The company still runs a website where it continues to offer jeans in the $150-$300 range. David Conn, president of retail licensed brands at VF, said the site will continue to function until VF creates a new one. Rock & Republic jeans will reach Kohl's stores next spring.
"It's is no longer a California brand," said Ilse Metchek, president of the California Fashion Association in Los Angeles. "There is no Rock & Republic company; it is just a brand and it belongs to a holding company."
In its new incarnation, Rock & Republic will "probably be Kohl's premium brand, but it won't be $200 for a pair of jeans, that's for sure," Metchek added.
Vicki Shamion, Kohl's senior vice president of public and community relations, said the price of Rock & Republic jeans hasn't been determined, but would be comparable with the Simply Vera brand, a mass-market label by haute couture designer Vera Wang sold exclusively at Kohl's. Simply Vera jeans retail between $20 and $50.
That represents a steep drop, both in price and status, for Rock & Republic. The company was founded in 2002 by pro cyclist Ball, who later brought in actress Andrea Bernholtz as a partner. The company sold its jeans in select boutiques and company-owned stores.
Celebrity pants
The company's marketing strategy focused on getting Hollywood celebrities to wear its pants. Notables appearing in Rock & Republic apparel included Victoria and David Beckham, Jamie Spears, Adam Lambert, Colin Farrell, Miley Cyrus and Megan Fox.
Ball and Bernholtz did not respond to requests for interviews for this article.
VF's Conn thinks Rock & Republic can make the transition from boutique item to mass-market product because the brand's identity is already established.
"The definition of luxury has expanded in the last few years," he said. "A lot of luxury brands are selling in the mass market."
Another marketing question is whether a brand so identified with L.A. culture can succeed once it has severed all ties with Southern California. VF hasn't decided where Rock & Republic jeans will be made, but Conn believes it will be at multiple manufacturing plants.
Kelly LaRussa, a partner at Sherman Oaks-based Haute House PR & Marketing, which has worked in the past for Rock & Republic competitors Joe's Jeans and others, said the Rock & Republic brand retains a distinctive L.A. character and will bring its cachet to the new owner.
"The brand has an L.A. vibe to it; they always had L.A. celebrities wearing their product and the styling has a real L.A. feel to it," she said. "Because the brand is already established, it will generate a lot of sales for Kohl's. A lot of people wanted to own Rock & Republic jeans and couldn't afford them, but now they can."
Conn at VF called Rock & Republic "a California-based rock 'n' roll lifestyle brand." He said VF doesn't plan to change its character, but will alter the product to adapt to a mass-distribution business model.
Meanwhile, sales remain strong at other local manufacturers of denim, said the California Fashion Association's Metchek.
She attributed R&R's failure to flawed decisions.
"It was the way they ran their business that did them in," she said. "There's a market for high-end jeans and it's probably growing because the luxury market is coming back."
For reprint and licensing requests for this article, CLICK HERE.