Local, Online
L.A.-area musicians union makes tracks to web with radio station spotlighting members' songs.
Monday, May 9, 2011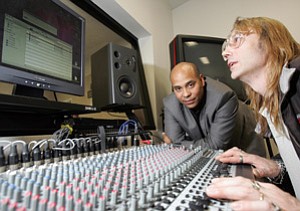 Maroon 5, Sheryl Crow and Stevie Wonder are some of the more famous members of Professional Musicians Local 47. But they aren't the stars of the L.A.-based union's new radio station.
The web station named Pro Music 47 Radio made its debut last week and will showcase the organization's less celebrated members. Some have been nominated for Grammys, but rarely, if ever, received radio airplay.
"It's not viable for us to buy a (broadcast) station, but the Internet is kind of a revolutionary way to create audience," said John Acosta, vice president of Local 47. "We thought this would be a way to bring our members to an audience that otherwise would not know them."
Union leaders, looking for innovative ways to turn around a steep decline in membership in recent years, have created what they claim is the first all-union radio station and are promoting it with the slogan "All Union Music, All the Time." It launched May 1 and is operated out of the two-story Vine Street headquarters in Hollywood that Local 47 has called home for nearly 60 years.
The union's foray into web-based radio comes at a time when such stations have exploded in popularity and are reaching an estimated 57 million listeners per week, according to a study released last month by Edison Research and Arbitron Inc. It's still far outpaced by broadcast radio's 242 million listeners per week (Arbitron's numbers for March).
Web radio can be heard on any Internet-enabled device, whether a desktop computer, laptop, tablet or cell phone.
Several stars from traditional radio have moved to the web, including former L.A. radio stars Heidi Hamilton and Frank Kramer, who quickly amassed 6,500 paid subscribers when "The Heidi & Frank Show" made its online debut last November.
It was a far more modest start for 47 Radio: The station launched with just 100 subscribers its first week. There is no cost to subscribe to the station.
The union estimates it will cost between $10,000 and $15,000 a year to run the station. That will cover the time that the union's staff will spend on programming. That doesn't amount to many hours since workers mostly update the automated playlist. There are no deejays.
The station will pay $200 a month to its web host, and license and royalty fees will be distributed from that.
There are plans to offset the cost by selling advertising on the site. Two sponsors – the Recording Musicians Association and the Musicians' Interguild Credit Union – have stepped up so far. In addition, Local 47 will get a small percentage of royalties for music sold through the site.
"The Internet does allow people to get on without the cost of entry," said Sean Ross, executive editor of music and programming for Chicago-based Radio-Info.com. "You aren't going to get on in Los Angeles with FM for less than $100 million and maybe a lot more."
Eclectic mix
The station plays jazz, blues and classical as well as new age and even niche categories such as zydeco.
About 130 albums are on the playlist. While the artists aren't household names, they include successful musicians such as Chris Walden, who worked as an arranger for four years on "American Idol" and is now at "The Tonight Show With Jay Leno." He has recorded four albums with his Chris Walden Big Band and earned two Grammy nominations. But except for a few times on KKJZ-FM (88.1), he hadn't heard his music on the radio until now.
"These albums in rotation, these are the projects that are dear to my heart," said Walden, who now listens to Pro Music 47 a bit each morning. "It means a lot to me that my peers can hear my music."
Lisa Haley, known for her Cajun zydeco music, has four of her seven albums on the station's database. A member of Local 47 since 1985, she sees benefits beyond self-promotion.
"I am just really glad they stepped up to the plate," she said of the union. "This radio station is really going to help union musicians. They show up on time, play fabulous music and the paperwork is always perfect."
Acosta, who used to record under the stage name John Cos, said the station is one way for the union to do more for its members than negotiate and enforce contracts.
He said Local 47 has lost about 3,000 members in the past three years because of the struggling economy, a drop in union jobs for musicians, and the retirement or death of longtime members.
"We're trying to refashion ourselves to be more attractive to the new and younger musicians who have not grown up with a union and the word 'union' may have negative connotation," he said. "We still do the traditional things, but we're trying to become more of a service-like union."
For reprint and licensing requests for this article, CLICK HERE.