Can Markets Bear a Strike?
Chains, union have less in the bag this time.
Monday, May 2, 2011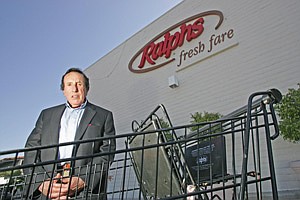 It appears the three main grocery chains that serve Los Angeles and their union workers are digging in for what may be another battle over wages and benefits.
However, industry experts warned that the chains may quickly discover that customers of Ralphs, Vons and Albertsons have many more places to shop for groceries today than they did during the last strike in Southern California in 2003.
Since then, Costco, Target, Wal-Mart, Whole Foods and Trader Joe's have beefed up their local grocery offerings. Some chains, including Fresh & Easy and Henry's, have moved in.
What's more, even the unionized stores have installed self-checkout machines. That means a store that is hit with a strike can accommodate customers more easily than in 2003.
"The supermarket employee is not standing on very solid ground," said Bill Bishop, of retail consulting company Willard Bishop Consulting in Barrington, Ill.
Still, Bishop said, a strike would harm both stores and union workers.
"If both groups pursue their individual interests, there's a possibility that a strike will do damage to both," he said. "The world has changed, such that this is a lose-lose proposition for both parties."
The 62,000-member United Food and Commercial Workers is in contract negotiations with Kroger Co., owner of Ralphs; Safeway Inc., owner of Vons; and SuperValu Inc., owner of Albertsons.
The last four-year contract expired March 6 and the two sides have not settled on a new contract; the former contract is being extended on a day-to-day basis. A large majority of union workers voted in mid-April to authorize leaders to strike.
Late last week, federal mediators stepped in to help reach a settlement.
On a conference call last week with analysts, Safeway Chief Executive Steven Burd said the authorization vote doesn't mean that a strike is near. He did not speculate on what would happen if there were a strike.
"There's no indication that we won't reach a settlement," Burd said.
Ready to fight?
But the union doesn't sound particularly conciliatory.
Rick Icaza, Local 770 president, who represents local grocery store workers, said his union has "no alternative but to fight" to maintain pension and health care benefits.
Also, the union opposes the chains' proposal to extend retirement age from 60 to 65. Salaries and increasing worker contributions to health care plans are also among the issues, said Icaza.
An average grocery union worker makes $14 an hour, he said. That works out to less than $30,000 annually – leaving the union with little wiggle room to meet grocery store demands that members pay an extra $30 a week toward health premiums, according to Icaza.
Prev Next
For reprint and licensing requests for this article, CLICK HERE.