Can Markets Bear a Strike?
Chains, union have less in the bag this time.
Monday, May 2, 2011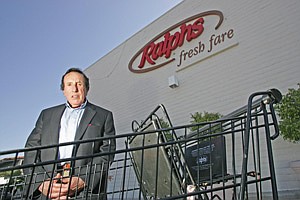 It appears the three main grocery chains that serve Los Angeles and their union workers are digging in for what may be another battle over wages and benefits.
However, industry experts warned that the chains may quickly discover that customers of Ralphs, Vons and Albertsons have many more places to shop for groceries today than they did during the last strike in Southern California in 2003.
Since then, Costco, Target, Wal-Mart, Whole Foods and Trader Joe's have beefed up their local grocery offerings. Some chains, including Fresh & Easy and Henry's, have moved in.
What's more, even the unionized stores have installed self-checkout machines. That means a store that is hit with a strike can accommodate customers more easily than in 2003.
"The supermarket employee is not standing on very solid ground," said Bill Bishop, of retail consulting company Willard Bishop Consulting in Barrington, Ill.
Still, Bishop said, a strike would harm both stores and union workers.
"If both groups pursue their individual interests, there's a possibility that a strike will do damage to both," he said. "The world has changed, such that this is a lose-lose proposition for both parties."
The 62,000-member United Food and Commercial Workers is in contract negotiations with Kroger Co., owner of Ralphs; Safeway Inc., owner of Vons; and SuperValu Inc., owner of Albertsons.
The last four-year contract expired March 6 and the two sides have not settled on a new contract; the former contract is being extended on a day-to-day basis. A large majority of union workers voted in mid-April to authorize leaders to strike.
Late last week, federal mediators stepped in to help reach a settlement.
On a conference call last week with analysts, Safeway Chief Executive Steven Burd said the authorization vote doesn't mean that a strike is near. He did not speculate on what would happen if there were a strike.
"There's no indication that we won't reach a settlement," Burd said.
Ready to fight?
But the union doesn't sound particularly conciliatory.
Rick Icaza, Local 770 president, who represents local grocery store workers, said his union has "no alternative but to fight" to maintain pension and health care benefits.
Also, the union opposes the chains' proposal to extend retirement age from 60 to 65. Salaries and increasing worker contributions to health care plans are also among the issues, said Icaza.
An average grocery union worker makes $14 an hour, he said. That works out to less than $30,000 annually – leaving the union with little wiggle room to meet grocery store demands that members pay an extra $30 a week toward health premiums, according to Icaza.
"We don't want the stores to lose market share," he said. "But if we lose pension benefits or health care, we have no alternative. We're not going to allow them to take away our benefits."
Bob Bartlett of Bartlett Joseph Associates, a retail consulting firm in San Rafael, believes the stores will stand their ground.
"My guess is that the Ralphs and other supermarket chains will stand up to the unions and say, 'Not this time,' " said Bartlett. " 'We've reached the end of the road and you can't get blood from a stone.' "
With the proliferation of nonunion groceries, he said, "I think the unions have overplayed their hand and jumped the shark. They may not be able to overcome these market forces."
The 2003 strike lasted an unprecedented 141 days and cost the big three Southern California supermarket companies an estimated $2 billion.
Ralphs was forced to pay $70 million in criminal fines and compensation because the company had been accused of hiring as many as 1,000 union workers under fake names.
Big expansion
After the battle, competitors made large investments in Southern California. Trader Joe's for example, expanded in Los Angeles County, opening stores in Hollywood, Rancho Palos Verdes, Woodland Hills and many other locations, growing to 49 stores today. Similarly, Whole Foods expanded from 13 stores in 2003 to 18 today; Target now has 50 stores in Los Angeles County with full grocery sections; British giant Tesco's Fresh & Easy has 10 stores.
What's more, Gelson's Markets, which has 10 stores in the county, is not part of the negotiations and would not be part of any strike.
Bruce Greenwood, an L.A.-based senior vice president at Costco, agreed stores such as his benefited from the 2003-04 strike, but noted that Costco didn't view it as a bonanza.
"It's not something you want to see happen," said Greenwood.
Faced with growing pressure from competitors, supermarkets are not in the position to make major concessions to the unions because of the struggle to eke out profits, according to Shane Higgins, vice president of Deutsche Bank Securities in New York, who covers Kroger, SuperValu and Safeway.
Profit margins have come down in recent years for supermarkets, which he attributed to intense competition from Costco and Wal-Mart.
"Discounters have made pretty significant market share gains," said Higgins. "That's driving lower margins than traditional grocers have ever seen."
Losing customers during a strike, he said, means that stores must make large marketing and promotional investments to bring back customers later.
"It's difficult for conventional grocers to compete against the nonunion guys," he said. "They've got to keep their pricing close to the competition."
Bartlett believes that supermarkets may be in for a battle for their lives.
"It's a very efficient market," he said. "If you don't perform well, then someone eats your lunch."
Bartlett said he's skeptical that consumers will be as understanding in 2011 as they were eight years ago – and may just pass picket lines to get good deals, or switch stores altogether.
"They won't have a lot of sympathy for the people who are striking," he said. "When you're down yourself and have that sinking feeling in your stomach and are living on a fixed income and not sure how to pay the bills, I think you will be less and less sympathetic for people making those kind of demands."
For reprint and licensing requests for this article, CLICK HERE.