Downtown's Quarterback
Special Report: LABJ BUSINESS PERSON OF THE YEAR
Monday, March 28, 2011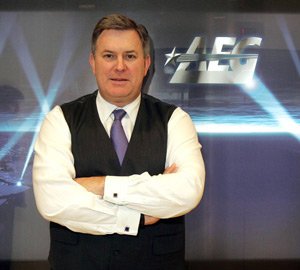 When Tim Leiweke was 10, he built a baseball field in his backyard. He carved the baselines with a rake and fashioned home plate out of an actual dinner plate. Then, he acted out each segment of his newly created sports world, not only swinging the bat, but sweeping leaves as groundskeeper and announcing play-by-play in the voices of Jack Buck and Harry Caray, the broadcasters for his hometown St. Louis Cardinals.
"Everyone was pooped from playing outside, and Tim would still be out there doing groundskeeper work," recalled his younger brother, Tod Leiweke. "If I were gonna put my finger on it, it was because of his love of not just a game, but an event. He was as intense a kid as he is today."
Today, Tim Leiweke has built an event empire at Anschutz Entertainment Group, which he has guided as chief executive in much the same way he created all the facets of his baseball world as a youth. AEG, after all, is the largest owner of sports teams, the second largest concert promoter and among the largest venue operators in the world.
More importantly for Los Angeles, his belief that large events cannot only make money for his company, but jump-start a new economic and civic ecosystem, has driven AEG's development of Staples Center and the $2.5 billion L.A. Live complex. The projects have been credited for an economic renaissance downtown.
"I can think of no one in the history of Los Angeles, certainly not in my lifetime, who's done more for the city, development-wise," said businessman and philanthropist Eli Broad, a friend of Leiweke's.
For those reasons, the Business Journal has chosen Leiweke as its Business Person of the Year. He joined the newspaper's Business Hall of Fame at a luncheon March 22.
Leiweke, 53, is the public face of AEG, which is owned by reclusive billionaire owner Philip Anschutz. In addition to his roles as developer and dealmaker, Leiweke, who was brought out to Los Angeles by Anschutz in 1996, oversees the company's 50 divisions and 24,000 worldwide employees.
The company's vast holdings include ownership of the Los Angeles Kings, the Los Angeles Galaxy and a 30 percent stake in the Los Angeles Lakers. It built and owns the Home Depot Center in Carson, where the Galaxy soccer team plays.
But it's Leiweke's activities downtown that have drawn the most attention.
Last year, the 54-story Ritz-Carlton and JW Marriott hotel tower, downtown's first new skyscraper in years, opened across from the Los Angeles Convention Center. It essentially marked the completion of the L.A. Live entertainment complex, which began construction in 2005 and has become arguably the most transformative development in the modern history of downtown.
The tower also features condominiums under the Ritz-Carlton banner. But months before the first condo closed escrow in February, Leiweke began pushing to build a football stadium adjacent to L.A. Live and bring the National Football League back to Los Angeles. It could be his toughest project yet.
"I do think we have a chance to be a place that people come to, whether it be for business, for sports, for entertainment or for fun, and to do a better job at hosting them than any other city in the world," he said.
"We can build an economic backbone from that philosophy that will get us out of the hole we dug here and begin to solve a lot of our problems."
In person
Like all great salesmen, Leiweke doesn't come off as one in person. Aside from the occasional one-liner ("A visionary in L.A. is knowing what route to take downtown when the 10 and 405 are packed"), he doesn't speak glibly nor does he often flash a toothy smile. There is something decidedly unslick about the way he squeezes his broad frame (his father was a semipro football player) and a slight paunch into tailored suits. He can appear to hunch forward slightly, and his walk is more of a friendly amble than a politician's glide.
When he sat down with the Business Journal, it had been just days since Staples Center hosted the NBA All-Star Weekend. The previous Thursday, he explained, he had taken 16 appointments from 7 a.m. to midnight. They included the unveiling of a statue of Lakers legend Jerry West outside Staples, a presentation on his NFL stadium plans to a blue-ribbon commission created by Mayor Antonio Villaraigosa and last-minute meetings with National Basketball Association officials about the upcoming weekend.
His cell phone rang at least a half-dozen times during the interview, which started almost an hour late because of other meetings. An AEG publicist also sat in on the interview, and at one point interrupted to show Leiweke a phone message.
The weekend before the all-star game, AEG and the Staples Center had played host to the Grammys – a formerly rotating event Leiweke has managed to keep at Staples since 2004.
"It's been the longest 30 days of my business career for sure," he said. "I'm sure from an energy standpoint, not too many people want to do 16 meetings in a day."
He has no choice but to delegate 100 percent of some duties, such as digging into the company's books, which he leaves to the chief financial officer. With others, such as the company's sales and marketing arm, he's known to get into the weeds and directly make deals.
His management style is driven by a far-flung empire that includes venues in Shanghai, China; London; and Germany, requiring him to spend much of his life on the road, away from his Brentwood home, where he lives with his wife, Bernadette.
His hobbies include golf, although he jokes that "if you saw the way I played, that'd be depressing." In previous interviews with the Business Journal, he said he enjoys skiing and vacationing at a family cabin in the Colorado Rockies in his free time.
Leiweke's admirers remark on his seemingly endless reserve of enthusiasm, which along with his ability as a salesman is one of his most commented-on traits. The two aren't unrelated – many have said that his fervor for a project can be contagious.
"I call him a visionary, a force of nature," said Villaraigosa, a good friend of Leiweke. "If he believes in something, he's dogged in pursuit of making it a reality."
Leiweke calls "passion" both his greatest strength and weakness. He has at times been cast as arrogant and condescending. At a recent press conference, he appeared taken aback by pointed questions over his NFL stadium plan.
"Will everyone just take a deep breath and have a little faith that we're not going to lie to people? We're going to do the right thing. Calm down," the Los Angeles Times quoted him saying.
The remarks fueled criticism, which he admitted bothered him.
"Sometimes people take our passion for arrogance," Leiweke said. "I think if you go look at football and the way we communicated our vision in the last month … suddenly they think we're trying to steamroll people. People probably look at our passion and tend to get overwhelmed by it sometimes."
Indeed, Leiweke has raised eyebrows by how he has pursued the NFL stadium in direct competition to a plan put forward by longtime Anschutz partner Ed Roski Jr. in the City of Industry.
Perhaps it's his presence in the public eye that also makes Leiweke a private man, who tends to shield his family from his professional life. He admits disliking when his daughter, Francesca, reads criticisms of him in the press. The daughter, a recent Stanford graduate, works for AEG, currently on the NFL project. She is occasionally seen attending games at Staples.
It's worth noting Leiweke did not allow the Business Journal to interview or photograph him at home, did not provide any personal or family photos for publication and did not respond to follow-up requests to interview his spouse.
L.A. Live
The $375 million Staples Center and $2.5 billion L.A. Live are perhaps the greatest proof of Leiweke's ability to sell his company's business interests as part of a grander, more inspiring vision – in this case, a yearning for community and civic pride.
It's something Leiweke does well when he pitches an idea, said those who've seen him in action.
"He could sell you your own house and make you pay more for it, and you'd walk out of there with a big smile on your face," said Kathryn Schloessman, president of the Los Angeles Sports and Entertainment Commission, which works to attract major sports and entertainment events to the city. "I've seen him speak a thousand times, and he never does anything with notes. He speaks for an hour, and it's mind-blowing how he has it all in his head."
During the planning stages of L.A. Live, Broad recalled flying out to New York with Leiweke to make a pitch to a roomful of investment bankers. At the time, Broad was looking for investors for the Grand Avenue Project, the billion dollar development around Disney Hall that he has spearheaded, and Leiweke for L.A. Live. Each of them talked for about 15 minutes.
"He tells it as it is – it's a very believable style to help people understand," Broad said. "He talked about a larger vision of Southern California as the headquarters of the Pacific Rim – the great cultural scene, the great sports activities, etc. – and how the Los Angeles area has been missing a vibrant center for this region, and how between what's happening at L.A. Live and Grand Avenue, it was finally coming together."
Nothing was decided in that one meeting, but at least one investor ended up opening his pocketbook for L.A. Live, Broad said. Also in the audience was Stephen M. Ross, the chairman of Related Cos., the company that eventually signed on as the main developer of the Grand Avenue Project.
"I've been accused of being a good salesman, and I guess I am," Leiweke said. "But I think at the end of the day, that's not about being relentless or a steamroller. It's that I'm passionate about our company, our vision and with this project that I think is right for the city."
When he first pitched L.A. Live, Leiweke spoke of it as the city's answer to Times Square. Whether that's been achieved can be debated. But photos of public gatherings at L.A. Live adorning the walls of AEG's lobby argue it may be on its way – people coming together to watch the Obama inauguration or celebrate a Lakers championship.
"In the last 10 years I would say that Tim and AEG have been the most important catalysts of our (downtown) renaissance," said Carol Schatz, president of the Central City Association, which promotes area business interests. "Downtown is now completely different and has become an entertainment destination."
Some critics have accused AEG of overstating the economic impacts of its projects. Leiweke gets worked up about those comments, saying it's hard to underestimate the impact of Staples Center.
"Because of that building, we built our whole company," he said. "Anybody that tells me at the end of the day that these types of projects don't create economic growth, I get frustrated. It's the catalyst for $3 billion worth of economic growth."
Leiweke grew up in St. Louis, the fourth of six siblings – Tracey, Terry, Trish, Tim, Tod and Therese. Their father, a semipro defensive lineman, instilled a love of sports from an early age. All four brothers would go on to work in sports in one capacity or another: Tod, most notably, is the chief executive of the National Hockey League's Tampa Bay Lightning and former chief executive of the NFL's Seattle Seahawks.
When Leiweke was 12, his mother died of cancer. She had been battling the disease for years. His father remarried, but Leiweke's new stepmother also soon died of cancer. The tragedies had a lasting impact.
"He saw things that most people shouldn't see by the age of 18," said Tod Leiweke. "I think it instilled a drive in our family, but specifically Tim, that remains there today – a drive to succeed, to overcome. The guy's never met adversity he didn't think he could overcome."
Tim Leiweke declined to discuss his mother's death for this article, saying only that it was a "life-changing experience."
After high school, he worked at a bakery and a deli and went to community college at night, but never graduated from college.
"I'd much rather have gone to college. But do I feel overmatched or overwhelmed when I'm talking to someone with an Ivy League degree? No," he said. "I don't look at them any differently, but I don't think they look at me any differently either."
At 21, he started a career in sports as the assistant general manager of the St. Louis Steamers, of the now-defunct Major Indoor Soccer League (since 2008, another league has operated under the same name). In 1981, Leiweke and his brother Tracey teamed up to run the MISL's Kansas City Comets. Tracey was team president and Tim general manager.
In an early sign of the marketing ingenuity to come, Tim Leiweke devised 2-for-1 ticket promotions, laser and light shows, and giveaways of calendars and posters. Soon, the soccer team was outdrawing the NBA's Kansas City Kings in the same arena by nearly 2 to 1.
In '88, he went to work as a vice president at NBA expansion team the Minnesota Timberwolves. Three years later, he said, NBA Commissioner David Stern recruited him to be president of the Denver Nuggets, whose sagging attendance Leiweke quickly turned around.
"I have experienced firsthand the opportunity to tell him I thought he absolutely couldn't possibly do something, but then watch him do it," Stern said. "All you have to do is tell Tim something's impossible and he'll try even harder."
He also was put in charge of building a new arena, the Pepsi Center, for the Nuggets' owners, Comsat. He negotiated the land's purchase from Anschutz, his future boss.
As part of the deal, Anschutz was to get a 50 percent interest in any expansion hockey team Comsat brought to the new arena. But the company did not launch an expansion team. It brought an existing franchise from Quebec, and squeezed out Anschutz.
The dispute went to court. Leiweke testified on Anschutz's behalf and resigned from the Nuggets at a tearful press conference in 1995 – not the last time he has had a public display of emotion. (Schatz recalled him tearing up recently at a Central City Association fundraising event when asking donors to come forward to help out Skid Row's Midnight Mission.)
A year later, Anschutz came calling. He had bought the Los Angeles Kings with partner Ed Roski Jr. out of bankruptcy, and wanted Leiweke to come out to run the team. Leiweke has been with Anschutz since.
The two still talk almost every day. Leiweke said the ideas they discuss are about 25 percent his, 75 percent Anschutz's.
Anschutz hasn't given a media interview since 1974 and did not respond to a request for comment through a spokesperson. But Broad, who knows both men well, said he believes much of AEG's vision comes from Leiweke.
"My guess is it's mostly his vision, but that it's a shared vision," he said. "Obviously Phil has to give the green light, but it probably originates with Tim here. He's on the ground here and knows all the players."
Taking chances
To be known as a visionary you have to take risks, and some of Leiweke's bold strokes over the years have been perceived as failures.
Among his most controversial business moves was the recruitment of David Beckham, who signed a five-year, $32.5 million deal with the Galaxy in 2007. Beckham has missed more than half of the last two seasons, and many people view his stint with the Galaxy as a flop. Leiweke doesn't.
"If you look at Major League Soccer in this country today, we are much more relevant today than we were five years ago because of David Beckham," he said. "I think he helped us raise our profile as a league and as a sport in this country."
In Kansas City, Mo., AEG has taken hits for failing to attract a team as promised to its Sprint Center, which opened in 2007. "I assure you, there is going to be an anchor tenant," Leiweke was quoted in 2004 saying in the Kansas City Star. But today, it still doesn't have one.
In 2008, David Cordish, a developer of Kansas City's downtown Power & Light District – think of a mini-L.A. Live – blasted the nearby arena in an e-mail to the city's mayor.
"The words 'gross negligence' and 'pitiful' come to mind," Cordish wrote. "The arena is a disaster because it has virtually no events and no professional basketball or ice hockey team."
Leiweke disputes the characterization, saying the Sprint Center is one of the most successful music venues in the country.
"That arena is more than paying for itself," he said. "We're sending the city millions more than they ever thought in their best circumstances they'd ever be able to get."
In an e-mail to the Business Journal, Cordish backtracked, writing: "Tim Leiweke is one of the giants in the industry. The Sprint Center has had a mammoth and incredible effect on the Power & Light District and the city of Kansas City."
AEG's entertainment arm, AEG Live, came under fire after the death of Michael Jackson, who had been preparing for an AEG tour, in 2009. AEG Live was sued by Jackson's family for pushing him through a grueling rehearsal schedule and not properly supervising him. The lawsuit is pending.
"We treated Michael with nothing but respect from day one," said Leiweke. "We were very aggressive at trying to give him an opportunity to do what he wanted to do with his career, and took a huge risk doing it."
Then there are $1.2 million in donations that AEG in the last five years contributed to politicians and their causes in California, according to state records. They are donations that haven't gone unnoticed by critics of the powerful developer. On this note, Leiweke is defensive.
"I have always been politically active because I think it's not only our right but our responsibility to have a voice," he said. "I don't hear anyone complaining about the fact I was the co-chairman of the telephone tax initiative to keep those taxes in place for the city. I didn't hear anyone bitching at me when I was out there with Chief Bratton and Sheriff Baca trying to raise additional taxes to keep our police force and sheriff's force intact."
Last year, Villaraigosa was ensnared in a minor scandal over failing to report free tickets to sports and entertainment events as gifts. Many of them were from AEG. Leiweke disagrees with the ticketing restrictions, and said he would change the law.
"The mayor's always your city's greatest cheerleader, and you want him out there front and center," he said. "Although I'm glad we have definition today on what's acceptable and what's not, I think it's wrong."
Biggest success?
Leiweke's next dream is a lot bigger than that makeshift baseball field in his backyard. He wants to build a football stadium in downtown Los Angeles to bring back an NFL team to the city, assuming Anschutz will eventually ante up the money.
"It's been a dream of his for quite some time, but his boss has been leery about getting into the business," said recording artist Garth Brooks, who's worked closely with Leiweke on tours and considers him a good friend. "But this is the time, and he's doing what he does best and he's very passionate about this."
Like L.A. Live and Staples before it, Leiweke is touting the stadium as something that will spur growth and a sense of community downtown. It is to have a retractable roof in order to hold conventions and other events. He's already had conversations with the Grammys about the possibility of holding the awards ceremony there, and has publicly mentioned the possibility of bringing the Olympics to town.
"People will see it's exactly what we represent," he said. "Which is that this is a project that will have zero risk to the city's general fund, and economically be one of the chief catalysts to drive our economy for the next generation. I'm really proud of that."
The stadium could go down as his biggest success or his biggest failure. Indeed, the entire notion of an NFL stadium downtown has its share of skeptics, who are concerned about environmental impact as well as potential public costs.
One week last month, Leiweke made presentations to Paul Krekorian and Bill Rosendahl, the two Los Angeles City Council members who have been most critical of the stadium.
"He does his homework," Rosendahl said. "He knew where I was coming from. He tried to anticipate questions. He came right out and said, 'It's not gonna cost the city a dime.' And I said, 'I'm talking indirect and direct costs,' and we went back and forth."
Krekorian declined to comment through a spokesman.
Leiweke said he came away convinced that at least one of the council members he met with would "reach the right conclusion if given fair and reasonable answers."
That same week, Leiweke also said he met with a state senator representing the City of Industry, where a rival NFL stadium plan by Roski is in the works. Leiweke declined to name the senator, but a spokesman for Sen. Robert Huff, R-Diamond Bar, acknowledged a meeting.
"Did I turn him?" Leiweke said. "No, I'm not gonna turn him, and I get that. But I wanted him to hear directly from me."
The competing projects have made a new rival of Leiweke's old ally Roski and caused some bad blood. In December, John Semcken, vice president of Roski's Majestic Realty Co., called Leiweke "a bad guy" and his downtown project "a pipe dream in Los Angeles that is confusing to people" in a newspaper interview. Roski was reported to have ordered Semcken to personally apologize.
In recent months, Leiweke has made a trip to Sacramento to drum up support for the project, and thrown his weight behind a proposed downtown streetcar project that he said would benefit both the area and stadium. And, on Feb. 1, the company announced its most promising sign of progress yet – a $700 million naming rights deal with L.A.-based Farmers Insurance.
"I'm glad AEG has an impact on making Los Angeles a better place to live," Leiweke said. "I don't want to go play golf seven days a week. I like being a part of everyone's lives here. I like changing the city. And hopefully when it's all said and done, we'll leave a positive mark."
The Resume
Tim Leiweke has held a series of executive positions throughout his career, mostly in the sports world.
Anschutz Entertainment Group
Los Angeles
Chief Executive, 1999-present
Los Angeles Kings
Los Angeles
President, 1996-1999
U.S. Skiing
Park City, Utah
President, 1995-1996
Denver Nuggets
Denver
President, 1991-1995
Minnesota Timberwolves
Minneapolis
Vice President, 1988-1990
Kansas City Comets
Kansas City, Mo.
President, 1986-1988
Leiweke & Co.
Kansas City, Mo.
Vice President, 1984-1986
Kansas City Comets
Kansas City, Mo.
General Manager, 1981-1984
Baltimore Blast
Baltimore
General Manager, 1980-1981
St. Louis Steamers
St. Louis
Assistant General Manager, 1979-1980
Robert J. Spindle & Co.
St. Louis
Salesman, 1977-1979
For reprint and licensing requests for this article, CLICK HERE.