Howard Murad: Doctor Is In
Q&A: Iraqi immigrant made his name in America with his infomercial-supported line of branded skin care products.
Monday, March 21, 2011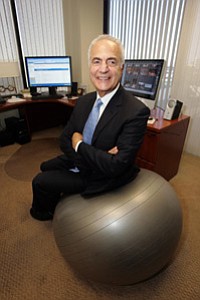 The son of Iraqi immigrants who fell on hard times after settling in post-World War II New York, celebrity dermatologist Dr. Howard Murad has far surpassed his family's expectations. After attending the Brooklyn College of Pharmacy, he studied medicine at the University of California, Irvine. Then he hit it big 20 years ago by latching on to the infomercial craze to tout pioneering skin treatments that truly had a medical effect, such as those containing alpha hydroxyl acid, which peel off the outer layer of skin to create a more youthful appearance. El Segundo-based Murad Inc. is considered to have created what is referred to in the trade as "Dr.-branded" treatments – science-based products backed by identifiable doctors. Today, his products are sold through such high-end outlets as the Sephora chain of cosmetics stores, and the company continues to roll out new products. At 71, Murad remains firmly in control and has resisted selling out to private equity firms, instead enlisting his children and other relatives to help run the business. The Business Journal sat down with Murad recently to discuss his career, his recently acquired abstract painting hobby and his odd penchant to sit on exercise balls in lieu of chairs.
Question: You seemed to have had a pretty dramatic childhood.
Answer: My family moved from Baghdad to New York in 1946 when I was about 7 years old, the youngest of six children. We were Jewish and it wasn't a good time to be Jewish in Iraq. By 1948 it was very difficult to leave, so we were lucky to escape when we did.
How difficult was it to get to the United States?
I don't know all the details because I was so young, but I found out later that at the time there was a very small quota of Iraqis, only 100 a year, who were allowed into the United States at a time. On top of that, it was just after the war and there wasn't a lot of transportation overseas that wasn't military. It was easier to go to Egypt first. So we stayed with family in Cairo for year until we could get into the U.S.
How hard was it to adjust to the United States?
There was no help back then; you had to learn English to get along here. None of us knew the language but it was easier for me than my parents because I was so young. Within a month, I was speaking English pretty well and I really don't have the accent that my older siblings still do. Even my parents learned enough for work and reading newspapers and such.
What was it like as an immigrant in New York at that time?
My father had a small but successful business selling commodities back in Iraq. In New York, he started a business selling fabrics, but eventually went bankrupt. He didn't speak the language well enough and didn't really know the product. He only had a third-grade education so he became a messenger, and my mom worked as a seamstress. We had a big house when we first came here, but had to move into a tiny apartment. We worked in addition to going to school. I was pin boy at a bowling alley and at one time was a caddy at a golf course. I used to work for 10 cents an hour doing gardening.
You said your father was one of your greatest influences. Why is that?
He didn't allow little things, or what other people would consider big things like being broke, to reduce his joy of life. After he lost his business and had to become a messenger, he said, "Well, if we have to eat onion sandwiches for dinner, that's what we'll have. At least we'll have something to eat and have a roof over our heads."
Did you always want to be a doctor?
I originally wanted to be an engineer. I started out studying it at Brooklyn College, but I decided I just didn't like it. My brother had become a pharmacist and he suggested I try that instead because I liked science and it was steady work. Eventually I realized that what I really wanted to be was a doctor, and ended up going to University of California, Irvine, for that.
Why California?
I had to work my way through med school, and pharmacists in California at the time were paid $5 an hour, about double what I could make in New York. And tuition in both states was about the same. I came to really like the California lifestyle.
You studied surgery. How did you end up a dermatologist?
Vietnam cured me of wanting to be a surgeon. I did a tour as a general medical officer over there in 1967 during the war and performed enough surgery for a lifetime. Then I put in another year in Fort Lewis, Wash., where I had a general medical clinic in the morning and a dermatology clinic in the afternoon. That's when I realized how interesting dermatology could be.
It must have been difficult to be a military surgeon.
I went from doing hernias and obstetrics surgery as an intern to dealing with guys who had their arms blown off. I was attached to an airborne unit in the Army and they get hurt the most because they tend to be the first ones dropped into a place. There was a lot of trauma injuries to deal with.
So how did you start a skin care company?
It grew out of my experience owning a day spa and realizing that I could create and sell products to other dermatologists and to the public. I had an aesthetician in my practice but in about 1987 I opened what would be considered today one of the first medi-spas– there were really only about 30 day spas owned by doctors at the time.
Did your professional training help?
Being a pharmacist helped a lot. I'd write up prescriptions using alpha hydroxyl acids that I had researched, and had them made up at a compounding pharmacy. I realized that I could come out with a line that could be used by other doctors, and then an over-the-counter line for retail. I was able to do this in 1989 after I bought into a cosmetic lab that was involved in topical alpha hydroxyl acids. I developed my products with them and sold them under my own name brand. And that was the first so-called Dr. skin care line.
You became a household name from your infomercials in the 1990s. How did you come to market that way?
Launching the company took some work, especially selling the use of alpha hydroxyl acids. When I had my first booth at a trade show, people would come up and say, "You want to put acid on my skin? That doesn't sound good." By 1992, infomercials were big. Cher had her hair thing and there was Tony Robbins and his tapes, so I thought that might work for me because it would give me enough time to explain my products. I finally had my first successful infomercial in 1994.
First successful?
My first infomercial in 1992 was a failure – after three weeks on the air we sold only two products. I had borrowed money on my house, we stocked up on products and I wanted it to be unique. You know how the usual infomercial has celebrities sitting on a couch giving testimonials? I wanted ours to be different. We used two sisters, one of whom used my products and one who didn't and had the successful woman explaining it to her sister. I learned my lesson, and we did another one with a more typical format – and it was huge. It led to everything, including the books I've written. In 1983 I had three products. Now I have more than 100.
Why have you kept the company private and never gone public?
I've had offers – I get a letter from someone every two weeks – but I love running a family company. My son and one of my daughters and a nephew work for the company. And I never needed outside investors. I had a good broker in the 1970s and made some good money in stocks at the right time. I borrowed money on my house that one time and I took a bank loan. I don't like to take on debt, so I expand with the money we make.
Did building the company get in the way of your first marriage?
Not really, I think. Just after 27 years we grew apart. We still get along, though. I didn't meet my second wife, Loralee, until 10 years later. We met and married three years ago because we both lived in the same condo complex in Marina del Rey. We kept both our units. Mine faces the city, where we live most of the time, and hers faces the ocean – where she keeps her extra clothes.
Have you considered what will happen with your company when you are ready to retire?
We don't have it down in detail yet, but we do want to keep the company in the family.
Almost all of the abstract art on the walls of your company was done by you. How long have you been an artist?
Not that long. On a weekend trip to Ojai two years ago, my wife wanted me to go with her to take an art class. I wasn't thrilled, but the teacher was just wonderful. She liked what I was doing and said not to take any more classes, or else some teacher would try to change my style.
You're pretty prolific.
I wasn't at first. When I got back from Ojai, I bought the art equipment the teacher suggested, but didn't do anything with it. Then about a year later I had a retinal detachment in one eye. After the surgery I had to stay home with my head down for a month so I took up art to stay occupied. Then another year later, my other eye had a retinal detachment so I did more art while I was recovering again. But this time I kept doing it even after I went back to work. I even have an area at our warehouse where I can work on larger projects. In addition to hiking, it's now my main hobby.
How did you come to have a retinal detachment in both eyes so close together?
I not only had had cataract surgery a year earlier but also had very myopic vision – two of the leading conditions that make you predisposed to a detachment.
Do you have a favorite place to hike?
I have a place called Las Liones, which is off Sunset Boulevard near the Pacific Coast Highway. It can be a 20-mile hike but the most I've done is 12 miles. There's a lot of variety in the scenery and the terrain. You start out in almost a rain forest setting and then it gets a lot more open. And there are some great views of the ocean, too.
You use a larger exercise ball instead of a desk chair in your office. What's behind that?
I started using one at the gym and realized how it really helped my balance and my core muscles, and would be more physically beneficial than a chair. I spend a lot of time at my desk and this makes me sit up straighter instead of slouching.
I understand charity is very important to you.
I really encourage people at the company to get involved. Employees can take one day a month to volunteer at a charity of their choice. Personally, since 1972 I've gone down once a month to the Vista Del Mar Child Care Center and treated their kids for free. We also contribute to groups like Big Sisters and the after-school program at the Jewish Center in Redondo Beach. I also like to do environmental things. We sponsor the ray tank at the Manhattan Beach Pier and last summer we had 100 employees pick up 400 pounds of garbage for a Heal the Bay event. When you've been very fortunate, as we have been, you should give back to the community.
Howard Murad
Title: Chief Executive and Founder
Company: Murad Inc.
Born: Baghdad, Iraq; 1939.
Education: Brooklyn College of Pharmacy (now Long Island University), 1962; M.D., University of California School of Medicine, Irvine, 1966.
Career Turning Point: Switching from surgery to dermatology after a military tour during the Vietnam War.
Most Influential People: His father, Albert Murad.
Personal: Lives in Marina del Rey with his second wife, Loralee Knotts-Murad; two daughters and one son from a previous marriage; four grandchildren.
Activities: Painting and hiking.
For reprint and licensing requests for this article, CLICK HERE.