Howard Murad: Doctor Is In
Q&A: Iraqi immigrant made his name in America with his infomercial-supported line of branded skin care products.
Monday, March 21, 2011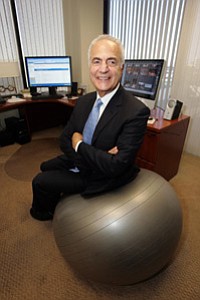 The son of Iraqi immigrants who fell on hard times after settling in post-World War II New York, celebrity dermatologist Dr. Howard Murad has far surpassed his family's expectations. After attending the Brooklyn College of Pharmacy, he studied medicine at the University of California, Irvine. Then he hit it big 20 years ago by latching on to the infomercial craze to tout pioneering skin treatments that truly had a medical effect, such as those containing alpha hydroxyl acid, which peel off the outer layer of skin to create a more youthful appearance. El Segundo-based Murad Inc. is considered to have created what is referred to in the trade as "Dr.-branded" treatments – science-based products backed by identifiable doctors. Today, his products are sold through such high-end outlets as the Sephora chain of cosmetics stores, and the company continues to roll out new products. At 71, Murad remains firmly in control and has resisted selling out to private equity firms, instead enlisting his children and other relatives to help run the business. The Business Journal sat down with Murad recently to discuss his career, his recently acquired abstract painting hobby and his odd penchant to sit on exercise balls in lieu of chairs.
Question: You seemed to have had a pretty dramatic childhood.
Answer: My family moved from Baghdad to New York in 1946 when I was about 7 years old, the youngest of six children. We were Jewish and it wasn't a good time to be Jewish in Iraq. By 1948 it was very difficult to leave, so we were lucky to escape when we did.
How difficult was it to get to the United States?
I don't know all the details because I was so young, but I found out later that at the time there was a very small quota of Iraqis, only 100 a year, who were allowed into the United States at a time. On top of that, it was just after the war and there wasn't a lot of transportation overseas that wasn't military. It was easier to go to Egypt first. So we stayed with family in Cairo for year until we could get into the U.S.
How hard was it to adjust to the United States?
There was no help back then; you had to learn English to get along here. None of us knew the language but it was easier for me than my parents because I was so young. Within a month, I was speaking English pretty well and I really don't have the accent that my older siblings still do. Even my parents learned enough for work and reading newspapers and such.
Prev Next
For reprint and licensing requests for this article, CLICK HERE.