Dark Skies for Flight Schools?
L.A. may move to shut Santa Monica Airport.
Monday, March 21, 2011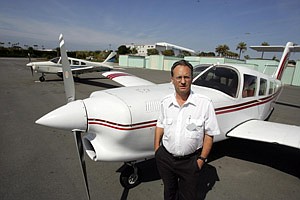 As a pilot, Nick Ullmann is an expert in aviation. As a flight school owner at Santa Monica Airport, Ullmann is getting a crash course in politics.
Ullmann and the operators of five other flight schools at the airport find themselves under attack from an unexpected source: members of the Los Angeles City Council.
For years, the city of Santa Monica has heard complaints from nearby L.A. residents about the noise and dangers of the municipal facility. But the airport, and specifically the aviation schools, are now coming under fire from Los Angeles City Council members Bill Rosendahl and Janice Hahn.
They recently introduced a resolution that would give the city's Washington, D.C., lobbyists the authority to pressure Congress and federal agencies.
The immediate goal of any lobbying would be to force the Federal Aviation Administration to close the flight schools and change a flight path at the airport. The council members' ultimate goal: close the airport. Even Santa Monica officials acknowledge that closure is a possibility.
"I don't understand very much about city councils, but it seems pretty bizarre to me that somebody representing a district in L.A. has any power to close aviation schools in Santa Monica," said Ullmann, who owns and is an instructor with Proteus Air Services.
"He's pandering to the electorate," he said of Rosendahl, "and he knows nothing about aviation."
Closing the airport would bring an end to a facility that played a significant role in aviation history and the local economy. Built in the early 1920s, Santa Monica Municipal Airport is one of the West Coast's oldest airports and was once home to Douglas Aircraft – which fueled the local economy for decades until its successor moved to Long Beach in the late 1990s.
The first plane to circumnavigate the world took off and landed at the airport in 1924. Since then, it airport has gradually grown in popularity with private jet users. It is, after all, close to Beverly Hills and Malibu.
The airport logs about 105,000 departures and arrivals annually. That amounts to some 285 flights a day as a destination and takeoff point for private and flight school planes, and chartered jets.
But as Santa Monica and Los Angeles have grown up around the airport, Rosendahl said the facility poses an unnecessary threat to residents under flight paths.
"The airport doesn't belong in that urban environment anymore," he said. "(Pilots) had a great run at the airport, but times change."
For reprint and licensing requests for this article, CLICK HERE.
Prev Next