Hollywood Reporter: Costs to Cover
Lack of ad pages in high-gloss Hollywood Reporter has show biz industry buzzing.
Originally published March 21, 2011 at midnight, updated March 21, 2011 at 4:48 p.m.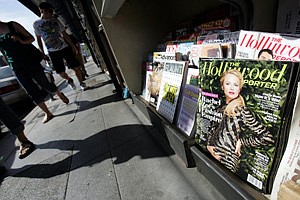 Editor's Note: This story has been changed from the print version to correct the name of Richard Beckman's company, Prometheus Global Media.
Expenses at the new slick weekly version of the Hollywood Reporter are high, and recent issues have not exactly been bulging with ads. Entertainment industry folks are wondering how long this publishing experiment can last.
But editor Janice Min doesn't hesitate when asked if she thinks the large-format glossy magazine she launched last year will survive.
"We'll be here 10 years from now – absolutely," said the high-profile editor who ran US Weekly for six years. "I think we've achieved the one goal that every publication in America strives for: to be well-regarded and well-read."
The magazine replaced the daily print edition of the show business trade paper. It now has a circulation of 72,000, up from 47,800 as a daily. But industry insiders and rivals noticed a dramatic drop in ad pages after the end of awards season last month – common for a show biz paper but troubling for a publication that has pinned its long-term viability on high-end consumer advertising.
"The amount of money the Hollywood Reporter has spent and is spending for the amount of ad pages they have is the talk of the town," said Sharon Waxman, editor of TheWrap.com, which competes for breaking news with the Reporter's website. "But I certainly give them credit for putting out a very good-looking magazine."
Waxman thinks the publication faces "an impossible mathematical equation" in finding a big enough audience to support such a costly product.
"I think now is a fairly critical period for them," she said. "We're past the high-price advertising for awards season."
During awards season, the magazine was chock-full with double-page or full-page campaign ads for such films as "The Social Network," "True Grit" and "The Fighter."
The Jan. 12 issue, for example, had 24 full-page ads, with 14 of them awards-related.
But after awards season, the March 18 edition had 11 full-page ads, and three of those were free "house" ads that promoted Reporter-sponsored events and products.
By comparison, the current issue of Vanity Fair with Robert Pattinson on the cover is 200 pages, has 13 double-page ads before you get to the table of contents on page 26 followed by 71 more full pages of ads.
But Min said she is not discouraged.
"You can see in the pages that consumer advertisers are coming in," she said. "I don't think anyone thinks March is a great month for advertising. Nobody's panicking. We're committed to 46 issues a year and some of them will be thinner, some of them will be super fat."
Prev Next
For reprint and licensing requests for this article, CLICK HERE.