On and Offline
L.A. apparel makers building real and virtual stores
Monday, March 14, 2011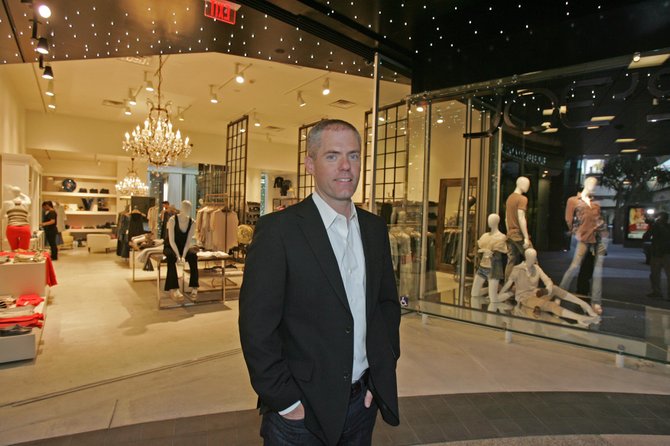 Joe's Jeans has a plan to get more shoppers to slip into its designer jeans, and the premium denim maker isn't only relying on the Internet. It's going back to something many retailers are shrinking from: brick and mortar.
The Commerce apparel company is expecting to open at least 18 stores in the United States and abroad this year – doubling the number of locations it currently operates.
An aberration? Not exactly. Among other L.A. companies, True Religion is planning to more than double its roster of international stores, and Guess is looking to add to its domestic retail operations.
Even though online apparel sales continue ascending, and some brick-and-mortar retailers are shrinking, the moves by Joe's Jeans and others show apparel companies still value a real-world store presence. They need retail stores to complement their online presence.
"The one thing you will always hear is 'your online business is the biggest and most profitable store,'" said Marc Crossman, chief executive at Joe's Jeans. "That's the case for us. It's a great way to do business. But I don't look at having our online shop in lieu of having our brick-and-mortar stores. They have to complement each other and mirror each other."
In the case of Joe's Jeans, a retail outlet gives it the freedom to stock its own store shelves with whatever it wants. The company mostly sells its jeans at boutiques and high-end department stores such as Bloomingdales, but those don't carry its full product line, which now includes basic T-shirts and even shoes.
So Joe's Jeans and True Religion are opening stores to expand their product lines beyond high-priced jeans. Meanwhile, Guess' retail strategy is driven by cheaper rents in the United States and booming business abroad.
Of course, shoppers increasingly are going online to buy a pair of jeans or pick up a trendy T-shirt or handbag, according to Port Washington, N.Y.-based market research firm NPD Group Inc., which said sales of women's and men's apparel grew 10 percent last year.
And some big-box retailers are shrinking. Some Best Buy outlets are moving into smaller stores, while clothing store Gap has been including its GapKids and Gap Body brands in its Gap stores instead of standalone shops.
Marshal Cohen, a chief industry analyst at NPD who covers consumer behavior and the retail industry, said it's become increasingly difficult to operate a successful brick-and-mortar retail operation.
"Retail is no longer the opportunity where the entry way is paved with gold," Cohen said. "It's a challenging environment. It's about getting the product right, pricing right, timing right, service right, customer relationships right."
But that doesn't mean real-world stores are dying.
Jeffrey Lubell, chief executive, chairman, creative director and chief merchant at True Religion, said there's room for the company to run successful businesses both in stores and online.
"The stores are also a place where you can experience the brand, look and touch the product and try it on to ensure that it fits," Lubell said in an e-mail. "However, online shopping is an important and evolving area that we will continue to cultivate."
Emerging markets
Joe's Jeans has grown during the last two years from a manufacturer of high-end denim, with its signature gold JJ logo embroidered on the back pocket, into a brand that offers tops, shoes and designer handbags for women. The company also makes men's clothing, including pants, T-shirts and belts, plus designer duds for kids: Hence the need for its brand stores.
The company initially focused its store growth on its domestic retail operations, and now has four full-price stores and 14 outlet stores throughout the United States.
"It really is about selling more product and more product categories," Crossman said. "It takes us out of just being a jeans company to a lifestyle company, and you need your own stores to do that."
Joe's Jeans plans to open at least 10 more U.S. retail stores this year, but is now also turning its attention abroad. Its first international store opened last year in Paris, and the company is planning to open seven stores in the Middle East through a franchisee and one store in Japan this year. Executives are currently eyeing locations in the Philippines, Taiwan and China, and planning to start opening stores in those countries next year.
"It's the big kickoff to build our international exposure," Crossman said.
Like Joe's Jeans, True Religion views its own retail stores as a way to boost sales. And the Vernon premium denim maker is now focused on expanding its presence abroad.
Lubell said in his e-mail that the company anticipates opening eight stores outside of the United States this year in Canada and Europe, adding to its seven international stores.
Eric Beder, a managing director at New York equity research and investment banking firm Brean Murray Carret & Co., who covers True Religion, said the company wants to increase its international business to 50 percent of its total sales, up from 18 percent.
"International is the next major growth spurt for this company," Beder said.
True Religion also plans to open 15 U.S. stores this year, a slowdown from the 24 stores it opened last year. Instead of continuing expansion, the company is spending more time on improving its retail operations.
Last month, the company announced that it hired David Chiovetti, a former Guess executive, as senior vice president of North America retail – a newly created executive position.
Meanwhile, Guess, headquartered southeast of downtown L.A.'s fashion district, is turning its attention to growing its U.S. retail operations after slowing down due to the weak economy.
Beder, who also follows Guess, said the company has told analysts that it plans to open about 51 stores in the United States this year. Guess' U.S. retail plans call for more accessory stores, which sell items such as handbags and have become its best-performing retail concept. The company will also open more G by Guess stores, which sell lower-priced apparel and accessories.
"After a relatively slow two years in the United States, Guess is coming back to the United States with a vengeance," Beder said. "Rents have come down to levels where it makes sense for them to open more stores. And, they've perfected the format of the Guess accessory store, which is smaller, and they are going to start ramping that up."
At Joe's Jeans, however, Crossman said he wasn't finding any deals on the real estate market.
Guess will also open stores in Asia and Europe, where they've had good results. In those two markets, Guess reported revenue increased by 35 percent and 28 percent, respectively, for the quarter ending Oct. 30, 2010.
The company is planning to open 40 to 50 stores per year in China during the next several years, Paul Marciano, chief executive of Guess, was quoted as saying in a transcript of an earnings call with analysts detailing the earnings.
But Joe's Jeans and the other L.A. companies that are planning to open more stores may be outliers. In the face of increasing online sales, many retailers are most likely going to have to cut the number of stores they open by 10 to 20 percent, according to Beder.
"You are going to see less desire to open stores to get geographic penetration versus overall returns," Beder said. "The rule of thumb of how many stores you have is going to shrink."
For reprint and licensing requests for this article, CLICK HERE.