Hiking Image
As insurers scrimmage on TV, Farmers takes to field
Monday, March 7, 2011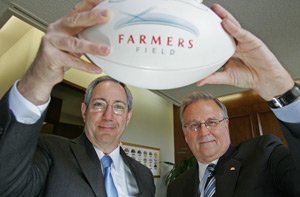 It's not a stretch to say the Geico gecko is a big reason L.A.'s next NFL team – assuming it gets one – will play at a place called Farmers Field.
Farmers Insurance surprised the sports world recently by agreeing to pay $700 million for the naming rights to Anschutz Entertainment Group's proposed downtown L.A. stadium, but Farmers had more in mind than generating a bit of good will.
Faced by competitors such as Washington, D.C.-based Geico that are shelling out hundreds of millions of dollars in an unprecedented advertising spree, the L.A.-based property and casualty insurer needed to score some marketing points.
"It was a no-brainer," said Farmers Chief Executive Bob Woudstra, referring to the deal. "I never would have believed that an insurer would spend more annually than Budweiser, but it's come to be a reality."
In fact, Farmers, a unit of Swiss insurer Zurich Financial Services Ltd., finds itself in the middle of what trade publication Advertising Age has called a "$4 billion ad brawl" started 10 years ago by Geico – and which has accelerated ever since.
Kantar Media, a New York ad consultancy, estimates that Geico, a subsidiary of Warren Buffett's Berkshire Hathaway Inc., spent $617 million on advertising in 2009 and was on pace to spend even more last year. Other big spenders in the hundreds of millions include Allstate Insurance Co., Progressive Casualty Insurance Co. and State Farm Insurance.
Farmers doesn't release the dollars it spends on advertising and marketing, but industry analysts believe the National Football League stadium deal, which is widely believed to be worth $700 million over 30 years, is a quantum leap compared with past practices.
Driving it all has been a fundamental change in the way insurance is purchased. Insurance has traditionally been sold through brick-and-mortar brokerages and far-flung company agencies that could be found in the smallest communities. Now, with the advent of the Internet, sales have shifted online.
That's why insurers now are spending mass media ad dollars like brewers and soda makers. Geico's reptile and cavemen, Allstate's Mayhem campaign and Progressive's sales clerk Flo have all become hits on YouTube and TV. Geico has seen significant increase in market share from its ad campaigns.
Particularly benefiting these ads has been the sports world, where the seats are filled with a prime demographic: men who need or soon will need auto, home and life insurance.
As a result, Progressive and Great American Insurance Group have stadium deals in smaller cities, while State Farm has signed national sponsorship deals with Major League Baseball and the National Basketball Association.
For reprint and licensing requests for this article, CLICK HERE.
Prev Next