Hiking Image
As insurers scrimmage on TV, Farmers takes to field
Monday, March 7, 2011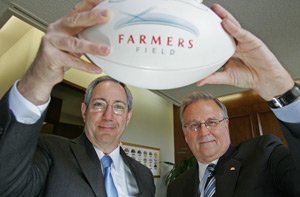 It's not a stretch to say the Geico gecko is a big reason L.A.'s next NFL team – assuming it gets one – will play at a place called Farmers Field.
Farmers Insurance surprised the sports world recently by agreeing to pay $700 million for the naming rights to Anschutz Entertainment Group's proposed downtown L.A. stadium, but Farmers had more in mind than generating a bit of good will.
Faced by competitors such as Washington, D.C.-based Geico that are shelling out hundreds of millions of dollars in an unprecedented advertising spree, the L.A.-based property and casualty insurer needed to score some marketing points.
"It was a no-brainer," said Farmers Chief Executive Bob Woudstra, referring to the deal. "I never would have believed that an insurer would spend more annually than Budweiser, but it's come to be a reality."
In fact, Farmers, a unit of Swiss insurer Zurich Financial Services Ltd., finds itself in the middle of what trade publication Advertising Age has called a "$4 billion ad brawl" started 10 years ago by Geico – and which has accelerated ever since.
Kantar Media, a New York ad consultancy, estimates that Geico, a subsidiary of Warren Buffett's Berkshire Hathaway Inc., spent $617 million on advertising in 2009 and was on pace to spend even more last year. Other big spenders in the hundreds of millions include Allstate Insurance Co., Progressive Casualty Insurance Co. and State Farm Insurance.
Farmers doesn't release the dollars it spends on advertising and marketing, but industry analysts believe the National Football League stadium deal, which is widely believed to be worth $700 million over 30 years, is a quantum leap compared with past practices.
Driving it all has been a fundamental change in the way insurance is purchased. Insurance has traditionally been sold through brick-and-mortar brokerages and far-flung company agencies that could be found in the smallest communities. Now, with the advent of the Internet, sales have shifted online.
That's why insurers now are spending mass media ad dollars like brewers and soda makers. Geico's reptile and cavemen, Allstate's Mayhem campaign and Progressive's sales clerk Flo have all become hits on YouTube and TV. Geico has seen significant increase in market share from its ad campaigns.
Particularly benefiting these ads has been the sports world, where the seats are filled with a prime demographic: men who need or soon will need auto, home and life insurance.
As a result, Progressive and Great American Insurance Group have stadium deals in smaller cities, while State Farm has signed national sponsorship deals with Major League Baseball and the National Basketball Association.
"Insurance companies are a bit like beer companies in that they are selling the same basic products," said Dan Rascher, president of SportsEconomics, a sports marketing consultancy in Oakland. "There are different terms and prices, but you are effectively buying insurance. What's special about naming rights is the sponsor can associate with fans of the team."
High school years
That the Farmers name might one day grace a 65,000-seat football stadium in the heart of Los Angeles – assuming it gets built and a team is secured – is not really surprising for those who have followed the company.
Since its founding 83 years ago in Los Angeles as an insurer of farm equipment, it has grown to be the nation's third largest personal lines insurer, ranked by the $18.1 billion in premiums written in 2010. The independent insurer became a key unit of insurance giant Zurich in 1997 after a series of ownership changes.
Farmers first got into sports marketing in 2007, starting on the local level when it decided to sponsor high school teams. It has spent $10 million in 17 states, including $1 million sponsoring the California Interscholastic Federation.
"The company looks at sports in general as a way to engage the local community," Woudstra said.
The high school sports strategy fit in with a company that primarily sells through a network of 15,000 exclusive independent agents in 30 states. Then it got into professional sports sponsorships to broaden its marketing.
In professional sports, Farmers found itself in a particularly good position. Unlike New York, Chicago and Atlanta, Los Angeles is home to few Fortune 500 companies that compete to sponsor local teams.
As a result, major events like the Los Angeles Tennis Open at UCLA have struggled to find corporate partners. The tournament played a year in 2009 without a corporate partner after its most recent title sponsor, Countrywide Financial Co., was acquired by Bank of America. That tournament is now the Farmers Classic after the insurer upgraded a three-year deal to title sponsor in 2010.
The company decided last year to sponsor the PGA's annual golf tournament at Torrey Pines in La Jolla, a deal since extended to 2014.
More sponsorships
Farmers also put its name on the jersey of the Los Angeles Sparks when the women's pro hoops team sought sponsors two years ago. The deal was renewed last month.
Jersey sponsorships are highly valuable marketing tools, giving prominent TV exposure.
"We're going to be on ESPN for at least four games plus playoff games," said Sparks President Mike Levy. "There could be another insurance company advertising during the game but then Farmers is right in your face."
Other smaller sponsorships include the Los Angeles Kings and Los Angeles Galaxy, teams majority owned by AEG. Thus, when AEG began to seek potential sponsors for the NFL stadium, it approached Farmers first because it knew the insurer was looking for bigger deals in the local market. Their agreement, announced Feb. 1, took about six months to complete.
"Farmers was the only company that we negotiated with for this deal," said Shervin Mirhashemi, chief operating officer of AEG Global Partnerships, the company unit that oversaw the deal.
Farmers hired an outside consultant to evaluate the partnership. It was advised that the project – a football stadium with a retractable roof that also would function as an extension of the Los Angeles Convention Center – was more valuable than any other naming-rights partnership it had ever assessed.
"It was literally off the charts," Woudstra said.
The Farmers deal with AEG is contingent upon the stadium being built and the 30-year term will begin when the stadium hosts its first event. AEG is optimistically targeting the 2015 season as a potential opening date for the facility, assuming a team can be lured to Los Angeles.
Mirhashemi noted the sponsorship is the largest single contract that AEG has ever signed for stadium naming rights, which says a lot. AEG operates Staples Center and more than 100 venues worldwide, including the O2 Arena in London, and Chinese arenas in Shanghai and Beijing.
By contrast, NFL stadiums in Dallas and East Rutherford, N.J., recently opened without any naming deal in place.
Mirhashemi said that there are real advantages for Farmers to enter into the agreement this early in the game. The company will be able to participate in the stadium's final design in a way that will highlight the insurer.
"They have their say in the design, color scheme, things of that nature," he said.
Farmers also is expected to play some role as a sponsor of any franchise that plays in the stadium.
Expansion plans
Meanwhile, Farmers is not just pursuing an aggressive marketing strategy in Los Angeles. The company has a plan to become a truly national insurer with agents in all 50 states.
Last month, the company began operating in Pennsylvania, the first state added to its insurance business in 17 years. Farmers plans to continue expanding across the East Coast over the next five to 10 years, which could make it the nation's largest insurer.
"People know our name, but don't have any way to buy insurance from us in a large part of the country. We are basically the third largest company with one hand tied behind our back," said Paul Patsis, Farmers president of enterprise marketing.
To support that effort, Farmers has a new "We Are Farmers" national ad campaign touting the University of Farmers, based on an actual employee training program in Agoura Hills. The light-hearted campaign features sales agent dealing with zany catastrophes, such as a Jet Ski caught in a tree. Last year, it leased a 246-foot-long zeppelin, which was dubbed the Farmers Insurance Airship, to fly over charity and sporting events across the country.
Meanwhile, its competitors are doing what they can to protect and expand their market shares. Last year, for example, Allstate renewed as a sponsor for the Allstate Sugar Bowl. And Progressive is at the beginning of a 16-year, $58 million deal for naming rights to the Cleveland Indians baseball stadium.
So what happens if AEG cannot attract an NFL team and the downtown stadium is never constructed?
A company spokesman noted the company never would have entered the deal if there were fears it wouldn't pan out. But even if it doesn't, that will leave the company with marketing dollars to spend elsewhere.
As with other industries, the latest trend is social media, a place Farmers already has had some success.
The company has a dedicated social media marketing team that has made smaller ad buys. One example is the popular Facebook-hosted game Farmville, which has 40 million players. Last year, Farmers signed a deal to have its airship appear as a prize that players could collect in the game. For a brief time, it became Farmville's most acquired corporate prize.
"That deal costs a lot less than a football stadium, but more than you would think," Patsis said.
For reprint and licensing requests for this article, CLICK HERE.