Better Fit
Free-trade pact tailor made for L.A. apparel firms?
Monday, June 27, 2011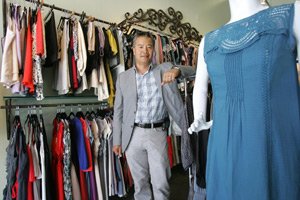 Korean-American Steve Lee and many others in the L.A. apparel industry have long manufactured much of their clothing in China, mostly with Chinese fabrics. But a big alteration may be coming to L.A.'s fashion world.
If a pending U.S. free-trade agreement with South Korea is ratified by both nations, Lee and some similar businesses may move their manufacturing to the United States or South Korea. And Lee, for one, could start using more Korean fabrics in his women's clothing lines, which could lower costs.
That's because the U.S.-Korea Free Trade Agreement, which the Obama administration is expected to send to Congress in the coming months, would give duty-free status to a significant percentage of apparel and textiles imported from Korea, which have average tariffs of 17 percent and 11 percent, respectively. The agreement also immediately would eliminate tariffs on most textile and apparel exports to Korea, which average 8.3 percent and 12 percent, respectively.
Lee, president at Esley, which has a showroom in the wholesale quarter of downtown L.A.'s Fashion District and a 10,000-square-foot design office and warehouse nearby, is expecting that the duty-free status for Korean fabrics will lower the price of textiles and make them more competitive with those from China, the No. 1 supplier of imported textiles to the United States. So Lee could lower the cost of making garments with Korean fabrics, which also tend to be higher quality.
"We'll have the advantage of pricing on the fabric," said Lee, whose tops, skirts and dresses retail for $40 to $60 at boutiques nationwide under the Esley brand. "So we'll have the advantage of importing Korean fabric and making it here."
Although L.A.'s apparel companies could be a big winner, there are other industries in Los Angeles County and the rest of the country that stand to benefit from the trade agreement.
The largest pact since the North American Free Trade Agreement, the free-trade agreement with Korea would eliminate tariffs on 95 percent of all U.S. consumer and industrial goods within three years and all other goods within five to 10 years of its signing. Some of the top products exported through the Los Angeles Customs District, which includes the ports of Los Angeles and Long Beach, and Los Angeles International Airport, stand to benefit. Among them are computers; semiconductor manufacturing equipment; medical equipment; airplane engines and parts; and agricultural goods, especially beef and cotton.
Export boost
Korea is L.A.'s largest trading partner behind China and Japan, with about $24.3 billion in imports and exports last year through the L.A. Customs District. That's about 7 percent of the total value in imports and exports that came through the district last year.
The free-trade agreement could boost U.S. exports by $10 billion to $12 billion annually, and about $3.3 billion of that is expected to pass through the district, according to the Los Angeles County Economic Development Corp.
"We will definitely be the main beneficiary of the free-trade agreement as far as increased trade flows, and as far as volume and dollar values," said Ferdinando Guerra, associate economist at the Economic Development Corp. "We are the No. 1 customs district with Korea."
The greater L.A. area is home to one of the largest ethnic Korean populations outside of Korea, with an estimated 450,000 Korean-Americans, according to L.A.'s Consul General of Korea. As such, the L.A. area stands to benefit from the free-trade agreement as the local Korean business community is expected to increase its trading activity with companies in Korea.
"It would mainly be the existing companies here and community here that would lead those efforts," Guerra said.
The Korea Trade Investment Promotion Agency, a non-profit governmental agency of Korea that supports U.S. companies wanting to do business there, recently set up a help desk to provide local business owners with information on the proposed agreement in hopes that it will promote trade between local businesses and their Korean counterparts. The agency, on Wilshire Boulevard just west of Koreatown, has also been staging seminars on the trade agreement, providing information on investment and trade opportunities in Korea.
"A lot of people are paying attention to the agreement," said Hanna Park, an investment liaison and external affairs officer at the trade agency, "not only Korean-Americans, but business owners in Los Angeles who are thinking about doing business in Korea or Asia."
L.A.'s apparel industry, which employs more than 74,000, has strong ties to Korea. Many clothing companies owned by Korean-Americans and their children are in Los Angeles. Korean-Americans and community leaders have already started talking with members of the Korean government about the use of Korean textiles and manufacturing in anticipation of the agreement, which is part of a package of proposed free-trade pacts, including ones with Panama and Colombia.
A key factor in the agreement for the apparel industry is the elimination of tariffs on fabric imports.
"Korea, to this point, has been very expensive because of duties," said Brian Weitman, chief executive at Fashion District textile supplier STC-QST and president of the Textile Association of Los Angeles. "I would definitely change my sourcing strategies to start at least considering more products from mills in Korea. They do make great products and if we didn't have to deal with duties and tariffs, I think it would make them more competitively priced."
As a result, L.A. manufacturers that choose to import Korean fabrics will likely increase their production here.
Korea is also expected to start building apparel manufacturing facilities there because of the trade agreement. As a result, apparel companies could begin making more garments in Korea with Korean or U.S. fabrics and export the goods duty free to the United States.
However, the expensive labor in Korea could still make it cost prohibitive to manufacture there. There is little apparel manufacturing in Korea because it is far cheaper in such countries as China, Vietnam and Cambodia.
"The free-trade agreement will open the door for more sourcing in Korea," said Christopher Kim, president of the Korean Apparel Manufacturers Association, a 1,000-member organization headquartered in the Fashion District.
Desirable market
Meanwhile, there are also expectations among some local apparel companies that the duty-free status on U.S. clothing would make American merchandise more competitive in a fashion-conscious Korean market that values brand-name designer goods.
But there is a glitch in the proposed trade pact, according to Ilse Metchek, executive director at the California Fashion Association in downtown Los Angeles.
She said a "yarn-forward provision" means that only garments made from U.S. or Korean yarn are eligible for duty-free status. That means if an L.A. designer makes clothing with Chinese fabric, for example, the tariff waiver doesn't apply.
But Demetrios Marantis, deputy United States trade representative, defended the yarn-forward requirement.
"The yarn-forward rule reflects a carefully balanced approach to how to maximize U.S. export opportunities while recognizing the sensitivities of our own textile sector," Marantis said. "These agreements are all about maximizing job growth."
Under terms of the agreement, apparel manufacturers that want to use fabric that isn't made in the United States or Korea can submit a request for duty-free status on that basis.
Metchek, who represents textile and apparel companies statewide, is also concerned that the agreement doesn't adequately address additional barriers that apparel companies face when exporting to Korea. For example, she said it's often difficult to determine the retail price of clothes because it's unclear how much Korean ports will charge to import goods.
There is a provision in the agreement designed to streamline the customs process to make it more predictable and cut the red tape, according to a representative from Marantis' office.
However, it is unclear whether the agreement will make it easier for local apparel companies to export.
Vincent Iacopella, managing director at the Inglewood office of New York logistics company Janel Group who works with the local apparel and fashion accessories industry, has been tracking the proposal for the Korean trade pact. He believes the agreement would benefit the majority of textile and apparel companies that export to Korea. However, that's a concept, and the real-life application of the pact may present challenges.
"You really don't know until you are in it," Iacopella said.
However, he believes the Koreans would apply the terms of the agreement in good faith.
"There's no reason to believe that the Koreans will put up nontariff barriers after the agreement has been signed," he said.
Meanwhile, the relationship between L.A.'s apparel industry and Korean manufacturers is strengthening. Kim of Korean Apparel Manufacturers spent last week in Korea meeting with members of local governments and business leaders to look for opportunities for local apparel makers.
Kim's trip followed an April visit to Los Angeles by Kim Moon-soo, the governor of Gyeonggi Province, one of Korea's major manufacturing hubs. Moon-soo met with local textile companies and apparel makers, and celebrated the grand opening of the Gyeonggi Textile Center of Los Angeles, which was established in the Fashion District to facilitate business among local textile and apparel companies and their Korean counterparts.
As Korea becomes a larger player in L.A.'s apparel industry, Lee of Esley sees benefits beyond the duty-free status that would be granted by the free-trade agreement.
"There are communication advantages," Lee, a Korean-American, said. "If I say to a Chinese manufacturer make it rose pink or baby pink, they make it hot pink. But I can discuss it with Korean partners and one word says it all."
For reprint and licensing requests for this article, CLICK HERE.