OneWest Won't Be a Home for Mortgages Only
Special Report: BANKING & FINANCE QUARTERLY
Monday, June 20, 2011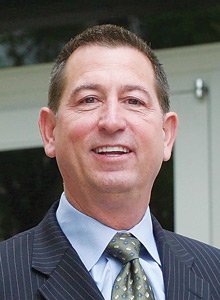 OneWest Bank's predecessor, IndyMac Bank, churned out home mortgages at a nearly frantic pace all over the country. But OneWest's leaders say they have developed a more sober business model that calls for less focus on mortgage loans.
The Pasadena federal savings bank is being reoriented through a five-year plan to become more like a conventional commercial bank.
"We want to be a regional bank," said Chairman Steven Mnuchin. "We don't want to be a nationwide originator of (federally backed) mortgages."
The initial stage has included growing the new institution through the acquisitions of First Federal Bank of California and a second bank, as well as rebranding the acquired institutions. Among other things, that gives OneWest more offices and branches, expanding its ability to gather deposits from this region.
Also last year, OneWest tabbed L.A.'s Davis Elen Advertising to develop a ubiquitous series of TV, radio, billboard and print ads (including ones that are published in the Business Journal). OneWest also signed on as sponsors of the Los Angeles Lakers and Los Angeles Angels of Anaheim.
The bank has taken other steps to carry out its plan, such as hiring a number of longtime bankers away from rivals. That includes Joseph Otting, who left U.S. Bancorp to become chief executive in October after prior CEO Terry Laughlin joined Bank of America Corp.'s mortgage unit.
Otting said one of his top goals will be to expand a number of divisions, including business and commercial real estate lending.
"Over the last six months, we've gone out and attracted some very, very talented people to allow us to implement our growth strategy," he said. "We now have a really good baseline to grow our retail banking franchise from."
Among the other hires were Grant Ahearn, who left Union Bank to become an executive vice president at OneWest, and Brian Brooks, a longtime financial lawyer who is now vice chairman.
The thrift is continuing to look for bankers, including someone who will handle commercial real estate loan originations.
This differs sharply from IndyMac's wholesale business model. It had few branches and it bought deposits mostly from national brokers to underwrite mortgage loans across the country. The bulk of its loans were home mortgages.
Otting said OneWest plans to transition to a more "diversified lending mix."
Currently, commercial and industrial loans account for about 1 percent of the portfolio, but the goal is to grow that to as much as 20 percent within three years. In the process, the bank will reduce its exposure to residential mortgages from more than 70 percent to about 50 percent.
Executives say they have already funded a large number of business loans, which should appear on the balance sheet in the coming quarters.
That doesn't mean OneWest will abandon mortgage loans. In fact, one element of its advertising campaign promotes jumbo loans – particularly profitable mortgage loans that top $417,000 and are common in Southern California with its high house prices.
For reprint and licensing requests for this article, CLICK HERE.