Money Machine
Special Report: BANKING & FINANCE QUARTERLY
Monday, June 20, 2011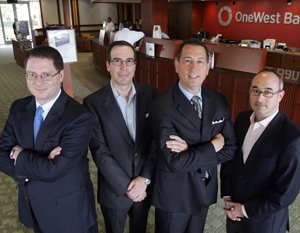 A little over two years ago, OneWest Bank didn't exist. Since then, it has earned more than $2.4 billion. That's more, far more, than every other local bank. Combined.
And it has done so without much lending, typically the major profit driver for banks and thrifts. So how has the Pasadena savings bank pulled it off?
It got the deal – some might say steal – of the financial crisis when a high-powered team of private equity and hedge fund investors bought the assets of failed IndyMac Bank on the cheap from federal regulators and launched OneWest.
While no one is contending that the owners have done anything untoward or illegal, critics point out that the deal is allowing OneWest's owners to make billions of dollars in profits while costing the Federal Deposit Insurance Corp. – and the banking industry that funds it – more than $10 billion.
In fact, due to a generous loss-share agreement, regulators could be stuck helping the thrift financially for years to come, without sharing in the spoils.
"It's outrageous," said Bert Ely, a bank consultant in Alexandria, Va., who has been a vocal critic of the FDIC's handling of the sale. "The FDIC gave the store away on that one."
So how did one group of investors turn a money-losing institution – which was so bad that rival banks passed on acquiring it – into a cash cow virtually overnight?
A series of interviews and a review of public documents and financial data conducted by the Business Journal show that OneWest owes its eye-popping performance largely to unusually generous terms agreed to by the FDIC.
The FDIC contends that its hands were tied during a period of dramatic upheaval. One of the largest mortgage lenders in the country during the housing boom, IndyMac failed spectacularly in 2008, leaving the FDIC to operate the bank for eight months, with a mountain of bad loans to unload just as the economy was cratering.
But some experts say the FDIC got taken by some of the savviest investors in the world, including financier George Soros, hedge fund titan John Paulson and bank buyout specialist J. Christopher Flowers.
In fact, shortly after the lopsided sale – and reports of OneWest's huge profits – the FDIC cut the discounts on failed-bank assets, eliminated the most generous loss-share provisions and placed restrictions on private-equity buyers that virtually cut them off from future acquisitions.
Prev Next
For reprint and licensing requests for this article, CLICK HERE.