Pacific Connection
Forever 21 and media companies in L.A. invest in new Korean TV channels.
Monday, June 13, 2011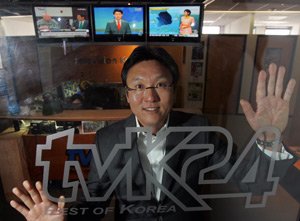 With several big television channels being added to the dial in South Korea, Korean-American companies in Los Angeles are stepping into the picture.
Most notably, a $43 million investment by fast-fashion giant Forever 21 Inc. has made it a major stakeholder in one of the new channels, called TV Chosun.
What's more, Koreatown-based media companies Radio Korea Media Group and Television Media 24 Inc. have agreed to broadcast programming from the new channels.
The moves are part of a flurry of activity following the approval in Korea of five TV channels, which are launching this year. The new channels are a result of a 2009 reform by the Korean government that lifted the country's ban on cross-ownership of newspapers and television channels.
The involvement by L.A. companies comes with some risk: The new channels will be launched in an already cutthroat Korean TV market and will compete fiercely for advertising revenue.
For Forever 21, the investment is likely to raise the Korean profile of the company and its co-founder Do Won Chang, who emigrated from South Korea in 1981. Forever 21, which projects $3 billion in sales this year, may be big and famous in the United States, but it's relatively unknown in Korea where it has only one store.
The company bought its 15 percent stake in TV Chosun through Too Capital, its investment arm. Alex Ok, chief executive of Forever 21's Korean branch, has been appointed to the board of TV Chosun.
It's not the first time Forever 21 has tried to make inroads into Korea, where its record has been mixed. In 2008, when it opened its first store there, the company acquired a 12 percent share of major Korean online retailer Interpark Corp. through Too Investment. Its stake fell to 4.2 percent last year. In 2007, Forever 21 tried to establish a shopping center in Korea, but failed because of difficulty getting government approvals.
Forever 21 also has been looking to grow its international presence, and plans to open a flagship store on Oxford Street, one of London's major shopping thoroughfares, later this year.
Ilse Metchek, president at downtown L.A. apparel and textile trade group California Fashion Association, said Chang's latest investment could help raise his profile outside of the industry as well as inside South Korea.
"If you think of all the heads of the other retail giants we have, you know their names," she said. "For Mr. Chang to do the same thing, it's a natural progression."
Better exposure
The largest shareholder in TV Chosun is the newspaper Chosun Ilbo. Forever 21 becomes the second-largest shareholder and Korean Air Lines Co. is the third.
Jin Park, an analyst at Seoul investment firm Woori Investment & Securities Co., said the investors won't have much say in how the TV channel is managed, but will get better exposure in the Korean market.
"The investment that companies made in the new channels are far from having the right of management," Park said. "But at least it could be helpful to improve those companies' brand names, the so-called PR effect."
Lindsay Buckley, who is in the marketing division at Forever 21, said that "investing in TV Chosun was a great opportunity that we are excited to be a part of," but declined further comment.
Radio Korea, a Korean-language media company on Wilshire Boulevard that operates a local radio station and TV networks on satellite, also considered investing in the new channels. Instead, it signed a memorandum of understanding with two of the new channels, TV Chosun and Channel A, to share content.
"Eventually, we withdrew because we were worried about how the new channels would get earnings," said Richard Y. Choi, vice chairman of Radio Korea.
The new cable television channels are a central part of the government's plans to deregulate South Korea's media industry. The government has contended that deregulation is crucial for the growth of the industry and the emergence of global players that can compete internationally.
In late 2010, the Korean government granted four major newspapers – the Chosun Ilbo, Joong Ang Ilbo, Dong-A Ilbo and the Maeil Economic Daily – the rights to launch TV channels featuring news, entertainment, sports and documentary programming. Yonhap News, the state-run wire agency, won a license to operate a news-only channel.
But is that too much new media too soon?
"Already, the advertising market is saturated," said Younghan Cho, a professor at Hankuk University of Foreign Studies in Seoul. "New channels will face challenges with limited advertising."
By adding programming from the new channels, Koreatown companies Radio Korea and Television Media 24 believe they will strengthen their product. Both already use some programming originating from South Korea. And the new Korean channels approached them with the deal in order to have their programs seen in Los Angeles.
Radio Korea Media Group, which owns Korean-language radio station KMPC-AM (1540), already broadcasts content provided by Korean cable channels on its satellite station. The content it uses from the new channels could include news, entertainment, sports and documentary programs.
"The new channels came into the spotlight in that they could be a good program provider for L.A.-based Korean-American media," said Choi of Radio Korea.
L.A.-based Korean-language television company Television Media 24, which operates channels TVK and TVK2 and has more than 15 million U.S. subscribers, has signed a memorandum of understanding to share content with all the new cable channels.
TVK and TVK2 air programming from Korea as well as local original programming produced in-house.
"The new channels needed a global partner to strengthen their global competitiveness and we need (Korean) content to appeal to Korean-Americans," said Eric S. Yoon, founder and chief executive of Television Media 24. "It's win-win to cooperate."
Staff reporters Alfred Lee and Alexa Hyland contributed to this article.
For reprint and licensing requests for this article, CLICK HERE.