Gensler Goes for Gusto in Move to Downtown Digs
Architecture firm makes statement in leaving Santa Monica.
Monday, June 13, 2011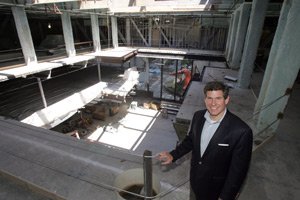 It's the kind of architecture that makes a statement.
A second floor suspended in air by steel beams, a retractable skylight, a hanging staircase stretching through the middle of the building from the ground floor to the top.
Then again, Gensler doesn't have much of a choice.
The largest architectural firm in Los Angeles – and the nation – is moving from Santa Monica into new downtown headquarters, and the wow factor needs to be sky high.
"What we hope is of course our clients will come in and go 'My goodness, this is unbelievable' and then they'll go 'Boy, you are really good, I'd like to hire you,'" said Rob Jernigan, managing director of the San Francisco firm's L.A office.
The firm, which designed the 55-story Ritz-Carlton Hotel & Residences at L.A. Live and the Creative Artists Agency headquarters in Century City, is moving out of its Santa Monica home, where it's spent the last 20 years.
After receiving incentives topping $1 million from the city of Los Angeles, the firm in November signed a 12-year lease for 50,000 square feet at City National Plaza. It's occupying a three-story building at the complex, which also has two high rises including City National Bank's headquarters.
Thomas Properties Group Inc. had been seeking a primary tenant for the squat central building since acquiring the 555 S. Flower St. complex in 2003. Most of the space has been vacant for a decade, except for two restaurants, Chaya and Drago Central, which occupy part of the ground floor.
Kent Handleman, senior vice president at Thomas Properties, which also has its headquarters in the complex, said the company has been selective about the space.
"We had different tenants show interest over the years, but we didn't just want to put a tenant in to occupy space and pay rent," he said, adding that getting a marquee architectural firm to build out the space made Gensler the "perfect tenant" – and one that should boost the prospects of the entire 2.65-million-square-foot office complex.
Downtown move
Gensler's move is the largest corporate relocation to downtown in years. Kor Group relocated from the Miracle Mile to downtown in 2007 but only took 48,000 square feet.
Gensler's decision to move downtown wasn't all that surprising. While some competitors are on the Westside, including DLR Group WWCOT in Santa Monica and HDK in Culver City, many are downtown. Among them are ZGF Architects LLP and NBBJ.
What's more, Gensler has been doing substantial business downtown, including being selected to design Anschutz Entertainment Group's proposed National Football League stadium and Eli Broad's Grand Avenue museum, among several other projects.
"We are very committed to seeing downtown really develop over the next decade, and want to be down here to be part of it and convince others to be part of it," Jernigan said.
Gensler had been eyeing the stone and glass box space since about 2007. With 30-foot glass floor-to-ceiling panels on the first floor and a top floor with no windows, it was a perfect fit for a bank but had little practical use for other tenants.
However, Gensler saw possibilities. Thomas Properties agreed to gut the interior and punch a hole through the second floor and roof to create a large skylight and eight smaller skylights. That left the space with a U-shaped top floor around a central atrium. Gensler then built another U-shaped floor under the top floor as well as the central staircase, allowing employees at all the levels to see each other. The renovation costs total $11.8 million, including the structural work done by Thomas.
The plan was derived from a workplace study that recommended the firm take steps to encourage communication and collaboration in the workplace.
"We really see this space as an innovation lab. We saw this as a great canvas with which to work and really create something very exciting," said Jernigan, who expects the space to be ready for the firm's 250 local employees in early November.
'Emotional boost'
Mark Sullivan, executive vice president of the L.A. office of Studley, which specializes in tenant representation, said other companies will notice Gensler's move, though he doesn't believe it will make a big dent in an office market that had vacancy rate of 15 percent in the first quarter, according to Grubb & Ellis Co.
"Gensler is a very sexy company and for them to make a commitment to downtown when they've always been in West L.A., it's good for the market," he said. "Statistically, it doesn't do that much because they aren't taking that much space. I think it's more of an emotional boost."
Other firms that want to move downtown also may not receive all the incentives given to Gensler.
The firm received a three-year holiday from the city's gross receipts tax, which the Mayor's Office of Economic and Business Policy gives at its discretion to companies moving into Los Angeles. The value of that incentive was not immediately available.
Gensler also received $1 million out of $13 million in Community Development Block Grants the city set aside for economic development this year. (The city received $92 million in total federal block grant monies this year, the majority of which went to homelessness or blight.) However, after word got out about Gensler's award, several social service groups asked city officials to reconsider the decision.
"I'm not sure how the funding decision was made so I can't speak to that. But did it strike us as out of the ordinary? Yes," said Molly Rysman, director of external affairs for the Skid Row Housing Trust, which builds and operates affordable housing downtown and did not receive any block grant funding. "We have seen funding for affordable housing and addressing homelessness cut over the past few years."
City officials declined to rescind the award, a decision supported by Councilwoman Jan Perry, who represents the area. She believes Gensler's move will have a ripple effect.
"We are in the business of creating jobs and attracting businesses," she said. "It would not surprise me that they become a catalyst and the leader in causing other design architecture planning firms to locate (here)."
For reprint and licensing requests for this article, CLICK HERE.