Underpowered Electric Trucks Spin Wheels at L.A. Port
Balqon won contract in no-bid process.
Monday, June 6, 2011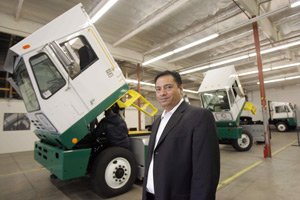 In a two-month span in 2009, Mayor Antonio Villaraigosa spoke at the grand opening of Balqon Corp.'s headquarters, bragged about it on TV to CNN's Anderson Cooper and chose it for the site of his State of the City speech.
The reason for emphasizing the Harbor City plant operated by Balqon, an electric truck maker, was obvious.
The Port of Los Angeles had plucked the company from obscurity, given it money to develop a prototype and ordered millions of dollars worth of its zero-emission trucks for use at the port. In return, the company agreed to move from Aliso Viejo and hire local workers. Here, as the mayor pointed out during his State of the City speech, was proof that his administration was doing something to create jobs of the future.
"I believe L.A.'s economic future starts right here, in places like Balqon, where the next generation of electric trucks are being designed, tested and manufactured," he said, standing inside the plant.
Two years later, the Balqon trucks are parked in a maintenance yard, doing nothing. Their batteries, it turns out, only last half as long as they need to when carrying the heavy loads common at the port.
California Cartage Co., one of the companies that got the trucks for free to test them, found them so problematic it gave them back to the port ahead of schedule. The company wanted to use them to haul cargo to and from its warehouses.
"They don't work. While the driver is working, they run out of juice and the truck has to be towed back. It just ruined our daily operations," said Chief Executive Robert Curry, whose Long Beach company contracts with nearly 500 truckers.
In retrospect, it would seem surprising only if there weren't problems, given the experimental nature of the technology and how Balqon obtained its contract.
Port officials ordered 25 trucks in 2008. It marked the first major step in advancing zero-emissions technology at the port, where diesel pollution is a notorious problem.
But the order was made without a formal request for proposals and had to be halted after the delivery of the first 15, which cost $4.3 million, due to the poor battery performance. Since California Cartage ended its testing last year, the trucks have gone unused.
John Holmes, deputy executive director of operations at the Port of Los Angeles, acknowledged the trucks haven't performed as expected.
"We didn't get the range we would like, particularly after they lugged around heavy loads all day," Holmes said. "In hindsight, would I have ordered 10 (electric) trucks instead of 15? I don't know. I do know that you can't build two trucks and expect to get a robust test out of them."
The Mayor's Office did not provide a comment.
In an attempt to improve the trucks' performance, the port recently agreed to turn over six of them to another local startup, Vision Industries Corp., which will retrofit the trucks with hydrogen fuel cells – an even less proven technology.
Balqon also plans to take two trucks back on its own dime to retrofit them with new batteries it hopes are more effective. Other trucks will be sent in the coming months to distribution centers where they can carry lighter loads.
Including the retrofitting, Balqon's trucks have so far cost local public agencies $5.9 million. That comes out to about $392,000 a truck. It also comes out to $190,000 a job, although Balqon recently landed a large order from a third party that could help it add 150 jobs.
The cost to taxpayer-owned agencies could rise to $8.1 million if the port's contracts with Balqon and Vision are carried out to completion.
Garage startup
When the port began working with Balqon to develop zero-emission trucks that could haul the heaviest loads, the idea was far from a reality.
Balqon was founded in 2005 by engineer Balwinder Samra and two friends out of Samra's garage in Aliso Viejo. The three worked at night and on weekends on a heavy-duty electric truck engine, but couldn't afford to buy the parts to assemble a full truck.
Officials with the South Coast Air Quality Management District, the L.A. region's air pollution agency, soon caught wind of Samra's work, and in late 2006, they approached the port with a proposal to fund a Balqon prototype.
That same year, the port had passed its aggressive Clean Air Action Plan, which aimed to cut port truck emissions there by more than 80 percent. Because of the program, more than 80 percent of trucks at the port now have diesel engines made after 2007, and hundreds of trucks run on liquefied natural gas. Port officials say most types of pollution, including diesel exhaust, have been cut in half there since 2005.
The Balqon proposal was supposed to push the envelope further. In March 2007, port officials approved an agreement to pay $263,500 toward the first truck, with AQMD pitching in another $263,500.
After a series of tests, the port ordered 25 trucks at a cost of $5.8 million. The idea was for trucking firms to try them out for free and possibly order some if they liked them. In exchange, Balqon agreed not only to move to Harbor City but to pay $1,000 to the port for every truck it sold to customers that don't service the port. It appeared to be a win-win situation.
But operators who tested the truck began expressing concerns about the range of the lead-acid batteries. So in April 2009, the port gave a $400,000 grant to Balqon to develop a lithium-ion battery that might perform better than the original lead-acid ones.
After developing the new battery, Balqon made a switch in late 2009 to lithium-ion trucks. The last six trucks delivered to the port used lithium-ion batteries.
Those new lithium-ion trucks were what California Cartage received last year. But they still only lasted three to four hours under heavy-duty conditions but need to last eight to 10 hours to be useful in the field, according to CEO Curry.
"The performance was unacceptable. The people operating them were unhappy and frustrated with them, and asked me to please cease the testing because it was too expensive to keep running out of batteries," he said.
But Balqon Chief Executive Samra said electric vehicle technology is improving rapidly, and that the company is developing yet another battery that will improve performance.
"Like any new product development, we wait for certain technologies," he said. "Around 2006, 2007, nobody talked about electric vehicles. Today it's fairly common language and all these discussions wouldn't have even taken place if the Port of Los Angeles and Balqon hadn't opened everyone's eyes that this is feasible."
Samra also said that investment from the port and AQMD led to it becoming a viable company and a source of good jobs. Earlier this year, Winston Global Energy, a Shenzhen, China, company, placed a $15.9 million order with Balqon for 300 electric drive systems for buses. Samra said the drive systems do not include batteries but are another key component of electric vehicles.
The company employs 31 people according to its most recent quarterly report, and has announced the Winston deal may create an additional 150 local jobs.
No bids
Though years of investments in Balqon still haven't yielded trucks that are being used by the port, officials say there weren't other companies to choose from at the time.
The port never solicited bids for the initial electric truck prototype, nor for the 25 electric trucks in 2008.
Holmes said bids weren't needed for the prototype "because it was brought to us by AQMD," while bids weren't sought in 2008 because there weren't any competitors.
AQMD officials could not be reached for comment.
John Boesel, chief executive of Calstart, a Pasadena non-profit that promotes the alternative-fuel vehicle industry, said that the port is probably right in saying there weren't any competitors to Balqon back in 2007.
"There's going to be some efforts that succeed and some that fail, but I think the ports and the air district should be commended for trying something that's on the leading edge," he said.
However, Aaron Jacoby, an attorney who heads the automotive division of Arent Fox LLP's downtown L.A. office, said it's still unusual for government agencies to skip the bidding process. Many of his clients have sold new types of electric vehicles to public agencies.
"It does surprise me that a governmental entity would not put something like that out for bid, even if it's a brand-new type of product," he said. "The government may buy prototypes, but it's typical when it comes down to actually make the major purchase that they do seek bids from different companies."
In fact, some of the biggest truck engine makers in the world, including Navistar International of Chicago and Freightliner Trucks of Portland, Ore., are developing electric truck engines. In addition, Smith Electric Vehicles, a Kansas City, Mo., company, has had some success with electric-powered trucks.
The company has more than 100 trucks on the road. Clients include Staples Inc., FedEx Corp. and AT&T Inc. However, the trucks carry 16,000 pounds, compared with cargo weighing more than 50,000 pounds that the Balqon trucks were hauling.
The first time the port put a contract for a zero-emission truck out for bid was in March 2010. Officials wanted a zero-emission truck to haul a 50-foot mobile home with educational exhibits around the state to tout the port's environmental efforts. They received four submissions, including one from Balqon, and decided to go with El Segundo-based Vision Industries, which makes a hydrogen fuel cell-electric battery hybrid.
Vision
Finally, this past March, the port decided to do something about the problems with the Balqon trucks.
A staff report outlined the need to retrofit the trucks and also seemed to indicate there wasn't enough testing done at heavier load levels. It stated that when the trucks pull heavy loads, they exhibit reduced battery life "compared to the testing at lower load levels (i.e., less than 50,000 lbs.) conducted at the time of the receipt of the product, which at that time met Harbor Department expectations."
To turn around the performance of some of the Balqon trucks, the port again looked to Vision. The company was the only one to respond to a request for bids this year for the overhaul. In April, port officials approved an initial contract for Vision to retrofit six trucks with hydrogen fuel-cell technology. If successful, Vision would be allowed to retrofit all 15 at a cost of $1.4 million.
However, fuel cells, which combine hydrogen with oxygen to produce electricity, are an even more experimental technology than battery-powered electrics, according to Calstart's Boesel.
In a widely publicized effort, GM has spent about $1.5 billion trying to develop fuel cells for cars, while Honda has been leasing a small fleet of fuel cell passenger cars to Southern California customers since 2008. The cars have cost Honda about $1 million each to manufacture.
Vision, a seven-employee startup, has yet to deliver a truck to a client. The truck ordered by the port in March 2010 to haul the educational exhibits was supposed to be delivered last September but wasn't.
The Port of Los Angeles also partnered with the Port of Long Beach in December to order two more trucks from Vision for $425,000 for delivery earlier this year.
Those trucks have not been delivered yet due to delays in receiving parts. The company orders most of its parts, including its fuel cell technologies, from third parties.
"Since we were just a one-off order we were pushed aside to accommodate bigger customers," said Rudy Tapia, vice president of business development at Vision.
The company is also entangled in a legal battle with former executives, although Tapia said that won't affect day-to-day operations (See sidebar, page 36).
Holmes, the port executive, doesn't believe the port has jumped the gun on its truck development projects, but rather pushed the technology by putting the vehicles in real-world conditions.
"If we don't put money into technology advancement, who will?" he said. "Whenever you take chances and try to do new things that no one else is doing, you can't be afraid that something's not going to work out exactly as you planned."
For reprint and licensing requests for this article, CLICK HERE.