Next Stage?
Studio owner bets on TV, film resurgence.
Monday, June 6, 2011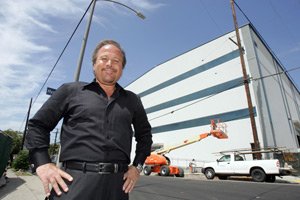 When Craig Darian, chief executive of Occidental Entertainment Group Holdings Inc., started building a sound stage on his Hollywood production lot in 2009, it seemed like a bold bet.
That's because at the time, movie and TV productions were fleeing Los Angeles for states with attractive tax incentives.
Millions of dollars later, Occidental's sound stage is nearing completion, and L.A. film proponents seem confident that his gamble will pay off.
"I see the construction of a new sound stage as evidence that filming is picking up," said Joseph Chianese, senior vice president of tax, business development and production planning for Entertainment Partners, a Burbank filming consultant.
The 14,000-square-foot sound stage, which will open with a ribbon-cutting ceremony June 20, sits at the heart of Occidental's 3.5-acre main lot in an east Hollywood residential neighborhood. The lot, which was built in 1913, also has three smaller stages and a cluster of bungalows that once housed production offices for Hollywood legends such as Cecil B. De Mille and Mary Pickford.
Occidental also owns and operates stages and production facilities in Hollywood, North Hollywood and Van Nuys.
Darian said the company decided to build the stage after the Showtime TV series "United States of Tara," which filmed its first season on Occidental's main lot, moved filming of its second season to a bigger CBS facility in Studio City.
In total, the new stage cost Occidental about $12 million, including the cost of demolishing the old building, construction of the new one, work on the parking lot across the street and other related expenses.
The four-story building includes dressing rooms, kitchens, offices and conference rooms.
Showtime recently canceled "United States of Tara," so there's no chance of resigning that show, but Darian said that wasn't the goal.
"Even if we could not recapture 'Tara,' we knew we'd be a beacon that would attract other TV productions," he said.
However, Darian doesn't yet have a production signed to lease the space.
L.A. filming
Filming construction in Los Angeles boomed in the 1990s.
CBS built three sound stages on its Studio City lot in 1996. MBS Media Campus in Manhattan Beach, which recently signed "Avatar" production company Lightstorm Entertainment for production of two sequels to the blockbuster hit, was built in 1998. In 1999, L.A. Center Studios took over the former Unocal Oil Co. headquarters in downtown.
But tax incentives in other states and countries have lured production out of Los Angeles, said Todd Lindgren, vice president of communications for FilmL.A. Inc., a private non-profit that oversees film permits in the city of Los Angeles.
For reprint and licensing requests for this article, CLICK HERE.
Prev Next