Furniture Firm Cushioned Blow From the Recession
Owner cut staff and refocused on making Dezine's profitable items.
Monday, June 6, 2011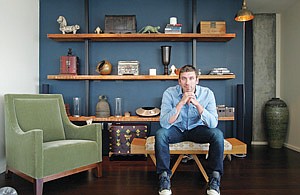 At the peak of the housing boom, Dan Vandenbark's furniture business was busier than it had ever been. He could barely keep up with orders for his custom sofas, chairs and other pieces.
But all that extra work and revenue took a heavy personal toll on Vandenbark, whose Hollywood company, Dezine, designs furniture based on the principles of sustainability.
"I wanted to kill myself," said Vandenbark, who is not afraid to use some hyperbole. "I felt like we were just getting furniture out the door. I didn't like it one bit."
Salvation arrived in an odd form: the housing bust, which forced national furniture chains into bankruptcy and closed thousands of smaller outlets across the country.
Those who stayed open were thankful to survive. But for Vandenbark, 34, it was nothing less than an opportunity for rebirth.
"It was a calling for me to reinvent myself and my business," he said.
Vandenbark, who saw his annual revenue fall from about $1 million in 2007 to $500,000, decided he would be more content with a smaller business. So he went about making some hard decisions.
He closed his West Hollywood retail store, Vernare, which he had operated for years as his primary showroom. He cut his staff from 14 to six, and decided to focus on making higher-margin furniture such as chairs, which cost up to $3,000.
However, there was one change he wasn't about to make: his commitment to making quality "green" furniture in an era where even urban hipsters aren't embarrassed to furnish their homes with assemble-it-yourself pieces from Ikea.
"I'm committed to making my furniture entirely or nearly entirely green," he said. "What you are paying for is a lifestyle, and quality and artisanship. These pieces are not mass-produced. I try to sell them as heirlooms to be passed along and not sold in a garage sale."
A chair in his studio, for example, is made from reclaimed teak; the cushion contains recycled wool; and the fabric is hemp, colored light blue with vegetable dye. Another piece of furniture, such as a lazy chair, contains organic cotton, which has no pesticides or bleach, and a frame made from recycled wood. He also uses kitchen counter tops that are made from compressed sunflower seeds impregnated with black onyx resin; other counter tops are made from recycled glass. Prices range from $100 for a candlestick holder to as much as $30,000 for a sofa.
The commitment, however, comes at a risk: Vandenbark acknowledges he was "barely" profitable last year, and figures he will be profitable this year only if he hits $500,000 in revenue.
What's more, not all all of Vandenbark's customers even appreciate his strict adherance to the principles of sustainability .
Interior designer Mark Hermosillo, whose own clients have selected Vandenbark's furniture for their homes, said about half don't demand furniture made from recycled or organic materials.
"Some of them don't care, as long as it looks nice," Hermosillo said. "It's not like tofu."
Early commitment
But Vandenbark is not about to change. He recalls that his commitment to all things green goes as far back as sixth grade when he participated in Earth Day activities in Sterling, Colo., where he grew up. To get a sense how deep it remains, consider a recent vacation to Tahiti.
On the return flight to Los Angeles, he raised eyebrows when he went through U.S. Customs with more than a dozen empty plastic bottles. The reason? After he drank the contents in Tahiti, he couldn't find recycling bins so he cut them in half and carefully packed them for America.
"My belief is that as a consumer when you go to buy a six pack of pop or water, you have made an agreement to be responsible for those bottles," he said. "When people don't recycle, it makes my heart hurt."
Still, Vandenbark's commitment to his principles hasn't been easy.
Where previously he had his retail showroom next to the mecca of interior design, the Pacific Design Center, today he primarily relies on word-of-mouth for business. However, he still gets to show his furniture in a nice setting.
He struck a deal with L.A. developer South Group to furnish a model unit in its downtown Evo luxury condo tower at 1155 S. Grand Ave. The developer claims Evo is the first residential tower certified LEED Silver, in recognition of its sustainable design, by the U.S. Green Building Council. The deal allows Vandenbark to use the unit as a showroom.
But actual business is done on an appointment-only basis at Dezine's headquarters, which are in a second-floor loft on Hollywood Boulevard filled with samples of tile, countertops and tables. There, customers choose their designs, which are built for Vandenbark by local furniture manufacturers in Los Angeles, Long Beach and Vernon.
Vandenbark has other challenges, including the proliferation of the term "green" in marketing campaigns, whether or not the products are in any way sustainable, a practice so common that "greenwashing" has been coined to describe it.
It's a particular problem in the furniture industry, where there is no official approval label for sustainable products, said Susan Inglis, executive director of the Sustainable Furnishings Council in Chapel Hill, N.C.
"There is no one certification that a consumer could look for on a furniture tag," she said.
Word-of-mouth
Vandenbark isn't the only sustainable furniture maker to have struggled in recent years.
The L.A. Box Collective is a group of 10 local sustainable furniture designers, including Caseandgrain in Los Angeles, Environment Furniture in Beverly Hills and JAK Studio Collection in Hollywood.
Gary Ferguson, owner of Caseandgrain, said he stopped making sustainable furniture during the recession but has since restarted.
"As a whole, things are improving now. People are not paying as much for homes, so they have more money to put into them," he said.
For now, Vandenbark's more modest approach has had some success. He said he squeezed out a small profit last year and hopes to at least do the same this year.
Charles Seigel, a Chicago lobbyist, said he learned of Vandenbark through word-of-mouth and hired him to deck out his Chicago loft with an Asian theme. He didn't set out to get eco-friendly furnishings, but he appreciates them now.
"We never discussed each decision on a sustainable level, but each one incorporated those principles and concepts superbly," Seigel said. "The dining-room table was made from reclaimed aluminum and the bathroom doors from scrap wood. The cabinets were reused and refinished."
Dezine
FOUNDED: 1999
HEADQUARTERS: Hollywood
CORE BUSINESS: Design of sustainable furnitureEMPLOYEES: Six
GOAL: Grow the product line and offer it worldwide.
THE NUMBERS: Revenue was down from $1 million in 2007 to $500,000 last year.
For reprint and licensing requests for this article, CLICK HERE.