No Concessions for Movie Theater?
Luxury cinema too tall for Beverly Hills.
Monday, July 25, 2011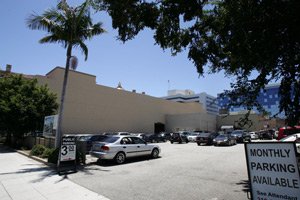 Beverly Hills may be home to some of Hollywood's biggest stars, but surprisingly it doesn't have a single first-run commercial movie theater.
And it doesn't look like it's getting one soon.
A proposal to build a nine-screen multiplex has elicited strong opposition, even though the complex would feature $29 tickets and gourmet food befitting its 90210 ZIP code.
The problem? The proposed theater would be a large development in a city that's antidevelopment.
"We are not interested in being West Hollywood or Century City," said Marilyn Gallup, a member of the Beverly Hills Municipal League residents group, at a Planning Commission meeting. "We have our own brand and cachet. This does not include a high-rise."
Boca Raton, Fla., movie theater developer iPic Theaters, which owns Gold Class Cinemas, wants to open the largest of its signature theaters on Canon Drive. It would feature waiters, food prepared by chefs, and recliners with pillows and blankets.
However, the proposed luxury multiplex near Wilshire Boulevard in the city's Golden Triangle shopping district would be just inches short of 80 feet tall, nearly double the allowable height for the area. That has prompted residents and even some local business owners to say it should be dramatically scaled down and, if not, abandoned.
The project site is a parking lot at 257 N. Canon Drive that is only steps from some of the city's prime destinations, including Spago, Mastro's Steakhouse and the Montage Beverly Hills.
At the July 14 Planning Commission meeting, Gallup and other opponents spoke out against the proposal, and the commission asked iPic to come back with a smaller project in September.
Mark Mulcahy, vice president of marketing for iPic, said the company would try to do so.
"We're committed to getting this project done 110 percent, so we are going to regroup as a team and go through what our options are," he said. "We think this is the perfect place and we need to see what logistically is feasible."
Theater plans
The only movie theater in Beverly Hills is the aging Music Hall, a three-screen venue owned by Laemmle Theatres on Wilshire and Doheny Road that plays independent and art films. There's also the Paley Center for Media and the Academy of Motion Pictures Arts & Sciences headquarters, which both have screening rooms, but generally don't show first-run movies. If residents want to see the latest big-budget Hollywood release, they need to head to Century City or the Beverly Center mall in Los Angeles.
IPic, founded in 2006, operates luxury cinemas in eight locations, including Pasadena; Scottsdale, Ariz.; and Austin, Texas. The Pasadena location, which opened in December 2009, offers plush leather recliner seats, a restaurant that serves dishes such as filet mignon, and a full bar with a selection of international and craft beers. The seats have small trays and a call button so food and drink can be ordered during showings.
The Beverly Hills theater would have all that but would pile on luxury. For example, a company representative told planning commissioners that iPic spent $9 for blankets in Pasadena but is eyeing $70 blankets for Beverly Hills.
Mulcahy said that the Friday and Saturday night shows are regularly sold-out in Pasadena, indicating the region could support another such theater.
"Let me tell you, there are a lot of people driving from Beverly Hills to Pasadena," he said.
The Beverly Hills location would reach nearly 80 feet because it also has ground-floor retail and a rooftop bar. Each individual theater would hold up to 76 seats, about 30 to 50 more than most other iPics. The size runs up against the Beverly Hills zoning code, which only allows 45-feet of height at the location.
"It's a destination business and it can draw a lot of people into the city. If I were the property owner, I would want to make as much money as I could … but there were some issues we had with the original design," said Planning Commission Chairman Dan Yukelson, who told the Business Journal he favors a smaller project.
Opposition
A compromise may be hard to reach.
Montage owner Jay Newman appeared before the Planning Commission to say the hotel would support a theater at the location, but only if it was near 45 feet tall.
At its current height, northern views from the Montage's hotel rooms and condos would be almost entirely blocked by the theater, only yards away.
"We think a theater use is terrific use in this location," Newman said during the meeting. "(But) views matter for (our guests) and for our residents."
Gallup said her Beverly Hills citizens group is not willing to compromise by even a foot.
"I believe the community has been loud and clear in their direction that we would like to retain what we have left of a village-type atmosphere," she said.
The commission suggested scrapping the retail, eliminating or downsizing the rooftop bar, and building at least part of the structure underground as had been done in Pasadena. (The proposal also called for an electronic billboard and large art deco theater sign on the exterior of the building, both of which the commission rejected outright.)
However, iPic is committed to the rooftop bar. Pasadena does not have such an amenity, but the company estimates attendance is boosted by about 40 percent at its theaters with them.
"Some people show up for the movie and don't make it into the theater. They hang out at the bar," Mulcahy said.
What's more, iPic is leasing the property from local landowner Marc Bohbot, who has demanded the project have retail. Bohbot was in France last week and declined comment through a spokesman. However, spokesman Michael Bitton reiterated that Bohbot did not want to proceed without retail.
(There has been speculation that Bohbot may want to develop a store for his wife, Michele Bohbot, who owns the fashion line Bisou Bisou. The line of women's contemporary clothing is sold at JC Penney and has no Beverly Hills shop.)
Councilman John Mirisch said he would like to see the project go forward if a compromise can be reached. Prior proposals for a 45-foot-tall medical building, and a mixed-used office and retail building over the past decade never got off the ground.
"It'd be great to have an upscale movie theater. A lot of people go to Century City or to the Arclight in Hollywood. I think it'd be great to have a theater in town," Mirisch said.
For reprint and licensing requests for this article, CLICK HERE.