No Concessions for Movie Theater?
Luxury cinema too tall for Beverly Hills.
Monday, July 25, 2011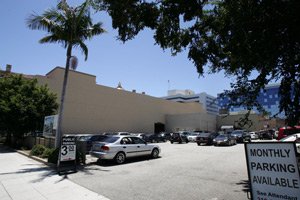 IPic, founded in 2006, operates luxury cinemas in eight locations, including Pasadena; Scottsdale, Ariz.; and Austin, Texas. The Pasadena location, which opened in December 2009, offers plush leather recliner seats, a restaurant that serves dishes such as filet mignon, and a full bar with a selection of international and craft beers. The seats have small trays and a call button so food and drink can be ordered during showings.
The Beverly Hills theater would have all that but would pile on luxury. For example, a company representative told planning commissioners that iPic spent $9 for blankets in Pasadena but is eyeing $70 blankets for Beverly Hills.
Mulcahy said that the Friday and Saturday night shows are regularly sold-out in Pasadena, indicating the region could support another such theater.
"Let me tell you, there are a lot of people driving from Beverly Hills to Pasadena," he said.
The Beverly Hills location would reach nearly 80 feet because it also has ground-floor retail and a rooftop bar. Each individual theater would hold up to 76 seats, about 30 to 50 more than most other iPics. The size runs up against the Beverly Hills zoning code, which only allows 45-feet of height at the location.
"It's a destination business and it can draw a lot of people into the city. If I were the property owner, I would want to make as much money as I could … but there were some issues we had with the original design," said Planning Commission Chairman Dan Yukelson, who told the Business Journal he favors a smaller project.
Opposition
A compromise may be hard to reach.
Montage owner Jay Newman appeared before the Planning Commission to say the hotel would support a theater at the location, but only if it was near 45 feet tall.
At its current height, northern views from the Montage's hotel rooms and condos would be almost entirely blocked by the theater, only yards away.
"We think a theater use is terrific use in this location," Newman said during the meeting. "(But) views matter for (our guests) and for our residents."
Gallup said her Beverly Hills citizens group is not willing to compromise by even a foot.
"I believe the community has been loud and clear in their direction that we would like to retain what we have left of a village-type atmosphere," she said.
The commission suggested scrapping the retail, eliminating or downsizing the rooftop bar, and building at least part of the structure underground as had been done in Pasadena. (The proposal also called for an electronic billboard and large art deco theater sign on the exterior of the building, both of which the commission rejected outright.)
For reprint and licensing requests for this article, CLICK HERE.