Local Clothing Company to Take Credit Overseas
Guess to use borrowed bucks to open shops across the world.
Monday, July 25, 2011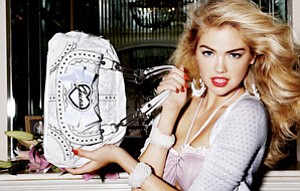 Guess Inc. recently boosted its borrowing power. So guess what the L.A. apparel maker is going to do with those big bucks? Go on a worldwide spending spree.
Guess is planning to spend $140 million by the end of its 2012 fiscal year as it maps an expansion plan that'll add more than 800 stores across the globe in the next five years.
The company announced earlier this month that it raised its credit line from $85 million to $200 million, with an option to borrow an additional $100 million. The new available money plus the company's rich balance sheet and operating cash flow bring it access to potential capital of $1 billion or more. The money will be spent on international growth, according to a recent statement by Guess Chairman Maurice Marciano.
The company, which has 1,421 stores in the United States and foreign countries, didn't make any of its executives available for comment for this article.
For several years, Guess has been on a mission to bring its skin-tight jeans, slinky dresses and fashion-forward tops to every corner of the Earth – there are Guess stores on each continent except Antarctica.
Guess is planning to open 216 stores in Canada and the United States, 392 in Europe and the Middle East, and 282 in Asia in the next five years.
What's driving Guess' quest to be a global enterprise?
Eric Beder, director of equity research at New York investment banking firm Brean Murray Carret & Co., said Guess can charge higher prices for its merchandise in international markets.
"There are materially better returns in intentional markets and growth potential," Beder said. "And international consumers love U.S. brands and love being associated with them. That helps drive business."
In fact, Guess' international operations have become a significant portion of its business.
In the past decade, the number of Guess stores in Europe, Asia and other countries has gone from 222 to 892. International revenue has followed, increasing 131 percent from about $52 million for fiscal 2002 to $1.1 billion for fiscal 2011.
The ambitious international expansion poses some challenges, according to Howard Davidowitz, chairman at national retail consulting and investment banking firm Davidowitz & Associates Inc. in New York.
"The further out you get, the more moving pieces there are, the more people you are coordinating with on product development and production," Davidowitz said. "And the more moving pieces, the more risks."
Chinese accent
Guess was founded in 1981 by brothers Georges, Armand, Paul and Maurice Marciano, who emigrated from France in the late 1970s. Georges Marciano, who had a falling out with his brothers, is no longer involved.
The company made its name with designer jeans sold at high-end department stores such as Bloomingdale's. Guess then began to broaden its reach, opening its own stores, and making women's, men's and children's clothes. It also developed a lucrative licensing program, putting the Guess name on sunglasses, purses and even home bedding.
But Guess' biggest bet is now on its international operations.
The company is building a corporate infrastructure in Asia to support significant operations there, establishing a headquarters, distribution centers and new stores.
John Kernan, a research analyst at New York financial services firm Cowen & Co. LLC, estimates that Guess will invest more than $100 million in its Chinese infrastructure in the next two years.
In Asia, the company is first focusing on opening stores in South Korea and China. Guess Chief Executive Paul Marciano has called the Chinese expansion the most important strategic initiative in the company's history.
"The possibilities of development seem to me to be endless, if properly funded, structured, strategized and executed," he said in a May conference call with analysts.
Beder of Brean Murray expects Guess to launch its stores in Asia through franchisees and then take the stores over after they have been open for several years. In a franchise model, Guess won't have to invest its capital on store build-outs.
"In China, Guess lets the franchisee with local knowledge take the first major step and then buys them out," Beder said. "And the franchisee will sometimes stay part of Guess in their infrastructure."
Meanwhile, the clothing maker has built up an infrastructure in Europe and the region, opened stores there, and is now looking to strengthen its presence by targeting such countries as Germany, France, Spain and Belarus. The company plans to launch 81 to 86 European stores by the end of this fiscal year, and is investing significantly in inventory to fuel growth in the region.
But is Guess overextending its reach?
"The company has a strong management team, tremendous inventory discipline and they are smart enough to realize that you have go local with the product," Beder said. "It's tough to manage and get it right. But when it works, it's a much better business model."
For reprint and licensing requests for this article, CLICK HERE.