Channel Change
Meruelo Group adds station KWHY to diverse holdings with goal of tapping Latino audience for advertisers.
Monday, July 25, 2011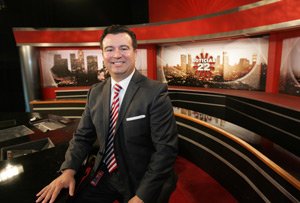 When NBC Universal was forced to sell its local Spanish-language TV station, Alex Meruelo saw a choice opportunity – and jumped on it to expand his growing empire.
Meruelo Group agreed to purchase KWHY (Channel 22) in Burbank for an undisclosed sum at the beginning of the year and the sale closed this month. The channel joined Meruelo's large and unusually diverse portfolio, which ranges from restaurant chains to banks to construction firms and even a Nevada casino. KWHY is the company's first media venture.
While the station will certainly advertise the group's consumer businesses, such as the pizza restaurants and the casino, plans are to attract many other Latino advertisers.
Xavier Gutierrez, president and chief investment officer at Downey-based Meruelo Group, said the company plans to position KWHY as the only independent station for Latinos in Los Angeles. The goal is to emphasize local programming and advertisers to differentiate it from competing Spanish-language stations that are connected to networks.
NBC Universal had to sell KWHY as a condition of its merger with Comcast Corp. While it was under NBC's ownership, the station relied on news and a library of 10,000 Mexican movies to fill its schedule. Gutierrez said he plans to build on that legacy by developing more news magazine, political talk and call-in advice shows. He also wants to broadcast local sports events and concerts with a Latino connection.
"We want shows that are local, live and allow the community to see themselves in the programs," he said. "We think there's a hunger for this community to hear its own voice. And we think there's a hunger among advertisers, both national and local, who solely want to target this market."
Gutierrez said Meruelo Group has plenty of experience buying advertising for its other businesses in the L.A. market and that experience has prepared the company to manage KWHY.
The group started in the 1980s when Alex Meruelo launched La Pizza Loca, a chain of Latino-flavored pizzerias that now has about 50 stores in Los Angeles and Orange counties. Alex Meruelo is the older brother of Richard Meruelo, the L.A. real estate developer who lost control of his company, Meruelo Maddux Properties, when it emerged from bankruptcy in late June. Alex Meruelo was not available for this article. The brothers keep their businesses separate.
Opportunistic investments
Using La Pizza Loca as its financial base, the Meruelo Group has diversified based on what Gutierrez called an opportunistic investment strategy.
The company includes Meruelo Construction, assembled through the acquisition of four firms, which specializes in projects for utility companies; a real estate group that owns 25 retail and mixed-use centers and 15 apartment buildings; and a financial services group that owns an insurance company and a majority stake in Commercial Bank of California.
On the consumer side, Meruelo Group owns Pacific Whey Café, a chain of upscale bakeries. and Fuji Foods, the nation's largest manufacturer and distributor of sushi for supermarkets. It also owns 32 La Pizza Loca stores, with the rest franchised operations.
In February, the group bought the Grand Sierra Resort & Casino in Reno, Nev. The facility has 1,995 hotel rooms and a 100,000-square-foot casino.
Gutierrez said the company will use KWHY to advertise and promote its consumer businesses, such as the restaurants and casino, but the primary financial rationale for the acquisition was the opportunity to attract other advertisers.
KWHY plans to pursue nontypical advertising arrangements such as sponsorships of entire shows, product placement, and remote broadcasts from Meruelo Group companies and others Latino businesses. In addition, Gutierrez hopes to organize local cultural events that will provide video for the station's shows as well as give advertisers direct access to a Latino audience.
Jon Currie, a Pacific Palisades TV consultant, said local programming simply can't compete against network shows, such as the telenovelas on Univision and Telemundo that cost millions of dollars to produce. As a result, independent stations normally air a mix of old TV shows, movies, infomercials, and remote broadcasts from car dealers and other local businesses. He expects financial pressure will soon force KWHY to adopt such programming.
Currie said that even in local programming, networks maintain an advantage over independents because they have more resources and higher audience ratings.
"News and magazine shows are the most popular local formats, but Telemundo and Univision already have those," he noted.
Angelica Posada, media director at Acento Advertising in West Los Angeles, said that KWHY was always a second-tier station for ad buyers. However, in the last two years, the station has fallen to third-tier status.
"In the ratings, they are virtually in last place among broadcast stations," Posada said. "Once the ratings are lost, you fall off the radar for blue-chip advertisers. We are looking forward to the new management bringing back the audience and putting the station back on the radar."
But Julio Rumbaut, a Miami TV consultant to Spanish-language stations, believes Los Angeles could support an independent Latino TV station because Miami, a smaller market, supports four of them.
The problem is that once a local station becomes established, the only viable way to grow revenue is to create a network, and the local strategy disappears. In the last decade, Liberman Media's Estrella TV, Spanish Broadcasting Systems' MegaTV and Television Azteca's Azteca America all started as local stations and then moved to the network model.
"The local strategy seems opportunistic and sensible, and it makes sense in the biggest Spanish market in the country," Rumbaut said. "But longer term, the efficiencies lie in broadcasting your shows to the biggest possible audience."
Meruelo Group's Gutierrez holds open the option to buy more stations in the future, but for now the priority is making KWHY a success.
"We don't have to compete with Univision across the whole county," he said. "We can be a compelling option for viewers and advertisers that only want to be in this market."
Moving from Burbank
The sale to Meruelo makes KWHY the only Latino-owned TV station in Los Angeles. NBC still owns KVEA (Channel 52), the flagship station of the Telemundo Spanish-language network. The L.A. market also includes Univision Communications' KMEX (Channel 34), the largest Spanish-language station in the nation in audience and revenue. Univision is controlled by an investment group led by Haim Saban, ranked No. 7 on this year's Business Journal list of Wealthiest Angelenos, with an estimated net worth of $3.7 billion.
KWHY plans to move its operations from the NBC studios in Burbank, and is exploring available options in order to move as soon as practically possible.
Gutierrez said Meruelo Group brings a lot of connections to Los Angeles and the Latino community to KWHY.
"We are owners and operators, not just investors," he said. "This market is where we live and have grown our businesses. We have relationships with elected officials, advertisers, other media outlets and non-profits. We think Channel 22 will benefit from our local presence."
For reprint and licensing requests for this article, CLICK HERE.