State to Lock In Building Workers?
Landlords see 90-day law as union boon.
Monday, July 11, 2011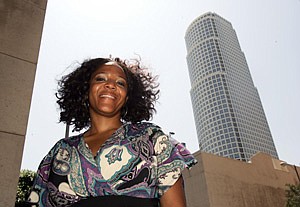 Local building owners and managers are fighting a proposed state law that would make it more difficult to fire security guards and other building-related workers. The bill, backed by service worker unions, would require building service contractors to keep existing workers for 90 days after a switch of contractors.
Opponents of the bill – modeled after similar laws for grocery and hotel workers in Los Angeles – say it is an unwarranted intrusion into how they manage workers at their sites.
If the bill becomes law, a building owner who ends a contract with a problem security company, for example, would find the incoming security company would have to hire the old guards and keep them for three months. At that point, the contractor by law would have to enter collective bargaining if they are union workers. That means the new security company would have far more difficulty dismissing the old problem guards.
"If this bill passes, the government will decide for us who we have to hire to take care of our buildings and how long we must keep them," said Michele Dennis, president of the Building Owners and Managers Association of Greater Los Angeles. "Our hands will be tied if tenants complain about the level of service they receive."
But officials with the Service Employees International Union, which is backing the bill, said it's designed to reduce what they term "cutthroat competition" among service providers by discouraging building owners from hiring lower-cost contractors.
"We're trying to bring stability to the industry and improve the quality of service for building owners and tenants," said Mark Gomez, strategic initiatives director for the union's United Service Workers West. He believes worker retention will make jobs more desirable and improve the labor pool.
The bill, AB 350, by Assemblyman Jose Solorio, D-Santa Ana, says that when a new company takes over a building service contract, it must retain the workers from the previous company for 90 days after it assumes the contract. It covers contractors that provide security guards, janitors, food service workers, window cleaners, building engineers and other maintenance workers in commercial, industrial and government buildings.
The original draft bill included landscape contractors but was amended to remove them.
Janitorial and building maintenance companies assuming a new contract are already required under a state law enacted a decade ago to keep existing workers for 60 days; this bill extends that to 90.
The bill passed a key Senate committee late last month and is likely to be considered by the full Senate later this month or early next month. If the Senate passes the bill, it goes to Gov. Jerry Brown's desk for his signature or veto.
Building owners and managers declined to comment on the bill, fearing they could be singled out by SEIU for pickets. SEIU has used such tactics in the past, for example in attempts to unionize building security guards.
So the building owners have turned to associations, such as the California Business Properties Association, to make their case. The association represents owners of commercial, industrial, retail and multifamily properties.
Matthew Hargrove, senior vice president of government affairs for the organization, said his members fear losing the flexibility to replace poorly performing contractors.
"What's the point of changing out contractors if you have to keep the same employees?" he said.
L.A. roots
Solorio's bill is clearly influenced by worker retention laws applied to companies in the city of Los Angeles. In late 2005, the City Council passed an ordinance requiring new owners of supermarkets to keep existing workers for 90 days.
The grocery stores challenged the ordinance in court, saying that hiring and firing of workers is governed by federal labor laws, not city ordinances. That case is now at the state Supreme Court, where oral arguments were heard in May. A decision is due early next month.
Building owner representatives said the union is trying to rush through the Solorio bill in advance of the state Supreme Court ruling. If the court rules against the supermarket ordinance, Solorio could be forced to withdraw or recraft the bill.
However, the bill is also part of a broader effort by unions to pass changes in labor laws now that Brown is governor.
But Brown last month angered many of his union supporters when he vetoed a bill that would have allowed farm workers to unionize through a process unions favor called "card check." As a result, both sides in the AB 350 fight say that Brown's stance on the bill isn't predictable.
In 2006, the Los Angeles City Council, as part of a package expanding living wage requirements, passed a worker retention ordinance aimed specifically at 13 hotels near Los Angeles International Airport that were at the center of an intense union organizing campaign. Last year, Councilwoman Janice Hahn proposed expanding that ordinance to about 190 hotels citywide with more than 50 rooms. That ordinance is still pending.
The 90-day threshold in AB 350 and other worker retention laws is significant because of federal labor law. Once union employees stay with a new company for 90 days, that company is obligated to open union contract negotiations with them, said Tom Lenz, partner and employment law specialist with Cerritos law firm Atkinson Andelson Loya Ruud & Romo.
As a result, if a building owner switches from a union contractor to a nonunion contractor, the new one would have to reach a collective bargaining agreement with the union employees, in effect forcing the nonunion contractor to go union.
SEIU's Gomez disputed the notion that the bill is designed to promote union representation among building service workers. He said the goal is to allow existing workers to show new management that they're good workers.
"It's giving people 90 days to prove their worth to the new employer who would not otherwise be aware of their performance," Gomez said. "Otherwise, when a new company takes over, they throw people out on the street. And in this economy, roughly half of those unemployed remain so for six months or longer."
Gomez acknowledged the bill is also intended to increase wages gradually among building service workers by discouraging building owners from switching to cheaper contractors.
The 90-day retention mandate makes it more difficult for another union to gain a foothold in buildings already serviced by a union. SEIU, which launched a major national organizing drive of building security guards five years ago, has been battling the Allied International Union and other unions attempting to represent security guards.
Contractor opposition
Many security guard contractors are opposed to AB 350, saying it forces them to inherit workers left by a previous contractor. Some of those workers may not fit into the new contractor's corporate culture.
"Under this bill, I have to accept everyone who worked for the old contractor, whether we deem them qualified or not," said Steve Jones, chief executive of Santa Ana-based Universal Protection Services, which provides security guards for hundreds of private and government buildings in Los Angeles County. Universal Protection is the largest provider of building security services in the county.
Jones said his major concern is that building owners, rather than trying to switch contractors, would opt to automate more.
"They'll just put in more cameras and do away with security guard positions altogether," he said.
Another security guard contractor executive said he's concerned that if he inherits workers from another company, tensions would rise as he attempts to put his supervisors in charge of those workers.
"If I have to pay for employees I don't want and have to put in a supervisor who works for my company to watch over them, you bet there would be tension," said Louis Perry, president of Kadima Security Services in downtown Los Angeles.
"The service level would suffer, and I would have to think long and hard about whether even to take over that contract. It's as ridiculous as can be," said Perry.
For reprint and licensing requests for this article, CLICK HERE.