Refurishing Points of Entry
Some downtown L.A. landlords are upgrading lobbies in a campaign to attract tenants and boost rents.
Monday, January 31, 2011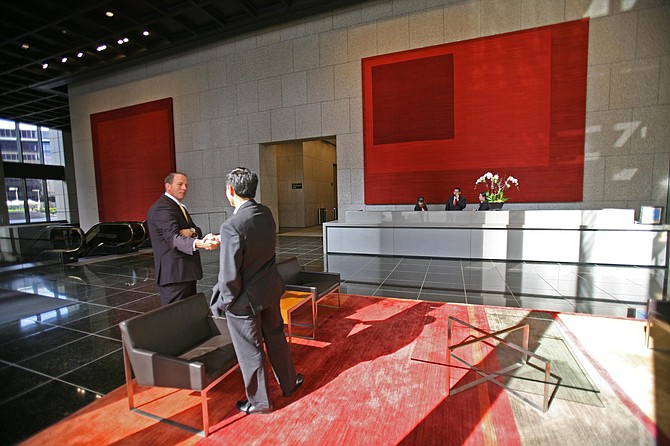 Take a look at the recently remodeled lobby in downtown L.A.'s Bank of America Plaza building.
It is decorated in a geometrical modernist style, with a bronze entryway, 27-foot-high hardwood ceilings and granite walls covered with five cubist tapestries – and by the way, they're made of mohair.
The 24,000-square-foot project cost "multiple millions," according to Bert Dezzutti, senior vice president at Brookfield Office Properties, which owns the building. It's only one of several downtown lobby renovations.
Why are landlords spending money on lobbies? The spate of upgrades can be attributed to a thaw in credit markets and competition for tenants.
At least four other buildings downtown have recently undergone big renovations or are in the process. Brookfield completed the Bank of America Plaza lobby renovation at 333 S. Hope St. about the same time as a similar project a few blocks away at the Ernst & Young Plaza at 725 S. Figueroa St. Also, lobby renovations are under way or recently completed in the Citigroup Center at 444 S. Flower St., International Tower at 888 S. Figueroa, Mellon Bank Center at 400 S. Hope. and Aon Center at 707 Wilshire Blvd.
"It all comes down to access to capital," Dezzutti said. "We have been through a challenging time when capital was constricted, so even if building owners knew it made financial sense, some didn't have the ability to do this. In the last two or three years, only the most stable ownership groups could make these investments."
Creating a spectacular lobby can be a relatively quick way dramatically to improve the appearance of a building and attract tenants, who may be willing to pay up.
"Building owners are banking that the investment in common areas will translate into new tenants and higher rents," said Carol Schatz, chief executive at the Downtown Center Business Improvement District.
Brookfield performed a return-on-investment analysis and found the renovations would result in "quicker lease-ups and higher lease rates" in the future, Dezzutti said.
John Miller, regional director for New York-based Tishman Speyer, owner of the Mellon Bank Center, said the hunt for tenants motivated his company to invest in a lobby remodel. After the economic downturn hit in 2008, the departure of one tenant and the downsizing of another left significant vacant space. After the 40,000-square-foot lobby upgrade was finished in November, the company was able to fill some offices.
"The lobby categorizes your building," Miller said. "If your lobby is dated and dark, it's hard to compete with the top 15 buildings in Los Angeles."
Architecturally, the trend is toward lobbies with more lighting and modern aesthetics, Miller said. Many modern office towers in Los Angeles were built in two phases – the first in the late 1970s to early 1980s, the second in the mid-1990s. Many, especially the older ones, need attention.
Miller wants to attract tenants, but Colin Shepherd, senior vice president at Houston-based Hines Properties, said his company is hoping the facelift will help retain current ones. Hines wanted to brighten up the lobby at Citigroup Center since purchasing the building in 2008, and the time was right. Some leases will be expiring in the next two-and-a-half years.
"Renovations are more common in a rising economy," Shepherd told the Business Journal. "Right now we are very well leased, but we have significant space that will become available. The most important aspect of this renovation is to let tenants know we have the capital to invest in the building."
Shopping time
Retail opportunities also play a role in lobby upgrades for some building owners.
Shepherd said the new Citigroup Center lobby features benches, fountains and landscaping, designed to attract more foot traffic and make some store spaces more attractive to potential tenants.
"We have some retail spaces available and hopefully the upgrades will make them look better," he said.
Meanwhile, Brookfield plans next month to begin a renovation of the 7th & Fig shopping center connected to the Ernst & Young Plaza building. The center has 330,000 square feet of retail, with about 100,000 square feet leased to a Target store. The project will include new entrances, exits and signage to attract retailers.
"We will spend in excess of $40 million," Dezzutti said.
Todd Doney, vice chairman of real estate brokerage CB Richard Ellis Group Inc. in Los Angeles, likens a lobby renovation to cosmetic repairs that homeowners often perform to improve the curb appeal of their homes. Like those fixes, a lobby upgrade often impresses potential tenants.
"First impressions are always important," Doney said. "In most cases, it's money well spent."
For reprint and licensing requests for this article, CLICK HERE.