Checking It Out
Smart phone users snap up CheckPoints' app for shoppers.
Originally published January 24, 2011 at midnight, updated January 26, 2011 at 6:21 p.m.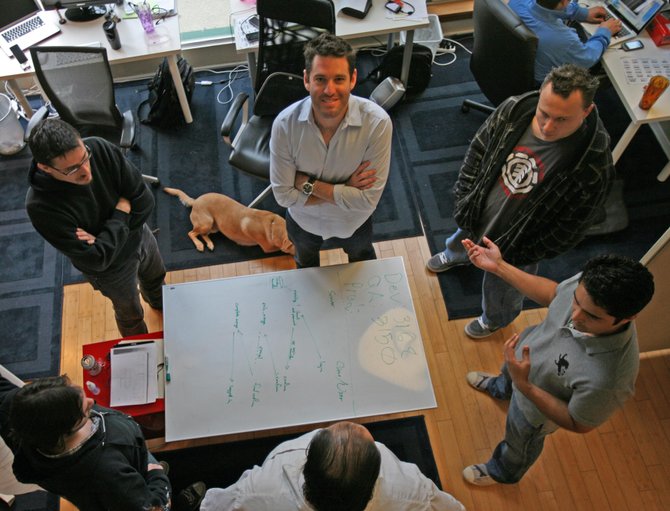 Editor's Note: This story has been changed from the print version to correct the price that Vantage Media was sold for in 2007.
Less than three months after Mark DiPaola and his brother Todd launched iPhone shopping tool CheckPoints, the application has been downloaded a half-million times.
It's a noteworthy milestone: The company's biggest competitor, Shopkick, took twice as long to hit that number with its first app.
"We're definitely ahead," said Mark DiPaola, CheckPoints' chief executive. "We had really strong interest a lot faster than we imagined."
CheckPoints is one of a growing number of mobile phone applications that are built to tap the Global Positioning System in smart phones.
Here's how it works: People download the free application to an iPhone or Android smart phone and "check in" when they arrive at a grocery or other retailer, say a Ralphs or a Target, with the push of a button. The app then gives a list of sponsored products on sale at the store. If they scan a barcode on a sponsored product with the camera, they earn points that can be redeemed later for gift cards or other prizes. They don't even have to buy the product.
CheckPoints is an example of location-based marketing that has become more popular since Foursquare and Facebook Places started to let people "check in" with applications when they arrive at a restaurant or retailer. Those applications allow people to let their friends know where they are so they can meet if they're in the neighborhood.
John Hadl, managing partner and founder of mobile consulting firm BrandinHand Inc. in Santa Monica, said CheckPoints is different from other applications because of its focus on marketing products.
"They're the first that's more focused on selling things for the independent brands," he said.
CheckPoints' partners include Kmart, food manufacturers Tyson and Frito-Lay, and consumer electronics company Belkin. DiPaola said it has been easy to get companies to sign up for the app because it gives them the opportunity to market to potential customers at the point of purchase. CheckPoints charges partners each time a customer scans a barcode.
"It's an amazing opportunity for brands to reach out to consumers where they buy the product," he said. "It's very powerful."
In addition to gift cards and prizes, consumers get messages on sponsored products from the manufacturers. Tyson, for example, provides a phone game that involves flinging chicken wings. Or sometimes the manufacturer will offer a discount.
The company doesn't yet have data on how successful the app is at getting consumers to buy products. But Cliff Unger, a division manager at Playa Vista-based Belkin, said the company has been satisfied with the response.
The company's products can be scanned using CheckPoints at most of its major retailers, including Wal-Mart, Target and Best Buy. If someone scans a wireless router, for example, he gets tips on how to choose the best router for his purposes.
"The campaign with CheckPoints has exceeded our initial estimates," Unger said. "The number of scans we've seen is greater than we expected. We know we're making an impression on consumers."
CheckPoint's biggest competitor is Shopkick, a Palo Alto startup that also rewards people with points when they check in at retail locations such as Macy's or Best Buy. But while CheckPoints works at any store that sells its sponsored products, Shopkick only works at partner retailers.
Competitive field
Shopkick launched its first app in December 2009 and reached more than 500,000 downloads after its first five months. It took CheckPoints two and a half months to hit the same mark. Shopkick hasn't released data on its second app, which came out in June.
Hadl said CheckPoints' progress is good, but it isn't winning the game yet.
"Anybody who can get to over a million users in under five months tends to be a rip-roaring success," he said. "But 2 million is kind of a magic number. That's when you have legitimate success."
DiPaolo projects his company will reach 1 million downloads by the end of March.
CheckPoints is not the first venture for the DiPaolas. The brothers founded search engine marketing company Vantage Media in 2002. They sold the company, which they started in the same Venice offices on Abbott Kinney Boulevard where they now run CheckPoints, in 2007 for $150 million. CheckPoints has 20 employees.
Before Shopkick and CheckPoints, consumers had to download an individual application for each store if they wanted to participate in location-based shopping.
"The majority of mobile shopping apps are for a particular store, like Pizza Hut or Target," Mark DiPaola said. "This is a much easier app for a consumer and it has a broader appeal."
One of the first companies to start using location-based technology was Foursquare. The Silicon Valley startup launched an application in 2009 that lets users share their location with friends by checking in at restaurants, bars or other business and recreational locations. The application now has more than 5 million users.
Facebook launched a similar service, Facebook Places, in August. The company has not released data on how many people use its application.
Although DiPaola doesn't consider Foursquare a direct competitor, it will take CheckPoints a while to amass the same user base that Foursquare has developed.
The question is whether location-based applications will move from the mainstream into the mass market. Kathryn Zickuhr, a researcher with Pew Internet, released a study in November that showed only 4 percent of adults who use the Internet also use location-based services such as Foursquare.
"These services are mostly popular with younger Internet users and with typical early adopters," she said. "With these levels of adoption, location-based applications might be able to engage deeply with some users but not be able to reach everyone."
But CheckPoints' early success could be evidence that the trend isn't just momentary.
"Clearly consumers are thirsting for help at the shelf, whether it's with consumer electronics or groceries," said Hadl at BrandinHand. "Mobile apps are now able to help them in new ways."
For reprint and licensing requests for this article, CLICK HERE.