Paige Craig: On the Move
Travel enthusiast and former Marine has gone from angel investor in the L.A. tech scene to launching his own firm, about which he hesitates to give details.
Monday, January 10, 2011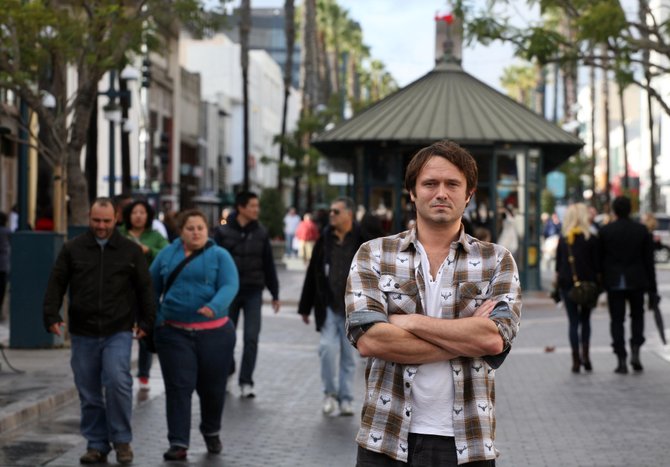 Think of the latest young hot technology startup and there's a good chance Paige Craig has invested in it. In the last two years, he has become one of the most prolific angel investors in the L.A. tech community. Since 2008, he has put money into more than 35 companies, including local companies GameSalad, a mobile-game maker, and e-commerce website EcoMom. Now, Craig is taking a break from investing to start his own company, BetterWorks. The Santa Monica startup, which Craig will only describe in vague terms, is expected to launch early this year. But Craig, 36, is no stranger to building companies. He grew up in Sacramento with little money but watched as his father developed the family art framing business into a success. In 2003, he drew upon his experience in the Marine Corps, and his later work as an intelligence consultant, to start a strategic communications firm in Iraq. During the early years of the Iraq war, the firm, the Lincoln Group, was contracted by the U.S. government to disseminate information to media in Iraq and elsewhere in the Middle East. That led to a dustup in 2005 when the company made headlines for planting pro-American stories in Iraqi news outlets. Craig, who left the highly profitable Lincoln Group in 2007, recently sat down with the Business Journal in BetterWorks' new office just off the Third Street Promenade to discuss the challenges of running a company in a war zone, his addiction to adventure travel and how his father fueled his interest in entrepreneurship.
Question: I hear you love to travel. What are some of the most interesting places you've been?
Answer: I'm huge on travel. For me, it's all about where I can go hike, climb and dive. I like to experience the world. I went to Polynesia last summer and was completely disconnected from the world. I did five dives a day. There was no Facebook or e-mail.
Have you done anything particularly crazy?
Well this was for work, but I drove into Baghdad in 2003 and that was pretty crazy, to drive into a war zone. I went down to Babylon and saw it firsthand. Nobody was there, probably because they were afraid of being killed, but I had to see it.
Was that trip part of starting Lincoln Group?
Yes.
So you went to Iraq in 2003 to start a company. Was that safe?
It wasn't bad in 2003. The spring of 2004 was when it got really bad. I went through a lot there.
What was it like?
On one hand, I'm wired to enjoy challenges, so I liked the challenge a lot. But it was also a very brutal conflict sometimes.
Did you have any close calls?
Yeah, way too many.
Can you describe one?
I was ambushed in September 2004 in one of our safe houses in Yarmouk. Two teams assaulted our compound with grenades, small arms and light machine guns. I survived the first grenade blast that was directed at me and then organized a counterassault. I lost two great guys that night.
That sounds horrible.
I don't want to glorify the conflict. My life was tough but I managed to survive due to a mix of luck, grace and incredible people who sacrificed for me.
Why did you go to Iraq to start the Lincoln Group?
I thought that we'd probably get to the point in a year or two when private capital would start flowing into the country. With my background in intelligence, I figured I could build up a pretty good network of people and bring in some technology and really help companies do business with Iraq.
That sounds like private intelligence work but the firm ended up doing strategic communications. How's that?
It turned into a fact that to win these wars, it wasn't about the physical environment, it was about winning the information war. That became the biggest part of our business, strategic communication and information operations. We would collect a lot of information about the place and produce messages and programs that would change people's behavior or thoughts. We'd do television shows, movies, video games, posters.
Can you give us a specific example?
The company is classified and our work is classified. I can't disucss our operations.
When people found out in 2005 that Lincoln Group was planting stories in Iraqi newspapers, they called it propaganda.
You can call it whatever you want. We were fighting an enemy who was not only creating propaganda but torturing people. I have a hard line that you don't practice these things in your own country. You don't want the government interfering with the domestic press. But using information against a foreign enemy is not wrong. If the worst you accuse me of is using information to win a war, then that's fine by me.
Did you always want to work for the government?
In high school I was really interested in art. But art didn't satisfy my urge to change the world.
Why art?
My family was in the art business. When I was a kid, my dad worked for these antique dealers and he would buy and sell antiques. Then he started a framing and graphics company when I was 6 or 7. He would frame the prints at antique shops. I watched him grow the business from a tiny family business where we were barely scraping by to where he was framing prints at office parks like the Campbell Soup factory.
What was your childhood like?
We were definitely very, very poor. I can only say that because I know it now. We lived in this abandoned house that my dad convinced this family to give us. We fixed it up and they eventually sold it. We were economically poor but I had a lot of fun. We did the framing in the house, so I definitely got to spend a lot of time with my dad. Not a lot of people get exposed to watching a family business grow.
Would you still call yourself artistic?
I apply that art to life now. I got into metal sculpture and welding. But I don't have the time to sit down and do that anymore. Now I describe things visually to people. I think art helped me think that way.
If you were interested in art, why did you go to West Point?
West Point was a bigger challenge.
How'd you get in?
It was probably my work ethic and commitment to helping the community. I volunteered on local political campaigns, did an internship for Assemblyman Lloyd Connelly in Sacramento, started going to California State University, Sacramento, in junior high and worked in the family business.
But you dropped out after three years?
I learned that it wasn't really my thing. I realized that I wouldn't be happy being a commanding general in a conventional war fighting unit. I'm pretty bad at following a whole set of rules.
Were you a rule-breaker at West Point?
I was leading my class in punishment. I got in trouble all the time for pulling pranks. I just loved to have fun and do crazy stuff. One time, I kidnapped this Air Force lieutenant colonel before the football game against the Air Force. We stripped him down and shaved his head bald. I videotaped it and broadcast it across our AV system.
Why did you decide to join the Marine Corps after leaving West Point?
When I dropped out, I didn't know what I wanted to do. After traveling and having fun for a while, I ended up in New York. The Village Voice had an ad for the Marine Corps, an apple-picking job and work as a cabana boy. The Marine Corps was the first one that called me back. I just did it to do it.
What did you do for them?
I was stationed in the Middle East, Thailand, Australia, Japan and California. I was in intelligence the entire time.
Was that how you ended up working in intelligence after you left the Marines?
Yeah. I left the Marine Corps in 2000 and went to work for the government as a consultant in the intelligence community. It exposed me to some new things. I got to work for a number of agencies in the government.
So you just missed the war in Iraq. Do you ever regret that?
There were certainly many days I wish I was serving with my buddies in uniform. But out of uniform I had a lot more impact and was able to work for four years almost nonstop in Iraq, Afghanistan, Lebanon and elsewhere.
Why did you leave the government and go into the private sector?
I wanted the freedom and flexibility to make my own decisions. Growing up poor and then working in service, I wasn't motivated by money. Money gives you the resources to make great things, but if you find happiness before you make money, you're better off.
I take it you did pretty well with Lincoln Group.
I took an equity line of credit out on my house and maxed out my credit cards and ended up profitable that first year. We won around $15 million or so in that first year and continued to skyrocket from there. I bootstrapped the business so all of the profit was ours.
How did you get involved in angel investing?
I got into it in 2007. I love entrepreneurship and I love getting my hands dirty with companies. So I went to San Francisco and met with some venture capital firms up there because I was interested in microfinance and the VC world. But I realized it's a very regulated, rules-based career. Then I heard the term "angel," and it made me realize that you don't have to be at a firm, you can just go out there and invest on your own.
Why did you choose Los Angeles?
One person I met when I was in San Francisco was Nicole Jordan and she introduced me to some of the people in the L.A. tech scene. So in July 2008 I got a house in Venice right on the beach. I called Nicole and told her I was here.
What criteria do you have for investing in a company?
I have these verticals. Companies that build entertainment platforms is one, another is social data companies, and the third has become small and medium business software. The horizontals are transparency, this movement toward the oversharing of information online, and mobility, the fact that society is mobile and services should serve that mobility. And I want people with passion.
How much do you typically invest in a company?
It depends. I've invested everything from half-a-million dollars down to $25,000. One company, Identified, wouldn't take my money because he just wanted advice. I wrote him a check for $10,000 anyway and asked him to just take it.
Did you make any mistakes early on?
I always say don't do this, but I invested in a company because someone else did. You should never do that as an investor. I don't like to be a follower. It's just a really bad strategy.
So now you're taking some time off from investing to start your own company?
A lot of time off.
Why did you decide to get back into entrepreneurship?
I really am addicted to creating. I look at problems and want to solve problems. My co-founders and I all got together and wanted to get back in and build something new.
BetterWorks is still in stealth mode, but can you tell me what it will do?
Our tagline is "make work rewarding." We're creating a framework for the workplace where companies can make work better for their employees. It's about caring for and rewarding your employees.
When will BetterWorks launch?
Sometime early this year.
What is startup life like?
Startup life is rewarding and simply amazing. My schedule is pretty much 24-7, but I love it and couldn't imagine a better adventure.
You say you're a big reader. Do you have time to read right now?
I'm reading a 409A valuation report. I have so many books. There's a book that my grandfather gave me before he passed away last year that covers his unit in World War II. I'll read that on my next trip. I love biographies and science-fiction.
That's a strange combo.
I read when I travel. I always save my books and trade them at hostels or other places. If you're a big reader in the countries that I like to go to, where it's not always easy to find English books, you end up reading some interesting stuff.
Where do marriage and a family fit into your plans?
I'm still single. I just haven't found the right lady yet. But my family rocks. My sister, Colleen, and her kids live in Sacramento and we get to visit often. They're amazing and I'd be lucky to have awesome kids like them.
Paige Craig
TITLE: Co-founder and Chief Executive
COMPANY: BetterWorks
BORN: Seattle; 1974
EDUCATION: studied at United States Military Academy at West Point; B.S., management information systems, University of Maryland; M.B.A., National University.
CAREER TURNING POINT: Stopped working for the government in 2003 and joined the private sector.
MOST INFLUENTIAL PERSON: Father Charles, who started his own framing business.
PERSONAL: Single and lives in Santa Monica.
ACTIVITIES: Adventure travel, outdoor activities such as hiking and scuba diving, reading biographies and science-fiction novels.
For reprint and licensing requests for this article, CLICK HERE.