Koreatown Banks Plan to Thin Ranks
Monday, January 10, 2011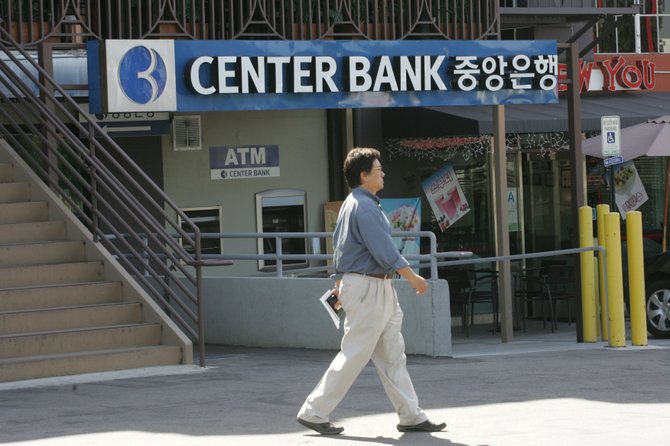 Bankers in Koreatown have complained for years about overcrowding in their corner of the industry. Soon, there may be a little more elbow room.
Several of the community's largest and most powerful banks say they are ready to take advantage of weaker rivals and fortify their market-leading positions through acquisitions.
Indeed, last month's merger of Nara Bancorp Inc. and Center Financial Corp., which will create the nation's largest Korean-American bank, is expected to spark a wave of consolidation in the ultracompetitive industry. Some estimate as many as half of the dozen local Korean-American banks could disappear.
"I think our transaction will probably trigger others," said Alvin Kang, chief executive of Nara, who will assume the same role at the new bank. "Our merger with Center is really going to transform the Korean-American banking space. I think it's natural that we would have more consolidation."
With some banks still reeling from the recession and others returning to profitability, analysts say the environment is ripe for a pickup in mergers and acquisitions. What's more, tightened regulations and stricter capital requirements are encouraging banks to take advantage of the economies of scale that come with consolidation.
Among the banks struggling to maintain profitability – making them potentially attractive takeover targets – are Pacific City Bank, Open Bank and Uniti Bank, which each lost millions in the third quarter.
Kang said the combined Nara-Center entity will likely make additional acquisitions, though he declined to specify which banks those could be. Meanwhile, the current market leader, $3.2 billion-asset Wilshire Bancorp Inc., is eyeing potential deals of its own.
Besides the small players that could be acquired, Hanmi Financial Corp. is one of the most coveted franchises in the industry, analysts say. Once the largest Korean-American bank, Hanmi has struggled with substantial loan losses that could force a sale.
"There is a pretty solid franchise there at Hanmi," said Joseph Gladue, an analyst with West L.A. investment bank B. Riley & Co. "That would certainly be attractive to one of the other competitors in that space."
Heavy competition
Koreatown, which is home to an estimated 300,000 Korean-Americans, had long been served by the "Big Four" banks: Nara, Center, Wilshire and Hanmi. Recently, though, small competitors have sprung up, including Uniti in 2001, Mirae Bank in 2002 and Pacific City the following year.
Despite frequent complaints about an overcrowded sector, a consolidation movement did not gain any traction until the recession set in and Mirae failed in mid-2009. Mirae, which was acquired by Wilshire, was the first Korean-American bank to fail. Since then, another institution, Oakland's Innovative Bank, was closed and sold to Center.
But the merger between Center and Nara sent shockwaves through the local community and is expected to have a transformative effect on the industry.
Joanne Kim, Wilshire's chief executive, said the deal took everyone by surprise both because of the size – the $286 million all-stock transaction was the largest community bank deal in the Western United States in more than three years – and because it represented a break from cultural customs.
Traditionally, directors of Korean-American banks have been reluctant to cede control of their institutions through sales or mergers, she said. But this blockbuster deal could persuade other banks to rethink their positions on M&A.
"Definitely the Nara-Center merger announcement may impact the minds of the boards of other Korean-American banks," she said. "I believe they are more open to have an honest and realistic talk among themselves."
For Wilshire, though, the deal represented a challenge to keep up. Kim said she takes pride in the fact that Wilshire is currently the largest Korean-American bank, and she expects the institution get more aggressive in its stance on acquisitive growth to compete with the Nara-Center entity, which has yet to announce its new name.
"We will definitely rethink our growth strategy, that's for sure," she said. "It will be important for us to really position ourselves to look for an opportunity."
Buyer's market
The opportunities are many, as a number of Korean-American banks have run into capital problems during the economic downturn.
Pacific City, for instance, lost $13 million in the third quarter, mostly on souring commercial real estate and business loans. Though the Koreatown bank is still well-capitalized by regulatory standards, it has missed its last six dividend payments to the government under the federal Troubled Asset Relief Program, according to industry research firm SNL Financial.
Analysts say Pacific City is just one example of the troubles facing many small Korean-American banks.
"In the last 10 years there were quite a few startups in the Korean-American space," B. Riley's Gladue said. "There seemed to be enough business to go around prior to the economic downturn, (but) a few of the smaller, newer ones are struggling to maintain any profitability. I suspect a handful of the banks will go away."
Still, it's Hanmi, one of the oldest and largest Korean-American banks, generating the most buzz as a potential target. The bank has lost more than $200 million in the last two years, during which it had no profitable quarters.
Last year, Hanmi reached an agreement with Seoul, South Korea, firm Woori Finance Holdings Co. to invest up to $240 million in new capital. Hanmi has received half of the capital, which brought it into compliance with regulators' demands, but it has failed to receive approval for the remaining capital, a move that would give Woori a majority stake in the bank.
The sides missed the Dec. 31 deadline to complete the deal, but Hanmi said they continue to work with Woori toward completing the investment. However, Hanmi no longer has an exclusivity agreement with Woori, freeing it to look elsewhere for capital. Analysts believe the bank will likely need to find an additional capital infusion or merger partner.
"There's always the possibility that if they are unable to raise enough capital, they could be put in a position where they would have to seek a partner," Gladue said.
Brian Cho, Hanmi's chief financial officer, said the bank is exploring its options, but he does not expect Hanmi to have to sell itself. Still, he does see a need for consolidation among Korean-American banks.
"I think there will be a further reduction in the number of banks in town," he said. "I'm confident we are not one of them."
For reprint and licensing requests for this article, CLICK HERE.