U.S. Resources Pump Up Oil Co.
Turmoil overseas may boost Oxy's domestic focus.
Monday, February 28, 2011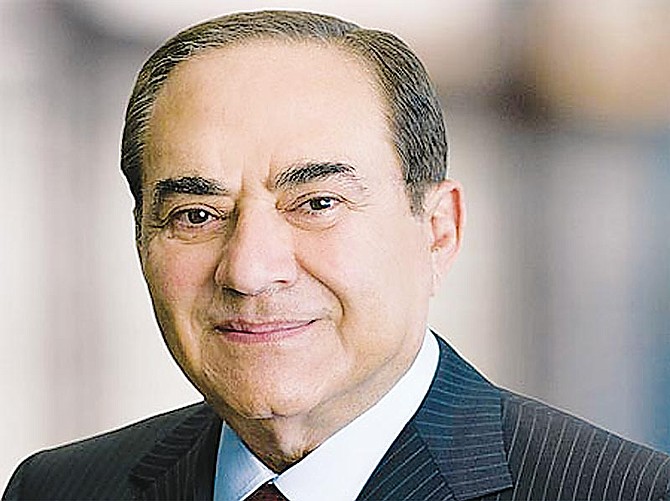 Occidental Petroleum's oil and gas projects in Libya and the rest of the Arab world appear vulnerable amid that region's historic revolutions, but the company's shift to U.S. oil production is becoming a significant comfort factor.
Occidental has a long-term arrangement with Libya for exploration and drilling of gas and oil, but it's become a questionable deal as the regime of strongman Moammar Kadafi was under siege at press time. Experts believe any future ruling party is likely to respect the deal because the nation will need Occidental to help run energy operations. But the outcome is unknown.
"There's the opportunity to get a lot more domestic focused when this turmoil is happening," said Duane Grubert, a senior research analyst at research firm Susquehanna Financial Group in Bala Cynwyd, Pa., who rates Occidental's stock "positive." "I expect they will reposition more and more domestically."
Although the company is known for its foreign operations, it has turned more inward lately. The company said in December that it was buying oil and gas fields in North Dakota and Texas. It has also doubled production on major oil finds near Bakersfield and has begun seeking oil reserves in shale formations throughout California.
However, it still has significant exposure in hot spots. Occidental's holdings in the Middle East and North Africa account for about 40 percent of its oil and natural gas production.
The company maintains oil reserves in Bahrain, Oman and Yemen – where protesters have taken to the streets in recent weeks – in addition to Iraq and Qatar. In January, the company signed a 30-year deal to participate in development of a natural-gas field project in the United Arab Emirates.
The wave of revolution casts a shadow on the company's current drilling and future plans.
"The biggest question is: Does what's going on spread?" said Philip Weiss, a senior analyst at New York equity research firm Argus Research Co. who follows Occidental. "And does it spread in way that it starts to impact production?"
Occidental evacuated foreign workers and their families from Libya last week and its Libyan oil production was turned over to Libyan employees and contractors.
"We continue to closely monitor developments in Libya," said Occidental spokesman Richard Kline. "Safety is a top priority at Oxy. We have taken all appropriate steps for the safety and security of our personnel."
Libya now provides 2 percent of Occidental's overall production. Kline said the amount wasn't significant on the company's balance sheet.
However, Occidental has made a significant investment in the North African country.
Occidental signed an agreement in 2008 with the Libyan National Oil Co. to invest about $1.9 billion over a five-year period to design and implement major field redevelopment and exploration programs in Libya's massive petroleum reserves in the Sirte Basin.
Barbara Shook, Houston bureau chief at industry trade publication Energy Intelligence Group Inc., has been covering Occidental for more than two decades, and said the company is likely to see delayed returns on its long-term deal with Libya because of the current turmoil there.
"Anytime you go into a country to start an exploration effort, the upfront costs are tremendous," Shook said. "We are talking about billions of dollars, and the returns don't come for years after. And in a realistic world, you are talking about the timing of the returns is deferred."
But Shook doesn't expect Occidental to be booted out of the country.
"Whoever ends up running the country in the future still needs revenues from oil production and natural gas production," Shook said. "These international oil companies are the only ones who can do that. And Occidental has a long reputation of being able to work effectually with lots of different types of governments."
Middle East pioneer
Occidental first discovered major oil fields in Libya in the mid-1960s, and its production there helped transform the company into a major producer. But Occidental and other U.S. oil companies were ordered out of Libya in 1986, when American planes attacked Tripoli in retaliation for the bombing of a German disco frequented by American troops.
When the Bush administration allowed U.S. oil companies to re-enter Libya in 2004, Chief Executive Ray Irani visited the country twice that year to meet Kadafi. They signed an agreement in 2005. Occidental started investing big money in 2008 in a joint venture with Austrian oil company OMV in Vienna.
The unrest in Libya comes as Irani is set to retire in May, with Chief Operating Officer Stephen Chazen replacing him as chief executive.
Irani's exit might not detract from Occidental's ability to maintain contracts or obtaining new ones in Middle Eastern countries.
"Oxy's been successful in winning business in the Middle East while being a relatively small player compared to some of the companies it's competing against," Weiss said. "One reason it's been able to do that is because it's so financially strong. And a lot of that view toward the strong balance sheet, Chazen is behind a lot of that."
Grubert said Chazen will most likely look at the international volatility and expand Occidental's U.S. oil and natural gas production in response.
"I think Chazen will be more focused on domestic rather than foreign growth and this is one reason why," Grubert said.
The company is the top natural gas producer in California and the state's second largest oil producer behind Chevron Corp.
Occidental said in December that it was selling its operations in Argentina to focus more on U.S. activity. The company's oil and natural gas fields in North Dakota could hold more than 3.5 billion barrels of reserves. Occidental is expanding its operations in Texas, where it's already the No. 1 oil producer. The company has also increased its stake in pipeline operator Plains All American, and is pursuing the remaining stake in the Elk Hills Power Plant to become full owner. Both are near Bakersfield.
Susquehanna has recommended that Occidental spin off or sell international assets to further build domestic operations.
"Perhaps tensions out there might get them to think about that more seriously," Grubert said.
For reprint and licensing requests for this article, CLICK HERE.