Dean Scarborough: Sticking to It
Chief executive has spent almost his entire career working for label and office products maker Avery Dennison.
Monday, February 28, 2011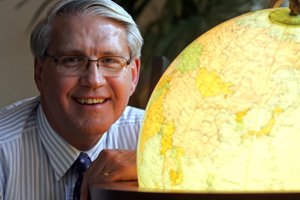 Is that how it turned out?
Yes, they brought me in as a product manager in Ohio, and that must have gone OK because I quickly got promoted to technical marketing manager. I still remember my first week in that new job. One of my employees was celebrating his 25th anniversary with the company and I was 24 years old. I thought, "This is pretty bizarre."
So you've spent your whole career at one company?
Yeah, pretty much, except for four years during which I left Avery to work with my dad. The prime rate was about 18 percent at the time and nobody was buying capital equipment, so his business went through a bankruptcy. He said, "Son, I paid for all that expensive business education and now I need some payback." Later I started up a new company basically doing the same thing, but sold it to the guys working for me because it was too small. What I realized was that while it was fun and rewarding, it was never going to be as large as the enterprise I really wanted to run.
Avery obviously was and is.
Yes, we do business in more than 60 countries. Two-thirds of our revenues come from outside the United States. We are in Europe, Latin America, Asia, India and lots of other places. We also manufacture and sell throughout America, where we're probably best known for our office products division. The other divisions are the retail information services business, and our core (business) and fundamental to our success, the pressure-sensitive materials business.
You're company has an incredibly broad reach. How do you stay on top of all that?
I probably spend about 40 percent of my time traveling, so I'm not really in the office much of the time. When I'm out, I spend time with our customers, our operations and our management teams trying to understand their issues and getting to know their problems. People development is a major part of what I do. I'm a big believer in communications. We have an intranet and I've got a blog.
What do you write about?
Mostly things I'm seeing and observing in the company, things that are on my mind. If I see a particularly efficient operation in India or somewhere else, for instance, I might write about that. Or it could be about a particular problem.
Describe your typical day when you're in town.
For reprint and licensing requests for this article, CLICK HERE.
Stories You May Also Be Interested In