Dean Scarborough: Sticking to It
Chief executive has spent almost his entire career working for label and office products maker Avery Dennison.
Monday, February 28, 2011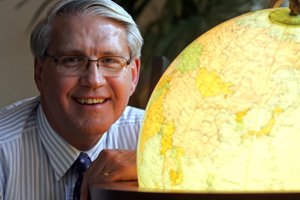 Dean Scarborough loves labels. That's because, as chief executive of Avery Dennison Corp. since 2005, he oversees a Fortune 500 company in Pasadena well-known for its adhesive labels and office products used in more than 60 countries. In fact, Scarborough, 55, is one of those increasingly rare Americans who has spent virtually his entire career working with the same company. He grew up in Cleveland, where his father started several businesses, most notably a machine tool distribution company where Scarborough worked as a young man. The experience, he said, whetted his appetite for business and set the stage for what was to come. Today, Scarborough spends a good deal of time traveling abroad to confer with Avery's manufacturing and sales executives worldwide. He also serves as a trustee at his alma mater, Hiram College in Hiram, Ohio. When he isn't traveling, playing golf or watching the Food Network with his wife at their Pasadena home five minutes from work, Scarborough oversees the vast international label empire from a sunny office overlooking the Foothill (210) Freeway. That's where the Business Journal caught up with him.
Question: You're in the label business. Was that your lifelong dream?
Answer: No, it certainly wasn't. When I was in my late teens, however, my goal was to run a Fortune 500 company. The funny thing was that I had kind of forgotten about it. Then when I became CEO, I got all these letters from my college buddies saying, "You did it!" I thought, "Oh, yeah, that was my declared goal back then."
How does one acquire a goal like that at such an early age?
My dad was an entrepreneur who ran a machine tool distribution company he had started in the basement. Later in life, he ran an upscale deli and then a kite shop when he was semiretired. So there's been an entrepreneurial spirit in the family. I was brought up with a business perspective. I loved economics and, as an undergraduate, read the Wall Street Journal every day.
How did you end up at Avery?
I came here right out of business school. They were hiring M.B.A. graduates at the time and I had lots of job offers, including one from Proctor & Gamble, but I turned them down because what I heard there was, "We're going to teach you how to write a one-page memo in your first year." Avery lent itself more to the entrepreneurial culture I had grown up in. I felt that they were going to give me lots of responsibility early on.
Is that how it turned out?
Yes, they brought me in as a product manager in Ohio, and that must have gone OK because I quickly got promoted to technical marketing manager. I still remember my first week in that new job. One of my employees was celebrating his 25th anniversary with the company and I was 24 years old. I thought, "This is pretty bizarre."
So you've spent your whole career at one company?
Yeah, pretty much, except for four years during which I left Avery to work with my dad. The prime rate was about 18 percent at the time and nobody was buying capital equipment, so his business went through a bankruptcy. He said, "Son, I paid for all that expensive business education and now I need some payback." Later I started up a new company basically doing the same thing, but sold it to the guys working for me because it was too small. What I realized was that while it was fun and rewarding, it was never going to be as large as the enterprise I really wanted to run.
Avery obviously was and is.
Yes, we do business in more than 60 countries. Two-thirds of our revenues come from outside the United States. We are in Europe, Latin America, Asia, India and lots of other places. We also manufacture and sell throughout America, where we're probably best known for our office products division. The other divisions are the retail information services business, and our core (business) and fundamental to our success, the pressure-sensitive materials business.
You're company has an incredibly broad reach. How do you stay on top of all that?
I probably spend about 40 percent of my time traveling, so I'm not really in the office much of the time. When I'm out, I spend time with our customers, our operations and our management teams trying to understand their issues and getting to know their problems. People development is a major part of what I do. I'm a big believer in communications. We have an intranet and I've got a blog.
What do you write about?
Mostly things I'm seeing and observing in the company, things that are on my mind. If I see a particularly efficient operation in India or somewhere else, for instance, I might write about that. Or it could be about a particular problem.
Describe your typical day when you're in town.
I'd say I work an average of 65 hours a week. I get up around 5:30 a.m., try to exercise for half an hour, then grab some breakfast and get to the office by 7:15 a.m. That's the benefit of living five minutes away; you don't have to sit in a car for an hour before arriving at work. I try to get home around 6:30 p.m. for dinner, spend a couple of hours with the family, then most evenings do e-mails and light reading to prepare for the next day. There are stretches when I'm traveling where I won't be home for three weekends in a row.
That must take a toll on your family life. How to do you balance it?
I stay in contact with everyone through e-mail and text messaging. The way I communicate with my kids is through texts – I text them quite a bit. And I talk to my wife every day, or we e-mail. That's part of it, but here's the most important dimension: I think if your family sees you working hard at something you really love, they get that.
Speaking of liking your job, what's your favorite part?
I love the diversity of the business we're in, the fact that we offer a broad set of technologies relevant in a lot of markets. I love the challenge of doing business in so many foreign countries. I'm in China one day, then Japan, then India, and each of those countries does business a little bit differently.
How has traveling to all those cultures affected your view of the world?
I'd say it's significantly broadened my world view. If I were 20 years younger, in fact, I'd be working in China or India. There's so much opportunity in those markets that I'm kind of jealous of our management teams over there.
Anything you don't like?
That's a harder question because there aren't many negatives. When you're in a job like this, though, you're in constant view; any mistakes you make tend to be visible. Everything about me is fairly public – my whole financial package, for instance, is published for the world to see. At the beginning, that felt kind of strange because I was brought up believing that what you do and what you make is your own private business. I like being a leader at the company, but being a public figure is not a real plus for me.
Yet you agreed to this interview.
I tend to be very open, very transparent about what's on my mind. Also, my fortunes are directly tied to the fortunes of the company and its shareholders. If the company does well, I do well; if the company does poorly, not only do I not do well financially, but I could lose my job. The average tenure of a Fortune 500 CEO is now less than five years. I've been here for six, so I'm hanging in.
What do you do to let off steam?
I like playing tennis and golf. I'm also a voracious reader; I especially like reading biographies like George Bush's, Condoleeza Rice's, Tony Blair's and Winston Churchill's. I like reading about the challenges people face and their perspectives on the world. I also like to cook; I prepare Thanksgiving dinner every year and do a lot of grilling because that's the easy stuff. One of my favorite TV channels is the Food Network.
Several of the people whose biographies you mentioned are conservatives. Do you have a political leaning?
There is a fairly wide range of people I follow. I'm probably typical in the sense that, socially, I tend to be libertarian, but from an economic point of view I tend to be conservative. I believe, fundamentally, that the government shouldn't interfere with the way we live our lives. As long as they're not hurting anyone else, people should be free to do what they want.
To what extent does that inform your management style?
Well, I do believe in delegation, but first we have to agree on the objectives and how you get to them. Values and ethics are very important to me; you can't lie, steal or cheat your way into getting something and you can't abuse others. Beyond that, it's pretty much the person's job to get on with it and my job to coach and support.
You've obviously been very successful financially. Has that been as rewarding as you'd imagined? (The Business Journal has calculated he made $8.1 million in salary, benefits, bonus and other compensation in 2009.)
For me, the goal of running a large company was never to make money. It has, however, enabled me to do certain things that I might not otherwise have been able to do such as support my parents as they've gotten older. Also my wife, Janice, and I are very passionate about education and have donated lots of time and money to various educational institutions. I'm very proud of that because I really believe that one of the best things you can do is provide a quality education for children because that, at the end of the day, is the most important thing they need to succeed.
What about your own children, have they been successful?
My son, Andrew, is a junior at Hiram College studying languages. He's gifted and speaks Spanish, Dutch and Mandarin. I also have a daughter, Alexandra, a high school senior at Flintridge Sacred Heart Academy in La Canada Flintridge, who's going off to college next year. I think she'll major in English.
How'd you meet your wife?
We actually met at Avery in Philadelphia when I was working for our retail information services division and she was in telemarketing. Later, when I moved to Charlotte, N.C., to run a plant there, she left the company and we got married. For the last seven years she's been athletic director at the Waverly School here in Pasadena, a voluntary position. She just retired from that last June to spend more time with our daughter.
Do you ever take your family with you on business trips?
It's really difficult because I'm just so busy. We're taking Alexandra to India in April, though. She's always wanted to go there and we told her we would take her if she got good grades. So during her spring break, the three of us will fly to India. I'll spend a couple of days doing business while they do some touristy things, and then, finally, I get to see the Taj Mahal and all the other great tourist things in northern India.
What do you feel you still have to accomplish at Avery?
I'm the bearer of a 75-year-old legacy, so it's really important to me that the company thrives for the next 25 years. My job is to deliver value to the shareholders and invest in the future so that we have a viable enterprise moving forward.
Do you see any elements of how that future might look?
One of the most exciting things we're working on is the radio frequency identification device – RFID – which can conduct an inventory that used to take a weekend and do it an hour. It's basically a thin chip on a label that emits a radio signal allowing products to be tracked without bar code-scanning devices. It's still a small percentage of our business, but growing rapidly and I believe it's the standard of the future.
Speaking of the future, it's probably a little early to be thinking about retirement, but do you have any plans?
That's fairly easy. "Retirement" is a funny word; I think the real question is what would you like to do next? I'd like to teach, work in an educational institution. I like young people, I like education and I like to learn. Probably the thing I'm most qualified to teach is business.
When you look back on your career, do you have any regrets?
Of course, we all make mistakes and learn from them. I was incredibly lucky in that this company always put me in jobs probably a little before I was ready for them. I always felt like I was on a steep learning curve, but I loved it because I was always striving to learn fast and get better.
Do you have any secret ambitions?
Yeah, I'd like to have a 5 handicap in golf but that's probably never going to happen. I also wish I were 4 inches taller and 20 pounds lighter, but that's probably not going to happen either.
What's the most interesting thing you have learned?
That CEOs are like everyone else. I won't say we have normal lives because we don't, but most of us are normal people. I go to the grocery store, shop, buy my clothes, raise my children and play tennis. Just because I'm a CEO doesn't mean I'm from another planet.
Dean Scarborough
TITLE: Chief Executive
COMPANY: Avery Dennison Corp.
BORN: Philadelphia; 1955.
EDUCATION: B.A., Hiram College; M.B.A., University of Chicago.
MOST INFLUENTIAL PEOPLE: His father, Neafie; Hiram math professor Ed Smerek; former Avery Dennison executive Kim Caldwell.
CAREER TURNING POINT: Being sent to Europe to turn around the company's roll materials business in 1995.
PERSONAL: Lives in Pasadena with his wife, Janice; the couple has two children, Andrew and Alexandra.
ACTIVITIES: Golf, tennis, reading biographies and watching the Food Channel.
For reprint and licensing requests for this article, CLICK HERE.
Stories You May Also Be Interested In