Firms in Hard Drive for Hires
L.A. companies offer extras to land engineers.
Monday, February 28, 2011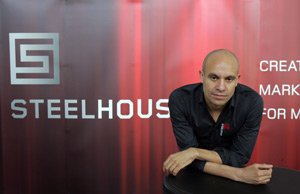 The L.A. technology community has lots of job openings and – crazy as it seems amid today's record unemployment – it's tough to fill them.
In fact, recruiting has become so competitive some local companies are offering such perks as an office hot tub and unlimited vacation time to lure good tech employees.
"There are a lot of companies being started and none of them can find experienced engineers," said Sizhao Yang, co-founder and chief operating officer of BetterWorks Inc., a Santa Monica startup that's striving to fill slots. "It's been pretty difficult."
Los Angeles has a surprisingly big tech sector, and it's been propelled out of the recession largely because advertising dollars and investments are flowing to online media.
Mark Douglas, chief executive of Internet ad company SteelHouse Media Inc., is one tech leader facing new challenges in hiring staff. He has 24 employees at his Culver City startup and wants to hire at least 50 more before the end of the year. In December, he realized that he needed to start acting quickly when he wanted to hire a good job seeker. If not, the candidates were getting scooped up by competitors.
"A lot of companies were sitting on the sidelines in 2010 trying to figure out what would happen with the economy," he said. "Now they feel a lot more comfortable hiring."
To make his company competitive, Douglas has begun advertising some unusual job perks. For example, SteelHouse offers employees unlimited vacation time and a vacation stipend. "Unlimited" means that employees can take as much vacation time as they want, within reason, and SteelHouse will even help pay up to $2,000 per year for those trips.
Douglas said he trusts his employees not to mistreat the vacation policy and expects most employees will take between one and six weeks of vacation this year.
"If someone has a family reunion and needs to take more time, I'm totally comfortable with that," he said. "It's all about being part of the team, knowing when it's appropriate to take the time off and planning it."
SteelHouse isn't alone in offering job perks to employees.
SendLove.to, a downtown L.A. social networking startup, has transformed its loftlike space with whiteboards shaped like clouds on the walls and fake grass on the floor in order to appeal to job seekers who want a dreamy environment. The office also has a basketball half-court, a hot tub and has health-conscious lunches and dinners prepared for employees each day.
Chris Lyman, chief executive of the seven-person company, which runs a social network where people say what they think about their friends, said the relaxed, fun environment of the office has been a big help in recruiting employees.
"We landed five extremely senior developers in about 60 days," he said. "I know for a fact that in each instance at least one or two of these perks were decent parts of their decision."
BetterWorks has taken a different approach to recruiting, offering a $1,000 incentive for a referral that results in hiring. The money is paid to anyone, not just company employees.
Yang, who co-created Facebook social gaming success FarmVille before leaving Silicon Valley to found BetterWorks, said the incentive is to help the company find quality candidates without having to search through piles of applications.
"If a good recommendation leads to an actual job, we figure it's well worth the $1,000," he said.
Yang said BetterWorks – which has 14 employees – has been able to attract people because all three co-founders are well-known in the tech community and the company is well-backed financially. But BetterWorks is still looking for more employees, and Yang acknowledged it has been challenging.
"For (employers hiring) senior engineers, it's competitive," he said.
Senior engineers have experience in programming and developing web applications. Some lead teams of other engineers who create the programs for websites and e-commerce businesses.
Technology turnaround
Some companies are hiring out-of-towners and some are paying their relocation costs.
Douglas at SteelHouse has hired people from Kentucky, New York and Silicon Valley who will move to Los Angeles. Yang said several of the engineers he's hired at BetterWorks have come from the Bay Area because of his connections there.
Ming.ly, a Santa Monica startup that helps people organize contact information in their e-mail accounts, has offshored some of its work, hiring a small team of engineers in Argentina because it was easier to find the software developers they needed there.
"We're seeing a lot of outsourcing," said Avesta Rasouli, co-founder of Santa Monica co-working office CoLoft. "Or people are getting outside consulting firms to do the developing for them."
The unemployment rate in Los Angeles County was 13 percent in December; a Los Angeles Economic Development Corp. report projects it to average 12.4 percent this year. But the professional, scientific and technical services industry – including tech firms – should add as many as 5,700 jobs in the region, the highest number behind the leisure and hospitality industry, according to the same report.
Tech companies started hiring in earnest several months ago. Riot Games, now of Santa Monica, late last year began hiring 100 people to add to its staff, which was then 140.
Jim Jonassen, founder of Santa Monica recruiting firm Jim Jonassen & Associates Venture Search, said it's not surprising that tech companies are hiring while other industries still struggle.
"Historically, tech leads us out of these things," said Jonassen, who has doubled his staff of recruiters to keep up with the hiring surge. "These revolutions – the move to e-commerce, the move to online customers, the move to social marketing – they aren't blips or fads, they're reality."
Most companies are interested in recruiting people who are already employed, said Michael Bourdon, co-founder of L.A.-based recruiting firm Career Strategies Inc.
But experienced employees looking to make a move often get snatched up quickly and companies are feeling pressured to hire fast, Bourdon said.
"Now there's a sense of urgency," he said. "Before, a company that didn't necessarily need to hire somebody would make a move if they found the perfect candidate. Now, if you're waiting around for the perfect candidate, anyone else you might have been looking at gets hired."
Executives in the L.A. tech community realize that hiring isn't nearly as competitive locally as it is in Silicon Valley, where Google Inc. recently raised employee salaries by 10 percent to keep them from jumping ship. But many of technology's biggest players also recruit heavily in Los Angeles.
With Google opening an office in Venice, there's some concern that could make recruiting an even bigger challenge. Jonassen said a Google hiring frenzy could at first drain much of the local talent, but that eventually it'll benefit the community.
"It'll attract more talent and retain more talent that won't have to go up north," he said.
For many, the biggest concern is that a lack of talent will eventually drive companies out of the city.
"The more startups are being created in L.A., the less talent that's available out there," Rasouli said. "We don't want to see startups move up to NorCal, but when they see a big talent shortage, it starts to look attractive."
For reprint and licensing requests for this article, CLICK HERE.