Deepak Chopra: No Blueprint
Indian-born CEO came to the United States for an engineering degree but wound up staying. He eventually came to lead OSI, which makes airport security scanners.
Monday, February 21, 2011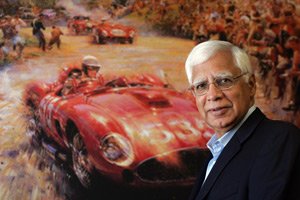 Deepak Chopra calls himself an accidental CEO. Born and raised in northern India, he always wanted to become an engineer, but managing a company wasn't part of his plan. Chopra, 60, is now chief executive of OSI Systems Inc., a Hawthorne company that has been at the center of a controversy over its airport scanners. After graduate studies in Massachusetts, he began his career at RCA Semiconductors in New Jersey, but a business trip to Los Angeles convinced him to move west, where continued work as an engineer. He eventually started Opto Sensors Inc. In 1990, he staged a hostile takeover of a company that he combined with Opto Sensors to form OSI. Chopra recently met with the Business Journal at OSI's Hawthorne headquarters to discuss his arranged marriage, how he almost opened a Taco Bell and his appetite for In-N-Out Burger – even though he's a vegetarian.
Question: What's it like to share your name with Deepak Chopra the self-help celebrity?
Answer: I know him. We've been on some panels together. He's a wonderful speaker and great inspiration. He teaches you how to manage your life by spiritual meditation and yoga. I'm the other Chopra. I try to catch the bad guys and keep the world safe. We come from two backgrounds, but combined make a pretty great panel discussion.
What was it like growing up in India?
My father is a retired doctor. He worked for the government, so we moved around a lot. By the time I graduated from high school, I'd been to 14 schools. It makes me more versatile, I guess.
Why did you decide to move to the United States?
I came to this country for higher education in 1971. I wanted to come and do my undergrad, but my father discouraged me. He said I'd get spoiled. So I did my undergrad in India and came here for my grad studies.
Had you ever traveled to the U.S. before?
Never.
Were you fluent in English when you arrived?
Yes. Most Indians are proficient in English because all our schooling is done in English. We have terrible accents, but we speak English.
Did the U.S. meet your expectations?
I've always loved America. It's been great. But when I first came to this country, I was a vegetarian. My father warned me that I would have a very tough time being a vegetarian in America. I wrote to him after six months and said I didn't know what he was talking about. I loved this thing called a cheeseburger. I really thought that there were two different kinds of cheese in it.
Have you stopped eating cheeseburgers now that you know they have meat in them?
To this day, I don't eat meat, steak or anything. But I love an In-N-Out burger.
Do you go back to India often?
I go about two or three times a year. OSI has a very large operation there, with about 500-plus people. There's a fair amount of business there.
Do you still have family there?
My parents are still alive. My father is 91 and my mother is 86. Every time I go to India, I make sure that I spend some time with them.
What brought you from the East Coast to Los Angeles after you finished grad school?
I graduated in 1973, got my green card and worked for RCA in New Jersey. RCA made the mistake of sending me to Redondo
Beach in November. They took me to a restaurant on the Manhattan Beach pier. I saw all the girls playing volleyball and all the guys surfing. To me, this was paradise. So I quit by telephone. I told my boss, I'm not coming back.
Did you find a new job?
Within two weeks I got a job with TRW Semiconductor in Redondo Beach. I worked there for two years, but I really didn't like large companies, so I joined this small company in Santa Monica called United Detector Technology, which is the predecessor of OSI.
You don't like large companies? But isn't OSI a pretty large company?
We're still a small company. But the important thing is the style, the culture. We have a small company atmosphere. We don't have too many layers. I can walk right now onto the production floor and know people by name.
Why do you think that's important?
You can make decisions faster when you know the people you work with. My motto is that a timely decision, even if it's a mediocre decision, is better than a perfect decision at the wrong time.
You'd rather make a bad decision?
Make the decision faster and you'll make some mistakes, but time is on your side. That's been the success of the company. Most of the deals that we've done, the only reason we won those deals is because we got there faster.
What's your leadership style like?
Very informal. And in some things that I want done, I'm very anal. I'll keep pushing and pushing and pushing. But if there's a fault, my family says my attention span is very small. Whatever you can get through with me in the first couple minutes, that's it.

Have you always wanted to be an engineer?
Always. I've got a very analytical, engineering mind. To me, everything ends up in an engineering analysis.
You never intended on moving into the executive management side of things?
I was always an engineer. I think some people would say I'm a frustrated engineer now. OSI is not something I dreamt of. I didn't always want to start a company. People tell me I had vision, but I didn't have vision. It was circumstances more than anything else.
Do you miss working on the development side of things?
I'm the project manager for one of the biggest development programs in the company.
How did you get your first promotion to chief executive?
I was at ILC Technology in San Jose. The company made lighting equipment for the medical and aerospace industries. In 1986, the Challenger tragedy happened and the company lost a lot of business. The top management got pushed out overnight. I was made chief executive and chairman at the age of 34.
Did you have any experience running a company?
No. It was tough times. Ultimately, I left the company in 1988.
Why was it so hard?
Nobody trains you to manage a company, especially in turmoil. I learned fast. It did come in handy when I started my company later.
So what did you do after you left?
I thought about getting into fast food. I negotiated for a Taco Bell in Los Angeles.
Why fast food?
All Indians, their parents when they came to America, either ran a 7-Eleven, Kentucky Fried Chicken or Taco Bell. So I decided maybe it was time for me to get into fast food, too.
What happened with your Taco Bell?
My wife asked me, "What do you know about tacos?" So after five months without a job, I decided to get back into the business. I borrowed my friend's computer, typed up a business plan, sold the house that we built, promised my lovely wife that I'd buy her the house back again, and put all the money together with a partner and started Opto Sensor Inc. in Torrance.
Did you ever buy your house back?
Yes, in Palos Verdes. Every morning I get up and see the bay, the mountain and the city. If there is heaven on Earth, it's Palos Verdes.
Did your experience running ILC help you start this company?
I knew about how to make a buck and where the next buck is going to come from. But everything I put into my business plan was wrong. One year after running that company, we had no sales.
How did you fix the problem?
We changed from selling products to making custom products. We started making components for X-ray machines.
And that became OSI, which was known for its health care machines. How did you get into the security business?
In 1992, we had a customer of ours, Rapiscan, making X-ray machines in England that was going to default on their payment. So we bought the company.
Are you putting a bigger emphasis on your security division now?
We're very much focused on all our product lines. It just so happens that the health care industry is in a lot of confusion. We think, long term, that people are still getting older, so health care will always be there.
The Rapiscan full-body scanners got a lot of negative press during the holidays. What do you think about how concerned people were?
I think the debates will continue forever. Anytime there's a new technology, it always generates curiosity. We are a technology company. We make products that work. We think it's a necessary product for the kind of things that bad guys are trying to do.
Do you use them when you're at the airport?
I just came back from Las Vegas and I went through the scan at the airport. It was a pleasant experience. The person who's looking at the image is not in line of sight. A scan is painless and fast. If you compare that with a pat-down, who wants to be touched and felt?
Do you travel a lot for work?
Last year, I calculated that I was traveling four months out of the year. We've got clients all over the world. The other day I told people I was going to Vegas and they were very happy for me. What they didn't realize is that I took a taxi to my vendor, had lunch, took a taxi back to the airport and flew back here.
Do you ever get to travel for leisure?
I really enjoy traveling in Europe, especially France. We go there quite often. The Caribbean is great, too.
Who have been some of your biggest influences?
My father has always been a great influence. He raised good kids and earned an honest living as a doctor. The partner that I started this company with, Edward Fleischer, was a great guy and a great mentor. My wife has been also. Whatever rough edges I have, my wife smoothes them out.
Where did your interest in art come from?
I'm very fond of teaching people about Indian art. I like mostly landscape because India has a lot of beauty. Before the camera came, the only way you could look at something was through a painting. I have no patience for modern art.
What's a typical work day like for you?
The day starts at home. I do all my European calls in the morning because the U.K. is eight hours ahead. Then, depending on which office I'm going to, I'll come to the Rapiscan office in Torrance or the corporate office here in Hawthorne. I try to avoid too many late nights, but invariably I'm out about two nights a week. And weekends are sometimes not weekends. Because weekends in the Middle East are Thursday and Friday, so sometimes I'm doing business there on Saturday and Sunday.
That has to be hard on your family.
We're a very stable family. I think most of us who come from India first generation, one of the reasons we can do so well is because we have a stable home life.
Why do you think that is?
We were brought up to marry at the right time, when you're economically more stable. I went back to India in 1978 to get married. It was an arranged marriage. Most of us Indians go back home when we are ready and get married.
That's very different than marriage here.
We don't have this problem of worrying about love one day changing. Companionship becomes a positive. That's what brings us stability.
What about your two daughters?
The next generation, they aren't Indian. They are as American as they can be. My older daughter is married and she and her husband run a small business. But more importantly, they're discovering themselves. I don't know what my younger one will end up doing.
Deepak Chopra
TITLE: Chief Executive
COMPANY: OSI Systems Inc.
BORN: Kangra, India; 1950.
EDUCATION: B.S., engineering, Punjab Engineering College; M.S., engineering, University of Massachusetts, Amherst.
MOST INFLUENTIAL PEOPLE: His father; former business partner Edward Fleischer; and his wife, Nandini.
PERSONAL: Lives in Palos Verdes with his wife; has two grown daughters.
ACTIVITIES: Travel, playing tennis, learning about art.
For reprint and licensing requests for this article, CLICK HERE.