Deepak Chopra: No Blueprint
Indian-born CEO came to the United States for an engineering degree but wound up staying. He eventually came to lead OSI, which makes airport security scanners.
Monday, February 21, 2011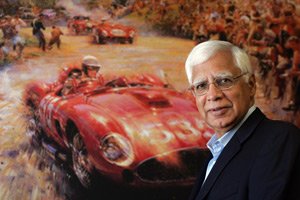 Deepak Chopra calls himself an accidental CEO. Born and raised in northern India, he always wanted to become an engineer, but managing a company wasn't part of his plan. Chopra, 60, is now chief executive of OSI Systems Inc., a Hawthorne company that has been at the center of a controversy over its airport scanners. After graduate studies in Massachusetts, he began his career at RCA Semiconductors in New Jersey, but a business trip to Los Angeles convinced him to move west, where continued work as an engineer. He eventually started Opto Sensors Inc. In 1990, he staged a hostile takeover of a company that he combined with Opto Sensors to form OSI. Chopra recently met with the Business Journal at OSI's Hawthorne headquarters to discuss his arranged marriage, how he almost opened a Taco Bell and his appetite for In-N-Out Burger – even though he's a vegetarian.
Question: What's it like to share your name with Deepak Chopra the self-help celebrity?
Answer: I know him. We've been on some panels together. He's a wonderful speaker and great inspiration. He teaches you how to manage your life by spiritual meditation and yoga. I'm the other Chopra. I try to catch the bad guys and keep the world safe. We come from two backgrounds, but combined make a pretty great panel discussion.
What was it like growing up in India?
My father is a retired doctor. He worked for the government, so we moved around a lot. By the time I graduated from high school, I'd been to 14 schools. It makes me more versatile, I guess.
Why did you decide to move to the United States?
I came to this country for higher education in 1971. I wanted to come and do my undergrad, but my father discouraged me. He said I'd get spoiled. So I did my undergrad in India and came here for my grad studies.
Had you ever traveled to the U.S. before?
Never.
Were you fluent in English when you arrived?
Yes. Most Indians are proficient in English because all our schooling is done in English. We have terrible accents, but we speak English.
Did the U.S. meet your expectations?
I've always loved America. It's been great. But when I first came to this country, I was a vegetarian. My father warned me that I would have a very tough time being a vegetarian in America. I wrote to him after six months and said I didn't know what he was talking about. I loved this thing called a cheeseburger. I really thought that there were two different kinds of cheese in it.
Prev Next
For reprint and licensing requests for this article, CLICK HERE.