Indy Gas Station Owners Afraid of Tanking
BP plan to sell Arco could destabilize low-cost pricing model.
Monday, February 21, 2011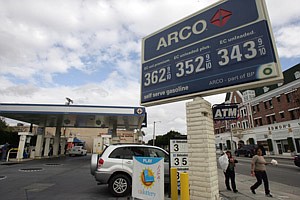 The landscape of Los Angeles County's gas stations could soon change due to oil giant BP's plans to sell its Carson refinery and the region's Arco gas stations.
But any changes will depend on the buyer, and no one knows who that will be.
"We're kind of in limbo right now," said George Barseghian, operations manager for Meetra Inc. which owns 12 Arco stations countywide. "We don't know who's going to take over, what our relationship will be with the newcomer and how it will affect our supply. We just don't know what's going to happen and whether their policies will change."
At issue is a recent BP announcement that by the end of next year it intends to sell the Carson refinery, and all Arco stations in Southern California, Arizona and Nevada. Analysts put the number of stations involved at more than 400 – most of them in Southern California and half of which are independently owned.
While the company-owned shops operate under corporate management, the independents rely on BP for their supply of fuel as well as the identity and promotion of their brand.
"Aligned with changing trends in global demand, BP … intends to reposition its refining and marketing business in the U.S.," the company said in a press release earlier this month announcing its intention sell Arco, which supplies about 25 percent of the gas purchased in Los Angeles.
"The outcome will depend entirely on who BP sells Arco to," said Tim Hamilton, a petroleum industry consultant in Olympia, Wash., who works with independent gas dealers including many in Southern California. "If it sells it to someone fragile, then the franchises could have a bad experience. If the buyer, on the other hand, is better than BP, then their experience will be good."
Because of antitrust laws, Hamilton said, it is unlikely that the buyer will already be doing business in Southern California.
"Chevron, for instance, probably can't buy it," he said. "The most likely scenario is that they will sell it to a company that no one recognizes here."
Jay McKeeman, vice president of government relations for the California Independent Oil Marketers Association, a Sacramento-based trade group, fears a potential "market retreat" by whatever company that turns out to be. Under such a scenario, he said, Arco's new owner would abandon independent stations. That would leave station operators to fend for themselves in the spot market, potentially destabilizing their retail price.
"That would be very problematic," McKeeman said. "Arco-branded stations would clearly be at risk."
Judy Dugan, research director of Consumer Watchdog, an advocacy group in Santa Monica, agreed.
"The fact remains that Arco has generally been the cheapest gas in most local markets and I don't think that's likely to last," she said. "Who would buy the company and say: Jeez, I guess I'll undercut my own brand by selling Arco cheap?"
'Fast nickels'
Charles Langley, senior gas analyst for the Utility Consumer Action Network, a consumer advocacy group in San Diego, believes there could be a ripple effect.
"Arco has a tremendous amount of market power and is extremely competitive," he said. "They are cost-cutters. If I were an Arco dealer, I'd be very concerned."
Charlie Mulcahy, who's owned an Arco station in Wilmington for 30 years, said he's worried. He recently spent more than $30,000 on a point-of-sale payment system allowing customers to use ATM cards at the pump and isn't happy about the element of uncertainty.
"In gas marketing we have a saying: either you make fast nickels or slow dimes," he said. "Arco is into fast nickels. If they decided to change their profile and all of a sudden we were high priced, I'd have to really scratch my head."
The company also said it will sell a refinery in Texas City, Texas.
"I have no doubt that the businesses we are seeking to divest will prove extremely attractive to other operators," Iain Conn, the company's London-based chief executive for refining and marketing, said in the announcement. The announcement did not name potential buyers and the company did not respond to requests for comment.
BP has said it expects to get at least $4.4 billion for the refineries and the stations – subject to approval by the Federal Trade Commission – as part of a move to divest $30 billion in assets to cover costs associated with last year's disastrous spill in the Gulf of Mexico.
For reprint and licensing requests for this article, CLICK HERE.