Sink or Swim?
L.A. port plans may torpedo Terminal Island's Fish Harbor.
Monday, February 7, 2011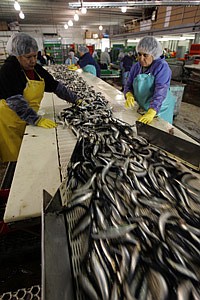 Mornings are busy at Terminal Island's Fish Harbor.
The day begins around 4:30 a.m. when the first boats arrive at dockside processing plants, where apron-clad workers unload, sort and pack the night's squirming catch.
At midday, dozens of other boats motor in. Many are owned by Vietnamese immigrants who sell such delicacies as slime eel directly to restaurants and brokers. By sunset, most fishermen are back at sea.
All told, about 80 boats do business at this little waterfront corner of the Port of Los Angeles. That may sound sizable, but it's just a fraction of the 300 vessels that serviced what was once the West Coast's largest cannery row.
Now, even these survivors feel their days are numbered.
Under pressure to provide more space for containers and other trade-related industries, the Port of Los Angeles is about to embark on a Terminal Island revitalization project that could displace what remains of the historic fishing operation.
"We are now handcuffed. This is the last stand for fishermen," said Anthony Vuoso, executive vice president of Tri-Marine Fish Co., which ships about 300 tons of frozen sardines, mackerel, squid, bonito and tuna worldwide every day.
One of only four processors still at the port, Tri-Marine is on the verge of signing a five-year lease with the port. But Vuoso is far from pleased.
Tri-Marine had hoped to sign a 20-year lease. That would give it the stability needed to expand its 40,000-square-foot dockside facility with a $2 million cold-storage warehouse. But those plans are no longer financially feasible since the port has refused the 20-year lease.
"Our growth has been capped," he said.
About 18 months ago, the port issued a planning document suggesting possible future uses for Terminal Island, including Fish Harbor. Among its recommendations were moving the processors and boats to make way for a container terminal.
However, port officials are quick to point out that no decisions have been made and they could further extend Tri-Marine's lease. Even if it and the other fish operations were forced to move, officials promise a new home would be found for them elsewhere in the port.
"We want to provide more space at other locations," said port Executive Director Geraldine Knatz. "We'll be working with the fishermen and processors."
Colorful history
Still, the fishermen and processors are wary of the port's intentions, especially given the long, slow decline of a cannery row that once comprised 18 plants and provided jobs for 17,000 workers and 2,000 fishermen.
Prev Next
For reprint and licensing requests for this article, CLICK HERE.