Thrift Store Looks to Get On Roll With Mobile Shop
Catholic store faces same rocky, risky road as food trucks.
Monday, December 19, 2011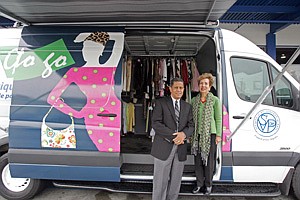 First it was gourmet chefs. Then apparel designers. Now even thrift stores are getting into the parade of truck retailing.
The newest entry is a big downtown thrift store, operated by the Society of St. Vincent de Paul, that raises money for the homeless by accepting donations and selling them. The organization recently launched a "traveling boutique" – a truck outfitted with shelves, drawers and apparel racks. Merchandise includes antique jewelry, designer handbags, dresses and vintage clothing from St. Vincent de Paul's store.
David Fields, executive director at the organization, said the truck has extended the geographic coverage of St. Vincent de Paul for an upfront cost of less than $5,000. That includes the first lease payment for the truck, remodeling the inside and vinyl graphics on the exterior. St. Vincent de Paul, a lay organization affiliated with the Roman Catholic Church, didn't consider opening another store, Fields said.
Doug Rausenberger is regional manager at Border Grill, a small restaurant chain based in Santa Monica that has three food trucks. He figures that the cost to purchase a truck and outfit it with a full kitchen costs less than $200,000. By comparison, he estimated, it would cost more than $2 million to start a brick-and-mortar restaurant from scratch in Los Angeles and about $500,000 to convert a defunct restaurant.
However, Rausenberger cautioned, a truck retailer needs a big cushion of reserve capital.
"If your truck gets in an accident, a big event cancels or there are a few weeks of bad weather, suddenly you're in trouble," he said.
And, obviously, trucks don't have set locations or schedules, so consumers don't know where or when they can frequent them. To minimize that problem, truck operators focus on events that bring large crowds of potential customers.
So far, Claire Padama, board president at St. Vincent de Paul, has scheduled the truck to park at church events and drive in Christmas parades across Los Angeles County. While sales have been encouraging, such events are infrequent, so the van only leaves the garage once or twice a week.
"I'd like it out every day to become productive financially," Fields said.
For nonrestaurant retailers, the main attraction of the trucks is the low cost. Phil Bakalis, owner of Retail Consultants Group in West Hollywood, said the biggest problem for traditional retailers is paying the fixed costs, especially rent.
"Once you're in a retail location with a monthly rent of, say $10,000, you're stuck," he said. "You can't move and that's a big nut. With a truck you have the cost of the truck and gas, that's it."
But many if not most retailers will find it very difficult to build a loyal customer base from a truck, Bakalis said.
"It's a short-term, quick-cash business," he said. "I can't imagine it will replace the experience of walking into a Neiman Marcus."
More claims
Matthew Carlson, founder of CateringTruckInsurance.com, a division of Risk Strategies Co. in Woodland Hills, said truck retailers need coverage for general liability, workers' compensation and auto collision. However, because claims tend to be higher and there are many unknowns in truck retailing, it's difficult to find carriers willing to write policies.
Carlson blamed the higher claims rates on the fact that the drivers are usually sales clerks or cooks who are untrained on how to maneuver the oversized vehicles.
"Because of their big size and the tight parking in Los Angeles in particular, we see more accidents," he said.
Aether, a Hollywood-based brand of upscale outdoor jackets, shirts and shorts, took a different approach to mobile retail in October when it launched a 34-foot Airstream trailer. The company hires Teamsters to move the trailer to locations around the country.
Co-founder Palmer West said he and partner Jonah Smith decided to go mobile when they compared it with the high cost of launching a storefront boutique. But they also felt the Airstream – equipped with oak flooring, custom furniture and an inventory of their clothes – communicated the brand's image to consumers.
Dubbed the "Aetherstream," the trailer functions as a pop-up store to establish a physical presence for the brand.
It parks for weeks at a time on vacant lots in large cities such as New York and Los Angeles. West said the biggest challenges with this strategy is finding locations and hiring a knowledgeable sales staff to work for six- to eight-week stints.
"As a newer brand without our own chain of retail stores, we wanted to create something that allowed us to spread the word from town to town," West said. "The Airstream itself lends to that message."
Fields at St. Vincent de Paul also sees his truck as a marketing tool that will bring more shoppers to his 94,000-square-foot thrift store as well as collect donations.
"We can sell out of it, but it's also a moving advertisement," he said.
For reprint and licensing requests for this article, CLICK HERE.