Ports Access Still Drives Teamsters
Union chief sees leases to truckers as inroad to organize.
Monday, December 12, 2011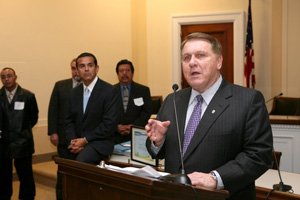 Think the Teamsters have given up trying to unionize the independent truckers at the Los Angeles and Long Beach ports? Think again.
Despite a recent federal court ruling that went against the union, it is pushing ahead with a campaign to organize the roughly 10,000 truck drivers at the ports. This time, it's using a strategy that focuses on, of all things, vehicle leases.
"We didn't think we were going to lose," said James P. Hoffa, president of the Teamsters. "We have to go a different way now."
The union will argue that many truck drivers are misclassified by companies as independent contractors but are really employees, thanks partly to truck leases that, in some cases, tie drivers to a particular company and limit their independence. If they become employees, the drivers can join a union.
To underscore the union's commitment, Hoffa visited Los Angeles this month to tell drivers the union isn't going anywhere.
"Ports are very, very important to us. We've got over 18 full-time people working around the clock on ports," said Hoffa, who was interviewed by the Business Journal during his Dec. 1 visit. "You've really got to be out there every day, talking to people, keeping hope alive and making sure they understand we're not going away."
The union's strategic shift follows a 9th Circuit Court of Appeals ruling in September against a so-called employee mandate provision in the Port of L.A.'s Clean Truck Program. That provision would have forced trucking companies to hire drivers as employees, which, in turn, would have enabled them to unionize. Traditionally, each truck driver at the twin ports has owned his own truck and hired out his service to companies that arrange to haul goods in and out of the ports. Because the drivers effectively were their own small business, they were not eligible to join a labor union.
With the employee mandate closed, the Teamsters plan to turn independent drivers into employees by focusing on lease arrangements brought on by the Clean Truck Program. That program required thousands of old polluting trucks to be replaced by new, clean-burning models over the last three years.
Many drivers didn't have the credit to lease the trucks, which cost $100,000 or more, so they either leased the truck directly from trucking companies or received lease guarantees from them. Those arrangements often contain provisions that make it difficult for drivers to work for other companies. The union argues such provisions make the drivers more like employees.
However, previous efforts to beat trucking companies through such labor code enforcement have fallen short.
"The short story is nothing (like this) has worked," said lawyer Robert Millman of Littler Mendelson P.C. in Century City, who represents companies trying to stay union free. "This is nothing new. The question is: Are they going to be able to come up with some new game plan? They're going to have to go back to the drawing board and think this through."
New strategy
Hoffa acknowledged that organizing drivers without the employee mandate is much harder.
"It's an uphill battle at this point," said Hoffa, who met with Los Angeles Mayor Antonio Villaraigosa to help shape the program in 2006.
But he said the Clean Truck Program has created conditions that may make the unionizing effort successful.
Typically, to be considered independent contractors, drivers must own their trucks and be able to work for any company they choose.
Some port truckers own their trucks outright, but many lease them. In some cases, trucking companies purchased new trucks and leased them directly to drivers, with lease payments coming out of a driver's pay.
That kind of arrangement can prevent drivers from using their trucks to haul for another firm, raising questions about a driver's independence.
Curtis Whalen, executive director of the American Trucking Associations' Intermodal Motor Carriers Conference, which represents port trucking firms, acknowledged that the practice of companies leasing trucks directly to drivers is legally tricky.
"How can you do that without having the charge that you control that driver? It is an area I would call gray," Whalen said. "Various companies have done this different ways to make sure there's not a direct link to them, going through an intermediary of some kind, but it is something everyone has looked at."
Going through a third party is a safer option, said Matt Schrap, president of the fleet services division of Crossroads Equipment Lease & Finance LLC. The Rancho Cucamonga company offers loans to drivers that are guaranteed by trucking companies and paid through paycheck deductions.
"That's what we tell companies: better safe than sorry," Schrap said. "There's so much gray area in this independent contractor business, it's not super cut and dried."
In the case of a loan guarantee, he said drivers have the freedom to leave a company and take their trucks with them. But that's a move that comes with serious consequences, especially if a driver has bad credit. If a driver leaves the company that guaranteed his loan, the driver's monthly lease payment could double.
"If they split, it's going to be just like someone off the street getting a regular loan," he said.
Crossroads' loan-guarantee arrangement hasn't been tested in court, but Schrap said he is confident that the lease arrangements his company offers ensure drivers remain independent.
But some in the trucking industry aren't so sure.
Vic La Rosa, president of Total Transportation Services Inc. in Rancho Dominguez, said trucking companies that help drivers lease clean trucks could find themselves penalized for doing the right thing. TTSI leases through Crossroads and another company.
"The trucking industry tried to help initiate the funding to get independent owner-operators into less polluting equipment, and now we're (possibly) facing Department of Labor and IRS misclassification allegations," La Rosa said. "It doesn't seem fair. We following a government mandate and now we have that mandate being used against us."
Indeed, in either type of leasing arrangement, Hoffa argues that the drivers are more like employees than independent contractors because they don't set their own rates, don't choose where they haul cargo and can't afford trucks on their own.
"There are truckers who work 70 hours a week, and end up owing the company money because (the company) takes the lease out of their checks," he said.
Regardless, Whalen, whose group's lawsuit over the Los Angeles Clean Truck Program was heard by the 9th Circuit, believes investigating trucking companies won't lead to widespread change.
Even in cases where officials find drivers have been misclassified, the rulings affect only a few drivers at a time, not the thousands of drivers that would have had to become employees under the port's employee mandate, he said.
"The problem the Teamsters have is they (may) win some and they lose some. But even when they win, it's for a specific driver or a group of drivers for one specific company," he said. "It's not a national solution."
Organizing
Hoffa acknowledged that going after trucking companies through misclassification and other potential labor law violations has not proved fruitful in the past.
"We haven't had huge success," he said, but added that besides the new leasing arrangements there are other factors that may make the strategy more effective than in the past.
He believes cash-strapped governments will be sympathetic to the Teamsters' claims, since classifying workers as employees instead of contractors will mean more revenue from income and payroll taxes.
"When you talk to public officials, what's the biggest issue? 'We're broke,'" Hoffa said. "This is like a tax you're not imposing. If you make people employees and don't misclassify them, you get the right amount of money coming in."
And he believes the federal Department of Labor under President Obama and Secretary of Labor Hilda Solis is taking misclassification more seriously now – but for that to continue the Democrat would have to be re-elected in November.
Hoffa also said the union will get additional leverage through a new state law that will take effect Jan. 1 and increase penalties against companies that misclassify workers.
Hoffa himself was re-elected last month to a third five-year term as general president of the Teamsters. He was specifically in Los Angeles to meet with drivers at Toll Group, a unit of Australia's Toll Holdings Ltd.
Drivers at the company's locations in Wilmington and San Pedro have been organizing over the past several months, saying Toll doesn't provide them with basics such as flush toilets and running water. Unlike most port truckers, Toll's drivers are employees.
Last month, the firm laid off 26 drivers, saying business had slowed. Drivers and the Teamsters filed an unfair labor practices charge with the National Labor Relations Board, saying the layoffs were retaliation for organizing activities.
An NLRB attorney called the case a priority investigation, and some of the drivers have been rehired.
Toll has denied workers' charges, with company Managing Director Paul Little writing a letter to Toll's Australian workers saying that company drivers in the United States are paid above-average wages, and have access to water, bathrooms and break areas.
Andrew Ethell, a Toll spokesman, said the 26 workers laid off last month were let go because business slowed and that 10 drivers were later rehired because of a request for more work from one customer. He said the company does not object to drivers forming a union.
"We certainly don't object to drivers taking up their legal rights," Ethell said. "It does, however, seem strange to us that we are being targeted by the Teamsters when we pay above-average rates of pay and we actually employ drivers to ensure we can meet the clean energy requirements people expect."
Hoffa said his meeting with the Toll drivers was aimed at encouraging them and other port truckers, and keeping the union visible at the ports.
"We're basically holding out hope for these people who are horribly exploited," he said. "We're really raising the number of people who know what's going on with the port drivers. We're doing it through publicity."
For reprint and licensing requests for this article, CLICK HERE.