Dick Glover: Laughs Last
Playing straightman as the CEO of Will Ferrell and Adam McKay's hit comedy website, FunnyorDie.com.
Monday, December 12, 2011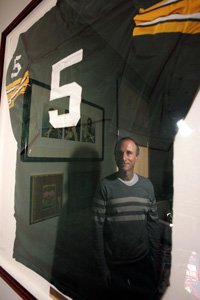 Dick Glover wouldn't call himself a funny person, yet he's the chief executive of an Internet comedy business. The company, Funny or Die, is behind comedic website FunnyorDie.com, which features short, scripted videos from well-known comedians and actors. On the site, founded in 2006 by comedian Will Ferrell and his business partners Adam McKay and Chris Henchy, viewers rate the videos "funny" or "die" to determine which ones appear on the main page. With the help of Glover's leadership, the business has expanded into a network of sites and an HBO show, "Funny or Die Presents," now preparing for its third season. Glover got his start at ESPN in the early 1990s and developed its website, ESPN.com. After Walt Disney Co. acquired ESPN in 1996, Glover oversaw operations of several Disney websites, including ABC.com. He left Disney to become vice president of broadcasting and digital entertainment for NASCAR in 2000. While there, he helped the company license the NASCAR brand for Ferrell's car-racing movie "Talladega Nights." It was that business partnership that led him to Funny or Die. Glover sat down with the Business Journal at his Hollywood office to talk about his media career, what it's like to work with funnyman Ferrell every day and why he loves the Green Bay Packers.
Question: What's it like to work with Will Ferrell?
Answer: One of the things I knew early on, and they're quick to remind me about, is that I'm not funny. They didn't bring me on board to be funny. If anything, the only amusement I provide is when they ask my opinion about something funny, they know whatever I say will be wrong.
Are there a lot of jokes and pranks around the office?
It's more day-to-day humor than practical jokes. What is an issue is that our meetings can become just completely hysterical. It's hard to stay on point and not just find yourself laughing.
It sounds like a fun work environment.
It's one of the things I love about my job. We'll be in a meeting talking about serious stuff and they'll go off on a riff. You'll think, are they serious or are they doing one of their bits? Believe me, they're very serious about the business, but they're generally funny human beings who enjoy being funny.
Were you a fan of comedy before you joined Funny or Die?
I've always been interested in current media culture and comedy is clearly a staple of that. But I've never had any professional interest. Everything here is a learning experience.
Is there a Funny or Die video that really gets you laughing?
The other day I saw a video of boxer Mike Tyson pretending to be Herman Cain singing "Imagine There's No Pizza." For whatever reason, it just hit my funny bone. We also had all the comics who played a president on "Saturday Night Live" come together to do a video directed by Ron Howard. It brought so many icons together in one place that it was a pretty extraordinary moment.
You've got a lot of Green Bay Packers memorabilia in your office. You're a big fan?
I'm a gigantic Packers fan.
You must have been happy when the team won the Super Bowl last year.
I was. I went to a lot of Super Bowls when I worked for ESPN and I vowed when I left that I wouldn't go to another one. But then the Packers got in and my friend who runs the NFL Network called and said, "You have to come to Dallas for the game." I went and had the best time.
You didn't enjoy the games before?
Every other time, I was hosting people. I couldn't even care about the game. This time, everybody cared about me. It was fantastic. And the Packers won.
You're from New York. Why the Packers?
I don't know. All I can think is that is has to do with the colors yellow and green. In baseball, I'm an Oakland fan and they're yellow and green, too.
As a sports fan, you must have enjoyed working for ESPN.
It was unbelievable. I've been lucky to have always done things that I love doing. I thought, wait a second, they're paying me to be at the Final Four or the Masters Golf Tournament. That's pretty cool.
Is there are particular event you attended that stands out to you?
The first time I went to the Masters was fantastic because it's rare that you do something as an adult that lives up to the hype. The other extraordinary experience was the 1998 World Cup soccer in France. When France won, it was unbelievable.
What was the atmosphere like there?
The level of passion that exists is like no other sport. They partied in Paris like it was the end of World War II.
Did you always know you wanted to go into media?
No. I studied economics in college. My parents were constantly asking me, "What are you going to do?" When it occurred to me that I love media and communication and sports, I realized I should somehow get myself better prepared to do that. So I went to graduate school.
Do you use that economics degree much now?
It's very useful in how to look at business issues.
What was your first job out of school?
I was a news producer at a local television station. It was a great learning experience. It was something where I loved going to work every day.
What led you to ESPN?
Being a producer, I got involved in production and programming management. I went to ESPN in 1992 as the first employee of ESPN Enterprises because of my background as a programming and business person. The goal of ESPN Enterprises was to grow the ESPN brand. At the time, it was one television network and some international business. It had just become profitable. It's had phenomenal growth. It was good to be at the right place at the right time.
And you helped ESPN develop its first website, right?
Yes. One of my favorite times of my career was in 1993 when we were starting ESPN.com. It was my baby. We'd go out to Seattle to meet with the people at Microsoft and Paul Allen's other company, Starwave. Ultimately, we did a deal with Starwave to develop ESPN.com. It was a great time out there. There was a real energy. I loved it.
What happened when Disney bought ESPN?
I was involved with the integration of the two. Then in 2000, Disney made a huge investment online. They started Walt Disney Internet Group and a website called Go.com. I moved to running everything that wasn't Disney branded.
Why did you leave for NASCAR?
Go.com didn't work and then the Internet bubble burst. So I took a job with NASCAR.
So how did you go from working in the sports world at ESPN and NASCAR to the comedy world with Funny or Die?
I worked with Will and Adam on their NASCAR movie, "Talladega Nights." I was at NASCAR and became an executive producer of the movie. Before I took the job, I sat down with them at length to make sure I understood where they were coming from.
Has your background at ESPN.com helped you with Funny or Die?
I was one of those people who, early on, had one foot in the new media world and one foot in the old media world. I worked for ESPN running their content and programming, but also had one foot in the new media world with ESPN.com. With Funny or Die, I don't think we've done as good of a job getting the people in the traditional media world to see that a key strength of the company is the technology and social media. We have unbelievable engineers. The site performs flawlessly.
What was it like to go from the corporate world to a startup?
It's been absolutely fantastic, but not in the way I thought it would be. I was always very happy in the corporate world. Coming here, I thought it would be very different. What I found has been most energizing and the most exiting is that I have complete control of my own schedule.
Does that give you more time with your family?
I feel like I have more time. I'm sure if you look at the clock, I don't actually have more time. It's very important for me to spend time with my family.
You won't say how old you are. Why?
I'm the adult supervision for lots of really young people; therefore, I intentionally try not to focus on my age. Saying that I'm over 50 makes the point that I'm not one of the kids.
How do you deal with that dynamic in the office?
I believe very much that the key to leading is first in hiring somebody. Then your job as a boss is to give them the tools and the support to do their job. If you do that, you'll get good results. We have an amazingly talented group of people who work here. We work very hard to give them the tools they need and the freedom to do their job.
Is there a moment you consider your career turning point?
No, not at all. I've really been fortunate in that my entire career I've done things that I've loved. I've been lucky enough to be in the right place at the right time, but there was never any ah-ha moment.
Who has influenced you?
My dad was literally at 92 carried out of his office on a stretcher barking directions at his secretary. He was the brightest man I've dealt with. Your dad obviously has a huge influence on you.
Any others?
My first real boss, when I was a producer in a newsroom, was hugely instrumental in teaching me things and fueling my fire. And, oddly enough given the current state of affairs, I was a huge admirer of Rupert Murdoch in the days of when he attacked Fleet Street and said we're going to change the model of the newspaper. Likewise, in the early 1990s, I got to work with the people involved in the early days of Microsoft, Bill Gates and Paul Allen. They always managed their company by what they thought was right.
What was your childhood like?
It was great. I had a stable, healthy family. I'm one of those kids that other people get mad at. They ask why I was so lucky.
Did you play sports growing up?
I played everything. If it had a ball or a bat or a racket, I did it.
Anything you particularly enjoyed?
I played lacrosse and football. I also played lacrosse for a year in college at Duke. But I'm not very big, so when I stopped growing, I started playing fewer contact games.
I see you've got a medal framed on your wall. Is it from a competition?
It's from the Walt Disney Marathon at Walt Disney World in Florida in 2004.
Did you train a lot?
It was a great experience. I would do it again, but I just don't have the time to train. And you've got to train. For me, not being a marathon runner, crossing the finish line was just such a feeling of accomplishment.
Dick Glover
TITLE: Chief Executive
COMPANY: Funny or Die Inc.
BORN: Westchester, N.Y.
EDUCATION: Bachelor's, economics, Duke University; master's, broadcast communications, San Francisco State University.
CAREER HIGHLIGHTS: Working with Bill Gates and Paul Allen to create ESPN.com in the early 1990s; attending the 1998 World Cup in France with ESPN.
MOST INFLUENTIAL PEOPLE: Father, Stuart Glover, a lawyer; Gates and Allen for how they ran Microsoft Corp. in its early days.
PERSONAL: Lives in Bel Air with wife, Amy, and their children, Paige, 8, and Graham, 2; has two adult children.
ACTIVITIES: Running, playing tennis, golfing, snowboarding.
For reprint and licensing requests for this article, CLICK HERE.