Event Producer Looks to Move On to Bigger Stage
ADVERTISING & PR: N'Compass adapts movie premiere model for other industries.
Monday, December 12, 2011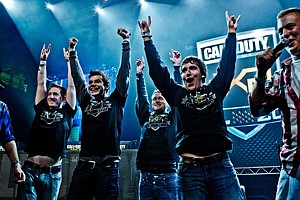 N'Compass International, a West Hollywood event production company, has developed a type of marketing experience that it calls "anti-Kardashian."
Instead of staging events based on the presence of a celebrity, the company produces extravaganzas on the scale of traditional Hollywood movie premieres. But N'Compass handles brands outside the film sector.
Recently, N'Compass staged its biggest event – one of the largest ever in the video gaming sector – with "Call of Duty" for client Activision. Held inside a 12-acre hangar in Playa Vista, the two-day event, designed to promote the launch of the latest edition in the franchise, attracted more than 10,000 fans paying $150 each. (The money went to charity.) N'Compass re-created life-size scenes from earlier "Call of Duty" games, letting players shoot each other with paintballs. Other activities included an obstacle course, a zip line and an off-road adventure ride in a Jeep.
"Guys who've played these games have their over-the-top action hero moments," said Ryan Fitzpatrick, vice president at N'Compass in charge of the Activision account. "We wanted to give them the chance to live out these moments in real life. Afterwards it was smiles from ear to ear."
Fitzpatrick sees a trend of more companies seeking "the big extravaganza" for their brands.
"A lot of consumer brands desire to emulate the movie- and game sector-style events, especially for products that are fashion or art related," he said.
N'Compass clients also include Toyota, Best Buy, Coca-Cola and Research in Motion.
Tourism L.A.
LA Inc., a non-profit organization that promotes L.A. tourism, has hired agency Campbell Ewald to develop the city's global advertising campaign targeting travel agents and business event planners.
Campbell Ewald will develop the strategy, and create and place ads for the campaign. Geographically, the campaign will focus on U.S. cities plus the United Kingdom, Canada, Australia, Japan and China.
In a statement, Don Skeoch, chief marketing officer at LA Inc., said Campbell Ewald's track record with campaigns such as "Thrive" for Kaiser Permanente figured in the decision.
Campbell Ewald, a unit of Interpublic Group of Cos., is the longtime agency for such clients as General Motors, AT&T and U.S. Postal Service. The agency is headquartered in Detroit but maintains a large office on L.A.'s Miracle Mile.
Keeping Cool
JMPR, a Woodland Hills PR agency that specializes in automotive clients, has won the assignment to launch AC Pro, a new do-it-yourself repair liquid for car air conditioners.
The challenge is to convince consumers that air-conditioning maintenance, usually the domain of professional mechanics, can be handled by amateurs in the garage. To spread that message, JMPR will focus on media relations to get AC Pro exposure in the automotive press and on DIY websites.
The product, which looks like a high-pressure aerosol can with a long hose attached to the nozzle, recharges a vehicle's AC system. It is scheduled to reach store shelves in early 2012.
AC Pro is manufactured by IDQ Inc. in Garland, Texas.
JMPR's other clients include Bentley Motors, Airstream, Galpin Motors and Motor Trend magazine.
Beer Buyer
KSL Media in Encino is the new media-buying agency in North America for Japanese brewer Sapporo.
The agency will be booking TV time for a new Sappora campaign, created by St. Louis-based agency Moosylvania, designed to increase Sapporo's market share in the import category.
"The success that KSL had in helping make Grey Goose the gold standard in the ultracompetitive vodka category gave Sapporo the confidence to partner with us," KSL President David Sklaver said in a statement.
Jun Utsumi, vice president of Sapporo U.S.A., said in a statement that KSL's "expertise in customer analytics and strategy development as well as their proven track record of superior rate negotiations were key factors in our decision."
Agencies & Accounts
Kevin Korenthal, former communications manager for the Associated Builders & Contractors trade group, has opened a PR agency. Koren Communications in Santa Clarita specializes in government and media relations, and membership outreach. … Myriad Travel Marketing, a tourism marketing firm in Manhattan Beach, has hired new employees for its New York office. They include Kershing Goh, former regional director for Singapore Tourism; Paul McDonagh, formerly an executive with VisitBritain; and Shone Jemmott, formerly with Blaze PR in Los Angeles. Clients include South African Tourism and Signature Travel Network. … Pixomondo, a visual effects studio in Santa Monica, has hired Simon Mowbray as creative director for commercials. He comes to the job from Ntropic, a special-effects house in Los Angeles, where he worked on campaigns for clients Haagen-Dazs and Lowes. … Hospital group Susquehanna Health in Williamsport, Penn., has hired Phelps Group as its marketing agency. The Santa Monica shop has already launched its first campaign, tagged "I'm a Susquehanna Woman." Keith Ellis, team leader on the account, said in a statement the agency plans to develop a new Susquehanna Health overall brand campaign for next year.
Staff reporter Joel Russell can be reached at jrussell@labusinessjournal.com or at (323) 549-5225, ext. 237.
For reprint and licensing requests for this article, CLICK HERE.