Trash Companies Dig In on Recycling
Haulers, host cities clash over competing plant plans.
Monday, August 29, 2011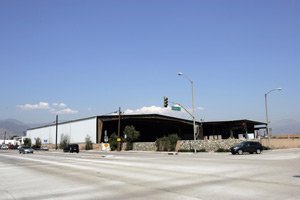 Trash hauling in Los Angeles has always been something of a dirty business, with companies vying for hard-won contracts using cutthroat pricing and political connections.
But a battle over competing recycling plant projects in the San Gabriel Valley highlights how shrinking landfill space is intensifying competition even more – and changing how companies do business.
City of Industry's Athens Services Inc. and Houston's Waste Management Inc. are on a collision course as they move to develop rival materials recovery facilities – called MRFs or "murfs" – which pick out and sort recyclable materials. Athens' $60 million project is in Irwindale, while Waste Management is planning what would be its largest recovery facility in Los Angeles County just two miles away in neighboring Azusa.
Waste Management, the nation's biggest trash company and a major local hauler, is moving in on Athens' backyard. Athens Services may be all but unknown outside of county lines, but it has a strong foothold in the San Gabriel Valley, where it has contracts with 15 cities.
"They don't want us to be successful," said Mike Hammer, Waste Management's director of recycling operations for the L.A. area. "Having Waste Management's state-of-the-art facility only a few miles away from a very large facility being proposed by Athens is a competitive threat to them."
The rival projects have already set off a legal fight between the host cities. This month, Irwindale sued Azusa, claiming the environmental impact report on the Waste Management MRF was inadequate.
"We speculate that (Athens) would prefer that the Waste Management facility not be up and running," said Azusa City Manager Fran Delach.
For its own part, Azusa has filed public records requests for Irwindale city documents, including e-mails and memos, related to the Athens MRF.
Athens representatives did not respond to requests for comment.
Diverting recyclables
Why the fight over recycling plants? As landfill space declines, the long-term prospects of trash companies will depend more on their ability to efficiently divert materials from landfills. In recent years, Waste Management has even changed its motto to "think green," invested more in MRFs and bought companies that convert recyclable materials to energy.
Locally, there's widespread agreement in the industry that the coming closure in 2013 of the Puente Hills landfill, the largest in the county, will increase demand for MRFs.
"There is a push right now for additional facilities," said Ron Saldana, executive director of the Los Angeles County Disposal Association, a waste industry trade organization. "Everybody recognizes that we don't have enough."
Prev Next
For reprint and licensing requests for this article, CLICK HERE.