Trash Companies Dig In on Recycling
Haulers, host cities clash over competing plant plans.
Monday, August 29, 2011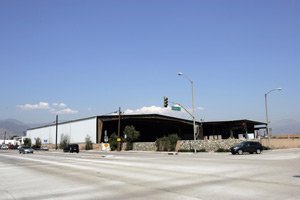 Trash hauling in Los Angeles has always been something of a dirty business, with companies vying for hard-won contracts using cutthroat pricing and political connections.
But a battle over competing recycling plant projects in the San Gabriel Valley highlights how shrinking landfill space is intensifying competition even more – and changing how companies do business.
City of Industry's Athens Services Inc. and Houston's Waste Management Inc. are on a collision course as they move to develop rival materials recovery facilities – called MRFs or "murfs" – which pick out and sort recyclable materials. Athens' $60 million project is in Irwindale, while Waste Management is planning what would be its largest recovery facility in Los Angeles County just two miles away in neighboring Azusa.
Waste Management, the nation's biggest trash company and a major local hauler, is moving in on Athens' backyard. Athens Services may be all but unknown outside of county lines, but it has a strong foothold in the San Gabriel Valley, where it has contracts with 15 cities.
"They don't want us to be successful," said Mike Hammer, Waste Management's director of recycling operations for the L.A. area. "Having Waste Management's state-of-the-art facility only a few miles away from a very large facility being proposed by Athens is a competitive threat to them."
The rival projects have already set off a legal fight between the host cities. This month, Irwindale sued Azusa, claiming the environmental impact report on the Waste Management MRF was inadequate.
"We speculate that (Athens) would prefer that the Waste Management facility not be up and running," said Azusa City Manager Fran Delach.
For its own part, Azusa has filed public records requests for Irwindale city documents, including e-mails and memos, related to the Athens MRF.
Athens representatives did not respond to requests for comment.
Diverting recyclables
Why the fight over recycling plants? As landfill space declines, the long-term prospects of trash companies will depend more on their ability to efficiently divert materials from landfills. In recent years, Waste Management has even changed its motto to "think green," invested more in MRFs and bought companies that convert recyclable materials to energy.
Locally, there's widespread agreement in the industry that the coming closure in 2013 of the Puente Hills landfill, the largest in the county, will increase demand for MRFs.
"There is a push right now for additional facilities," said Ron Saldana, executive director of the Los Angeles County Disposal Association, a waste industry trade organization. "Everybody recognizes that we don't have enough."
State laws mandate that local jurisdictions recycle 50 percent of their waste. Haulers use different methods of sorting out recyclables before dumping the rest in a landfill.
After picking up trash from clients, Athens hauls it to the company's existing MRF in Industry that uses a combination of technology and hand labor to pick out recyclable materials, including metals, plastics and paper products. Much of the waste is then put in bales and sold to various buyers, including smelters and cardboard box makers, which is lucrative when prices for commodities rise. Organic waste is sent for composting, and the rest is sent to landfills. Athens also charges independent haulers to use its MRF.
The Irwindale project would essentially be a larger and more advanced version of the Industry facility.
Waste Management has consumers sort waste into multiple bins, then sends the contents to different places. The company has MRFs around the county that handle only bottles, cans and paper, and others for organic waste. It also has separate MRFs dedicated to construction debris. Sometimes, it sends waste to third-party facilities, including Athens' MRF in Industry.
But now Waste Management is thinking bigger. Its Azusa facility would be a one-stop shop that would be able to do the job much more effectively. (Waste Management has another MRF project in Sun Valley that would be a similar size.)
"This will be the future of the waste industry," Hammer said. "Building new facilities with the best technology allows us to pull the recyclable materials out of the waste stream in the most efficient manner possible."
Al Kaschalk, an analyst at Wedbush Securities in downtown Los Angeles who follows Waste Management, said there is no doubt the industry has changed.
"In 1990, it was all about owning landfills. Now it's about owning the (recyclable) resources or trying to get access to the resources, which are getting increasingly more valuable," he said.
Accelerating the trend is the closure of Puente Hills, which has long provided a cheap way for haulers to dump trash. In preparation for the closure, the Los Angeles County Sanitation Districts, an independent countywide agency that owns and operates Puente Hills, is building a facility in Whittier that would transfer waste by rail to the Mesquite Regional landfill in Imperial County. But that could cost haulers more than twice as much given Mesquite is 200 miles away. That's an opportunity for Athens and Waste Management.
"Our ability to take waste to a transfer station in Azusa will provide a much more economical disposal solution than loading it on a train and hauling it over 200 miles away out in the desert," Hammer said.
Even fight?
Athens may be a fraction of the size of Waste Management, which reported $12.5 billion in revenue last year, but on a local scale this isn't exactly David and Goliath.
Athens and other local haulers, including Fontana's Burrtec Waste Industries Inc. and Crown Disposal Co. Inc. in Sun Valley, compete fiercely with Waste Management and Phoenix-based Republic Services Inc., the nation's two biggest waste companies.
Athens prices its services aggressively, and has taken advantage of the economic climate as cities have been going out to bid more frequently and pressuring haulers to lower rates.
Earlier this year, it won an eight-year, $50 million contract from Redondo Beach. But it failed to steal away Waste Management's contract in Manhattan Beach, which was renewed even though Athens bid almost $4 million less.
What's more, the company's low bids for street-sweeping contracts got it in some trouble last year when a competing street sweeper sued it for unfair competition. The case has since settled out of court.
The clash intensified earlier this month in Irwindale's lawsuit against Azusa in Los Angeles Superior Court; the suit alleges that the environmental impact report for Waste Management's MRF failed to properly study its effects on traffic.
Irwindale Planning Director Ray Hamada denied business competition was behind the lawsuit. He said city officials were concerned that the Azusa facility would draw hundreds of garbage trucks per day through Irwindale's downtown area, hurting businesses there.
But it's clear the projects are financially valuable to the cities – and would be more so if only one were built.
Azusa is dipping into reserves this year to balance its budget; Irwindale is projecting a budget shortfall in the millions of dollars. Waste Management's project would create 60 jobs in Azusa and result in $1.5 million in fees a year. Athens' project in Irwindale is projected to create more than 200 jobs and around $3 million in fees for the city, which gets paid for every ton that's processed.
Hammer said Waste Management plans to proceed with its project even if Athens does so also. But if one of the facilities were not built, or even delayed, that would help the other draw more business – and fees for the host city.
Saldana, director of the local waste industry trade association, said it's incredibly difficult getting waste facilities approved in Southern California. The fact that both companies have cities willing to fight for their projects in court is a sign of their savvy.
"These are both aggressive companies that play a very heavy political game," he said. "They're not going anywhere, and that's why you see it as a knock-down, drag-out fight."
For reprint and licensing requests for this article, CLICK HERE.