Adding to Its Plate
Overhill Farms tries new distribution recipe in deal with Boston Market.
Monday, August 29, 2011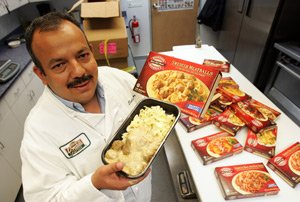 Frozen-food maker Overhill Farms Inc. makes a mean gravy, but does the company know how to sell it?
That's the question after the Vernon company announced it was not only taking over the manufacturing of Boston Market Corp.'s supermarket product line, but will be responsible for marketing and distribution – something it's never done before.
Overhill's lack of experience outside manufacturing has led some analysts to question the strategy, but the company maintains the Boston Market deal was too good to pass up – and that it has taken steps to lessen the risk.
"We heard a rumor it was going to be available and we did a preemptive strike," said Overhill Chief Executive Jim Rudis.
"Nothing much had happened with the product over the past five or six years – there were no new launches, no product refreshes. We thought it was a great opportunity."
Overhill is producing 16 Boston Market frozen meals, including macaroni and cheese, pot roast with mashed potatoes, and lasagna. The company started production last month after Pittsburgh-based H.J. Heinz Co. gave up the license to focus on its core brands.
Under the five-year agreement, Overhill will pay Boston Market 4.5 percent of net sales. If Overhill exercises a five-year renewal, it would pay the same royalty rate with a guaranteed minimum of $2.8 million in annual payments.
Overhill has an established business making meals for airlines, private-label entrees for supermarkets, and meals for restaurants such as Panda Express and weight-loss company Jenny Craig.
In all those instances, its customers handle marketing and distribution. So why fiddle with an established business model? The company has struggled during the recession. Two of its biggest customers, Rosemead-based Panda Restaurant Group Inc. and Jenny Craig, owned by Nestle S.A. of Vevey, Switzerland, have cut back on their orders. In addition, other frozen-food brands have lowered prices or offered promotions, cutting into private-label sales at Pleasanton-based Safeway Inc.'s markets. Overhill last year also lost an $18 million annual contract to produce meals for Heinz.
As a result, revenue has slid nearly 20 percent since peaking in 2008 at $239 million. The company posted its first quarterly loss in years – though small at $322,000 – in its fiscal third quarter ended July 3.
Those woes are reflected in a stock price that has slid about 25 percent this year alone. Shares closed at $4.50 on Aug. 24, less than half of the stock's all-time high of $9.55 in 2008.
"The economy is sluggish. It's worse now than it was six months ago," Rudis said.
New deal
Moving into marketing and distribution should increase the amount of money that Overhill makes on each unit it sells, but because it has no such experience the company recently announced it had inked a deal putting all the marketing and distribution responsibilities in the hands of Bellisio Foods Inc., a Minneapolis company that makes, markets and distributes its own frozen foods, including the budget Michelina's brand.
Under the two-year deal, Bellisio and Overhill will split profits 50-50 up to $2 million, with Overhill getting 60 percent of profits beyond that. Bellisio also will manufacture half of the Boston Market products out of its factory in Jackson, Ohio.
Rudis said about 75 percent of Boston Market frozen meals are sold east of the Rocky Mountains, so it makes sense for Bellisio to make some of the product and distribute the lion's share of it.
That puts Overhill in a comfortable position of largely being a manufacturer.
"With our arrangement with Bellisio, it's not that much different than what we do for other customers," Rudis said.
Mike Gilles, president of Oceanside food industry consulting firm Growth Group, said bringing Bellisio on board gives Overhill instant infrastructure – a sales force, marketing experts, a distribution center. But it also looks like a complicated arrangement, especially because Bellisio will be manufacturing some of the product.
"It's a subcontractor subcontracting for a subcontractor," Gilles said. "Are there enough margins left in there to make any profit?"
Branching out
This isn't the first time Overhill has thought about entering into a licensing agreement, but it's the first time the company has pulled the trigger. Past deals would have required of up-front investments close to $10 million, Rudis said.
One of the biggest up-front costs is what's called a slotting fee – a one-time payment made to a grocery store to put a product on their shelves. Those fees can be as high as $100 per product per individual store, Gilles said. Overhill won't have to pay those fees for its Boston Market products, because the meals never lost their place in grocers' freezers.
Still, for all the hedging Overhill has done, the company has the challenge of reinvigorating the brand.
While Boston Market still sells well – with retail sales last year of between $90 million and $100 million – it is only a niche brand in a $30 billion-plus market. What's more, Rudis called Boston Market a bit of a tired brand with stagnant sales.
Overhill hopes to boost sales by improving and expanding the product line. To that end, the company has updated the packaging and its staff of six chefs has tweaked recipes, improved sauces and gravies, and packaged fresher vegetables.
The next step will be developing products. The existing Boston Market meals are all basic comfort-food items, various takes on meat, starches and sauces. That type of meal will likely stay, but Rudis is interested in gradually branching out.
"The comments we got from retailers was that this was a great product in terms of being a great seller – great, great loyalty – so don't screw it up. Make it better, but don't change it over," he said. "We expect it to be one of our flagship accounts."
For reprint and licensing requests for this article, CLICK HERE.