Airing It Out
Blimp maker brings in execs to talk up craft in D.C.
Monday, August 22, 2011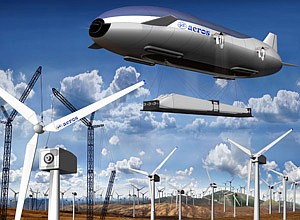 It's not only what you know, it's who you know. Especially when trying to win big government contracts.
And the new members appointed by Montebello blimp maker Aeros to its advisory board know plenty of people in Washington. Those people in D.C. may want to help the company develop what it sees as the next-generation battlefield and commercial cargo carrier: a massive, futuristic airship called the Aeroscraft.
Aeros last month appointed three defense industry heavyweights – including a former secretary of the Air Force – to a new advisory board. The company had already enlisted the help of Anthony Tether, who directed the Pentagon's Defense Advanced Research Projects Agency, which developed the Internet and stealth technology, and is working on a flying car.
The new board could help secure the Pentagon as a customer for the Aeroscraft, or at least help the company get more federal money to develop the craft.
"If they have a chance of tapping into development or procurement cash, it's with good connections," said Richard Aboulafia, vice president for analysis at aerospace consulting firm Teal Group Corp. in Fairfax, Va.
Good connections, indeed. The new board members joining Tether are Michael Wynne, a former secretary of the Air Force; Kenneth Krieg, a former undersecretary of defense; and Michael Bayer, chairman of the Department of Defense Business Board, which advises the department on business practices.
"Those are all good names," Aboulafia said.
Aeros' core business is making blimps and aerostats – smaller, unmanned blimps that are tethered to the ground – for the U.S. and foreign governments. The company's flagship blimp, the Sky Dragon, is about 150 feet long and sells for $3 million or more, depending on configuration.
By contrast, the largest envisioned Aeroscraft would be more than four times longer, or longer than two football fields, and have enough lift to carry more than 1.1 million pounds of cargo – that's the equivalent of about eight Abrams tanks. A small prototype is expected to cost $45 million to build.
But the company, which used to sell most of its products to advertising companies, is not turning its back on the civilian market. Aeros is developing a plan to market the new airship as a commercial cargo carrier, especially targeting the growing wind energy market. It believes the ship would be ideal to deliver massive wind turbines to remote hilltop locations – and even wants to get into the business of building turbine blades.
"Aeroscraft is what this company is about – it's the tomorrow of this company" said Igor Pasternak, Aeros founder and president.
Helium problem
If may all sound farfetched, but Aeros has come a long way since Pasternak, a Ukrainian-born engineer, founded the company in the Soviet Union in 1986.
Pasternak and a half-dozen employees left the Ukraine in 1993 and set up shop in the United States, first in New York and then in Northern California. He moved the company to Southern California in 1996 and has since scored contracts supplying the U.S. military with blimps and unmanned aerostats for surveillance.
The company's headquarters in Montebello serves as its engineering and manufacturing facility, while the airships are tested at the former El Toro Marine Corps air station in Tustin.
Development of the Aeroscraft started in earnest in 2005, when Aeros and Bethesda, Md., aerospace giant Lockheed Martin Corp. each landed $3 million contracts from DARPA to do preliminary design work on a blimplike craft that could move cargo and troops without using runways.
That particular funding stream – the DARPA Walrus program – dried up, but Aeros secured other federal money and continued to develop technology that could help make the Aeroscraft a reality.
Edward Pevzner, Aeros' business development manager, said millions have been spent on research and development but did not provide specific numbers.
The problem Pasternak aims to solve with the Aeroscraft is one that has dogged airship designers for decades: how to carry large amounts of cargo or passengers without having to take on extra weight when those passengers and cargo are dropped off.
A blimp with enough helium to lift thousands of pounds of cargo would become uncontrollably light without all that weight. Historically, that has meant blimps have to take on water or other ballast when they unload cargo, meaning a blimp can't land just anywhere because it needs infrastructure on the ground.
"That restricted your use of it. It's what kept airships from becoming cargo airships," Tether said.
The Aeroscraft expects to solve that problem with ballast control technology, a system that would allow the ship to adjust the amount of helium in its envelope – using more of the lighter-than-air gas when full of cargo, then compressing the gas into empty tanks when it needs less lift. Tether likened it to a submarine, which takes on ballast water to sink lower and pumps that water out to rise.
Aeros plans to fly a small prototype Aeroscraft that will demonstrate ballast control in late 2012, Pasternak said. The company has tested various parts of the airship, but next year's demonstration will integrate those parts.
"It's no longer on the drafting board," he said.
Funding shortfall
In all, Aeros is still short $12 million of the craft's $45 million in projected development costs, Pevzner said. That's where the new board comes in.
Tether said he and the other advisory board members should help navigate the waters on Capitol Hill and at the Pentagon to make up the funding shortfall.
"We're in a good position to help them know who it is they need to see," said Tether, who was appointed to his DARPA post by President George W. Bush and ran the agency from 2001 to 2009.
The company has already been successful in securing some federal funds, but analyst Aboulafia said it will be much more difficult to get the government to purchase anything, even if in theory the Aeroscraft would provide a superior method for transporting troops and tons of materiel.
"To go from a DARPA concept exploration to an actual program that results in air vehicles being built, that's a very big leap both in terms of money and in terms of politics," he said. "There's certainly no guarantee, and whatever shot you've got heavily depends on having good connections."
That's at least one reason the company is vigorously pursuing civilian applications for the craft. Pasternak said the new advisers' backgrounds in aerospace and other industries will help the company compete in the commercial market, too.
Wynne spent 23 years with Falls Church, Va.-based defense contractor General Dynamics Corp. and three with Lockheed Martin. Krieg was a vice president and general manager at Memphis, Tenn.'s International Paper Co. before serving in the Defense Department.
"They have experience in aerospace and the ability to manage large products and large organizations," Pasternak said.
The Aeroscraft could be used to haul anything from strawberries to mining equipment, carrying cargo in its hold or hoisting massive pallets. But Aeros is planning specifically to market the craft as a delivery vehicle for wind turbines.
Currently, the most common turbines being installed at wind farms produce about 2.5 megawatts of electricity and have 164-foot-long blades. At that length, it's difficult to erect them because the pieces often can't fit on rail cars or highways, if there even are any roads to the farms.
"You sometimes have to build special roads just to bring turbines to the site," said Peter Asmus, a Bay Area-based senior analyst with renewable energy consulting firm Pike Research.
Building turbines
Then there's the turbulence issue, which has prompted Aeros to investigate getting into turbine construction.
The bigger wind turbines get, the more power they produce and the more economical wind energy becomes. But it's tough to build turbines bigger than 3 megawatts on land rather than offshore, where winds are strong but steady. At remote sites, turbulence caused by the mountains, trees and even large boulders can cause big turbines to break down.
Pasternak, though, believes he can use composite materials and his company's aerospace expertise to create sturdy turbine blades for an immense 10 megawatt land-based turbine. That would require a blade of 263 feet in length.
"It sounds like it's a different market, but from an engineering standpoint, it's almost the same technology because blades require the same kind of behavior control as the frame of the Aeroscraft," he said, adding that the turbines are in early development.
Tether said the idea of using Aeroscraft to carry wind turbines has promise, but he and Asmus said Pasternak may want to reconsider entering the field of turbine development.
"A 10 megawatt machine, I would be skeptical that it would be able to operate onshore," Asmus said.
Tether said he offered similar advice to Pasternak, but he's not sure it made much difference.
"We told Aeros, you don't need to make these blades, just sell the service, but Igor thinks he can make the blades, too," Tether said.
For reprint and licensing requests for this article, CLICK HERE.